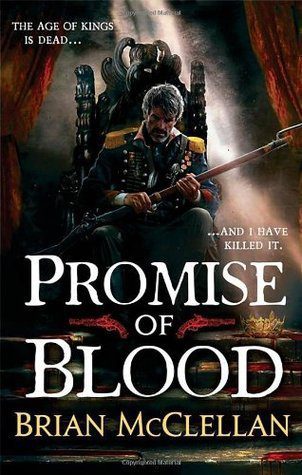 Rating: 9/10
Synopsis
*Winner of the 2013 David Gemmell Morningstar Award*
It's a bloody business, overthrowing a king. Now, amid the chaos, a whispered rumour is spreading. A rumour about a broken promise, omens of death and the gods returning to walk the earth.
No one really believes these whispers.
Perhaps they should.
Review
Brandon Sanderson once blurbed the Powder Mage trilogy, calling it "just plain awesome". And from my experience with Promise of Blood, the first book of the trilogy, I can safely say that I totally agree with him!
Promise of Blood begins where I'd expect a sequel to begin, with the tail end of a (mostly) successful coup. Within the first 10 pages, the stakes are immediately set high. There's no confusing prologue that foreshadows the remainder of the book, or a scene set hundreds of years prior. Instead, we are put into the here and now, as we discover what is certainly going to be a major turning point in this world's history along with one of the main POV characters. It also offers up a number of gripping questions; why has this event come to pass? Who are these people that are involved? How will this change the world? And where will McClellan take us from here? Well, where McClellan takes us is essentially on a Napoleonic era style rollercoaster of gunpowder, revolution and magic!
Whilst I mention magic, it has to be said that the magic system (or systems to be more apt) are really great! We see three at play; Knacked, Marked & Privileged. Knacked are people born with a particular talent, something very useful like not needing to eat or drink for weeks, or never needing sleep. Marked are the Powder Mages, people who can manipulate gunpowder and its energies (along with ingesting gunpowder to enhance their abilities like strength, speed and accuracy), making for some incredible action scenes. The Privileged are a bit more of your standard mage type, flinging spells and creating magical barriers, but never to the point of being overpowered, they are still very much weak to, let's say, being shot in the face. All three make for interesting uses and consequences within the world. I like when magic is a known element within a story's setting, especially if then on top of that, the author has worked in ways in which it has moulded society. For example, Powder Mages can manipulate gunpowder, making them brilliant in battle. To combat this, weapons using compressed air were made, meaning that these weapons can't be touched by Powder Mage magics and are especially effective against them. This is just one example, but where a consequence of the magic could be employed, McClellan has factored that in.
With all the magic systems in play, McClellan uses these to fully strengthen his already exciting action scenes. The book flies by at a ripping pace as it contains a lot of action and the plot is constantly being driven forward. Even the slower parts of the book are filled with mystery, intrigue and betrayal, so you're never too far from the excitement. The only detriment to this blistering pace is sometimes the sense of time and scale of the world can be lost. There were often times where one chapter a character is in the main city, and the very next they are 5 days away in a new location. Similarly, you can go many multiple chapters spanning several hours, to suddenly the next having a week long gap. But frankly, it's only a minor inconvenience at best, and what with this being probably my only gripe, it just goes to show how much I like the rest of the novel!
Of course, a book is sometimes only as good as its characters. Thankfully, McClellan's characters are all interesting, multi-dimensional, flawed and unique. Not a single character felt similar to another, and all had their own motivations and aspirations, strengths and weaknesses. The main POV characters all have satisfying arcs filled with twists and turns, and the supporting cast are excellently written and memorable in their own right. Plus, none of the characters are inherently good, but they all have a firm conviction in the actions that they take being the right ones. Arguably the main protagonist of the book, Field Marshal Tamas is not a man that does "good" things, instead he is a man who does things because he believes they are right, including sanctioning the deaths of hundreds of people. On paper, this man is a war criminal, a traitor to the crown, yet his reasons are believably justified in his own eyes and many of the people that surround him. We grow to believe what he speaks, but when we see things through the eyes of a character who opposes him, we get to compare beliefs and it makes for some interesting questions that you can think on yourself. I like these kinds of characters as it makes for a much more interesting tale, plus having a character who is wholly good would not fit the world that McClellan has built.
The main events take place in the city of Adopest, a late 1700's Parisian like city full of the fun things that permeated the city that inspired it at that time. Things like rampant gangs, regular beheadings, riots and the occasional explosion. The city and its world are nicely fleshed out, but never taking away from the characters or the plot. It's dense enough to have history but you're also never overwhelmed by unnecessary details. As much of the plot is about current events, any history you do get is vital and genuinely intriguing to follow as more of the stories mysteries unfold.
After finishing Promise of Blood, I was left feeling very excited about where the second book is going to take me. This is such a thrilling book and the series is only going to get bigger from here. I recommend this to everyone as it's easy to get in to, I blasted through it like a Powder Mages bullet! Excellent plot, characters, magic and setting all come together to make one hell of a ride!