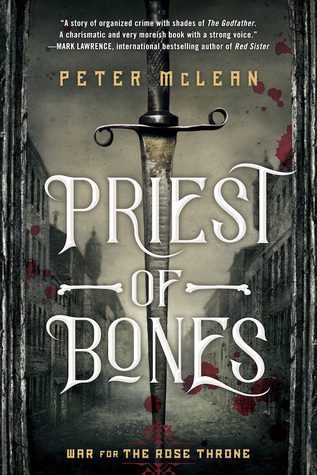 Genre: Low Fantasy / Grimdark
Publisher: Ace
Paperback: 352 pages
Audio: 10 hours and 28 minutes
4.5/5 stars
I want to thank the publisher and author for an advanced reading copy of Priest of Bones (War for the Rose Throne #1) in exchange for an honest review. Receiving this ARC does not influence my thoughts or opinions on the novel.
Tomas Piety and his gang of Pious Men return home from war to find their beloved town barren and war-torn.  In his absence, other ne'er-do-wells and rival gangs have moved in and taken over what was once his.
So Piety does what any crime lord would do in this situation: he uses his gang to take back the streets and businesses, cracking any skull required to get it done, and re-establishes his dominance over the Stink.
Unfortunately for Tomas, gaining back control won't be so easy. The Queen's Men have orders to bring him into the fold and work for the Queen's gain, weaving a web of political intrigue that complicates Piety's takeover.
The war out there may be over, but there is still one to be fought at home. In the end, no-one is safe.
Let's go ahead and get this out there: Priest of Bones isn't unlike anything you have seen before if you are a fan of Grimdark or Low Fantasy. Having said that, it does check the boxes that these genres hold accountable, and does so with gusto. It is dark and grimy, filled to brim with violence, blood, death and dismemberment; it oozes charisma and sets up for what looks to be a dynamite trilogy.
What I think truly sets this book apart from others in the genre is the character of Piety. While there is a laundry list of characters to sink your teeth into in PoB, only Piety is put under the microscope and fully fleshed out. Though he does rule with an iron fist, he does have some priestly tendencies that cause some in his gang to view him in a different light. He doesn't appreciate the poor being ill-treated, abhors rape and violence against women, and detests child abuse (with very good reason).
There is a claustrophobic amount of world-building going on as we become acclimated to the Stink and don't venture too far into its outskirts, but what we are introduced to fits the story like a glove. McLean also injects a little bit of magic into the story, which not only adds a shroud of mystery to its beginnings and uses, but teases the reader with what can hopefully be expected to be expanded upon in later volumes.
Overall, this was a very entertaining read and is the beginning of a series that I look forward to finishing.
Amazon | Audible | Barnes & Noble | Google Play | Kobo