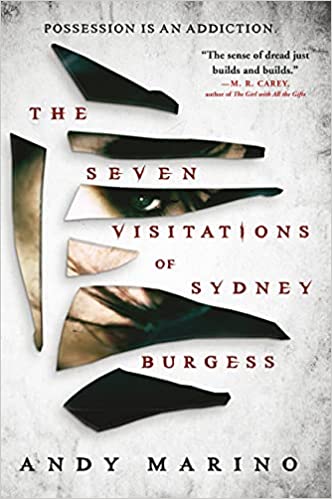 Rating: 8.0/10
Synopsis
Possession is an addiction.
Sydney's spent years burying her past and building a better life for herself and her young son. A respectable marketing job, a house with reclaimed and sustainable furniture, and a boyfriend who loves her son and accepts her, flaws and all.
But when she opens her front door, and a masked intruder knocks her briefly unconscious, everything begins to unravel.
She wakes in the hospital and tells a harrowing story of escape. Of dashing out a broken window. Of running into her neighbors' yard and calling the police.
The cops tell her a different story. Because the intruder is now lying dead in her guest room – murdered in a way that looks intimately personal.
Sydney can't remember killing the man. No one believes her.
Back home, as horrific memories surface, an unnatural darkness begins whispering in her ear. Urging her back to old addictions and a past she's buried to build a better life for herself and her son.
As Sydney searches for truth among the wreckage of a past that won't stay buried for long, the unquiet darkness begins to grow. To change into something unimaginable.
To reveal terrible cravings of its own.
Review
Wow. What a novel. The Seven Visitations of Sydney Burgess is quite unlike anything I've ever read. This is a novel that blurs the lines of reality like no other. I consumed this book and audio at an astonishingly quick pace for how bizarre and at times, confusing, it can be. It's one of those books that I'm glad that I slept after and took a day to process. I think the way you approach and analyze this novel will completely affect your rating. I've seen ratings on Goodreads that were a 2 star and ones that were a 5 that I could agree with points from both. This isn't a neat little book that will fit itself into your brain with ease; this is a story that will make you uncomfortable, disgusted, sympathetic, and horrified. The pieces of The Seven Visitations of Sydney Burgess come together with jagged edges that are sharp enough to cut.
"My first instinct is to look away, like I do whenever gory crime-scene footage comes up in something I'm watching. It's not that I'm squeamish, exactly–I just decided after I got clean that the fewer images of humanity at its worst I see during my short time on this earth, the better."
This is a gory book. The descriptions of violence are explicit and disturbing. I found when I listened to the audiobook, these moments were much more palatable. I felt less like crawling out of my skin. Somehow Christine Lakin (the narrator) made these moments of savagery seem poetic. This is also due to the masterful writing of Andy Marino, he truly has a gift for language and imagery. As disgusted as I was, I marveled at his ability to describe murder and addiction in such lyrical terms, and Lakin's soft enunciations contrasted perfectly with it. I don't know if I would have been able to stomach some of this book without her gorgeous narration.
This is a book about addiction, it's a book about possession. There's a stunning comparison to the feeling of possession that comes over one in the throes of addiction; the feeling of being controlled by your vices. On the other hand, there's the feeling of being addicted to that possession, in the most literal sense for this book. Sydney becomes aware of her possession but doesn't exactly want to get rid of the feeling.
Though I haven't experienced extreme addiction the way Sydney has, Marino paints a vivid picture of the way addiction takes over your mind. The disorderly way that our brains can operate, much like when our mental health declines and mental illness takes over. Which makes sense, as addiction is often attributed to a mental illness. There's a noisiness mixed with numbness that takes over when one experiences a mental breaking point that I can relate to, and Marino describes it in a way that makes sense to anyone who has experienced it.
One thing I also loved was the way our author described parental love. You could be the most capable parent in the world, and you're still going to hope that any moments of imperfection don't negatively affect your child. I imagine this is amplified when you come out of a haze to realize the ways you've screwed up in front of them. One hopes that the good outweighs the bad when it comes to parenting.
"I'm reassured by how naturally he assembles. I comfort myself: his mind is running smoothly. Yet I know only time will tell if I've fucked him up, implanted traumas to glitch his adolescence."
This book is told in a strange order, it's confusing, it is scary, it's abrupt and astonishing in its ending. It's a mixture of brilliance and peculiarity that won't be for everyone. The Seven Visitations of Sydney Burgess is a great horror book for the rainy, dark seasons. Thank you so much to Redhook/Orbit for the physical review copy and to Hachette Audio for the audio review copy. I enjoyed (and was appalled by) them both.