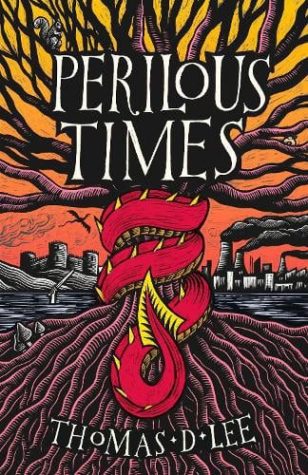 Rating: 8/10
Synopsis:
IN PERILOUS TIMES LIKE THESE, THE REALM DOESN'T JUST NEED A HERO.
IT NEEDS A KNIGHT IN SHINING ARMOUR.

Sir Kay and his fellow knights awake from their mythical slumber whenever Britain has need of them; they fought at Agincourt and at the Somme. But in these perilous modern times, the realm is more divided than ever, a dragon has been seen for the first time in centuries, and Kay is not the only ancient and terrible thing to come crawling up out of the ground . . .

Perilous Times is a fiercely entertaining contemporary take on the myths of Camelot, which asks: what happens when the Knights of the Round Table return to fix the problems of the modern world?

This debut is perfect for fans of Terry Pratchett, Neil Gaiman, Jodi Taylor and Ben Aaronovitch.
Review:
Thank you Orbit for sending me a copy of Perilous Times to review.
This book is FUN. From the very start you can tell that it isn't taking itself seriously, and I think this is one of the rare times where the Terry Pratchett and Good Omens comparisons are actually correct. The humour is so perfectly British, and despite the actual plot being a bit close to home, Perilous Times is actually quite light-hearted in it's execution.
Perilous Times takes the King Arthur myth and asks 'what if the Knights of Camelot weren't all straight white guys, and what if they woke up in the modern day?'. And it works beautifully. Seeing Kay try to understand climate change and how that is the peril that has awoken him is really quite funny, and the author manages to add a magical spin to the tale too.
You'll see all the fan favourites here. From nods to old legends to legendary characters themselves appearing, but maybe not quite as you expected. There's also a talking squirrel who is one of the highlights of the book for me.
Lee manages to explain all of the magic in a way that you can easily roll with. Dragons? There's an explanation for those. How the Knights are resurrected? Also an explanation. Perilous Times is fantasy and Lee could have easily just explained everything as 'just magic' but you can tell there's thought behind every piece of plot. It makes for such an engaging read.
If you love myths and legends with a big dash of humour this one is for you. I loved Perilous Times.