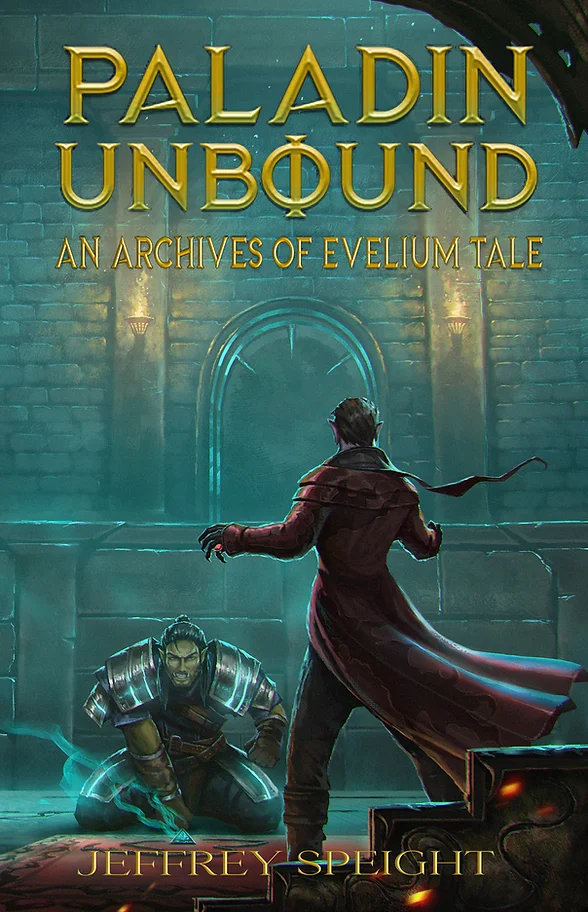 Rating: 9/10
Synopsis
Umhra the Peacekeeper is a half orc adventurer with a secret. He is a paladin, a Holy warrior the likes of which Evelium has not seen for decades. After his band of adventurers, The Bloodsworn, uncover a malignant evil at the heart of Telsidor's Keep, Umhra soon finds that his power is the only thing that can save the land from the resurrection of an evil god.
Review
While this book has been out for a while (July 2021) I missed it the first time around. I'm a little sore about that as I see a lot of hype around Paladin Unbound. Thankfully I'm caught up and I am so happy that's the case. Paladin Unbound is every bit the stalwart half orc paladin of a book it sets out to be.
Firstly, one of my favourite things about this novel is how Jeffrey Speight is paying homage to D&D campaigns with his sons with this title. It feels very much like a labour of love in the best way. There are scenes that seem to be lifted directly from the tabletop that were great to see. This all adds a wholesome touch to the book for me and I hope I can enjoy D&D with my own kid(s?) one day. With a title like Paladin Unbound, it'll come as no surprise that this story very much follows the good guys.
But breaking away from its D&D roots PE delivers some gritty high fantasy throughout. The Bloodsworn, Umhra's orcish adventuring band, are jovial warriors who enter the meatgrinder. Speight drops the floor out from under you barely two chapters in, with an incredibly ballsy and bloody spiral into chaos. I loved it.
Battered and broken, we see the true essence of Umhra's power in the bowels of Telsidor's Keep. It's when he joins the Barrow's Pact that the dice really starts to roll well. Speight serves up the quintessential party members: rogue, cleric, druid et al but the dynamic still gives us some great moments between the characters. It all feels like well-loved characters from the D&D campaign getting a chance to be heroes in prose. None of the story fell short and the Barrow's Pact nobly set about completing their quest to save the world from the evil Naur. A classic good vs evil setting that's well delivered throughout.
Roll Your Damage
One aspect of the writing that really rises above the rest in PE is Speight's wonderful combat scenes. Battles are delightful splatterfests – you know I enjoy a good splatterfest – where you can tell even Speight himself is whirling a battleaxe about his head as he writes. Here is an author in their element, having some fun with their craft and delivering some of the best combat scenes I have read lately.
All the heroes have their signature moves and moments in the spotlight but none of them are invulnerable. Plot armour is not a thing in PE and all the better for it. We have monsters, undead and even epic godly battles all in one place. The action ramps up right until the climactic battle scene which spans across two existential planes and doesn't disappoint. Like any good D&D campaign, the stakes couldn't be higher.
Umhra the Peacekeeper
While PE serves as a standalone novel, I'd love to read more tales set in the Evelium universe. PE shows plenty of glimpses of a sprawling world but doesn't devote a great deal of time to some of the more minor plot points. Concepts such as Umhra's sentient sword's origin are touched upon, but the plot doesn't linger too long in favour of moving along the main quest. There certainly seems to be more tales to be told and a score of characters to find out more about.
I can see why Speight's first novel has been gaining a solid reputation in the halls of fantasy. I love supporting an indie press too, and this is a solid fantasy offering I'm happy Literary Wanderlust took a chance on. If you like battling, heroic fantasy and TTRPGs, Paladin Unbound needs to be at the top of your TBR.