---
Rating: 9.75/10
Synopsis
Nothing about Saitama passes the eyeball test when it comes to superheroes, from his lifeless expression to his bald head to his unimpressive physique. However, this average-looking guy has a not-so-average problem- he just can't seem to find an opponent strong enough to take on! Every time a promising villain appears, he beats the snot out of 'em with one punch! Can Saitama finally find an opponent who can go toe-to-toe with him and give his life some meaning? Or is he doomed to a life of superpowered boredom?
Review
Thanks to VIZ media for One Punch Man, Volumes 1-21 for review consideration. This did not influence my thoughts or opinions.
His name was Saitama. He became a hero for fun…
To start off, I've never been a manga fan. I've watched anime throughout the years (mainly Dragon Ball and beyond), but never really got to the "roots" of it all. To be honest, graphic novels weren't really my thing either until just a few years ago.
Well, throw all of that out the window because HOLY COW, I'M HERE FOR IT ALL NOW.
One Punch Man has been around for several years now, and while I had reservations going into a series about a hero who kills everything with one punch, I had to see what all the hype was about. What makes One Punch Man so exciting that people can't stop talking about it? It's just a bald kid in a cape, right?
Well, yeah. But it is that and, like, WAYYYYY more. This series is action action action, tons of flippant yet "rolling on the floor" type humor, and some of the most GORGEOUS artwork I have ever come across. Yusuke Murata is a freaking genius, and may be one of my top artists alongside Kim Jung Gi. I MEAN, LOOKIT!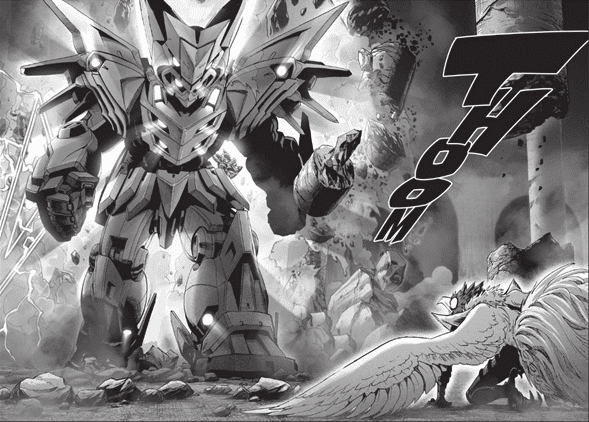 There is nothing serious about this series whatsoever, especially when it comes to Saitama. I mean, he just decided one day to become a hero…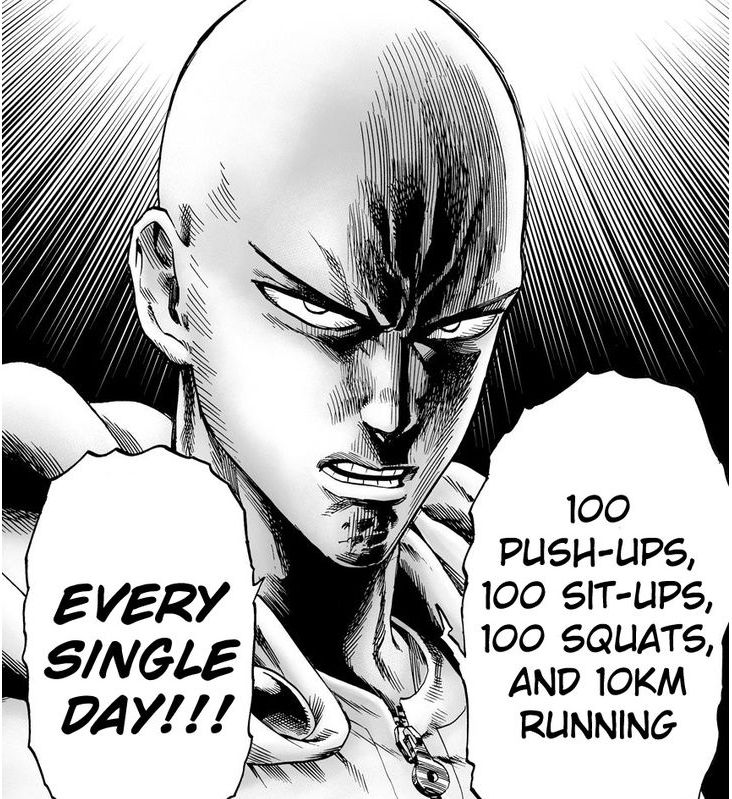 I cackle every time I think about that scene, especially because heroes don't typically have to work to "achieve" herodom. Yet once he does and realizes his power, he is just so blasé about everything. He'd rather play video games (which he is ABSOLUTELY HORRENDOUS AT) and eat hot pot, but he is always up for helping someone out at the last minute… sometimes.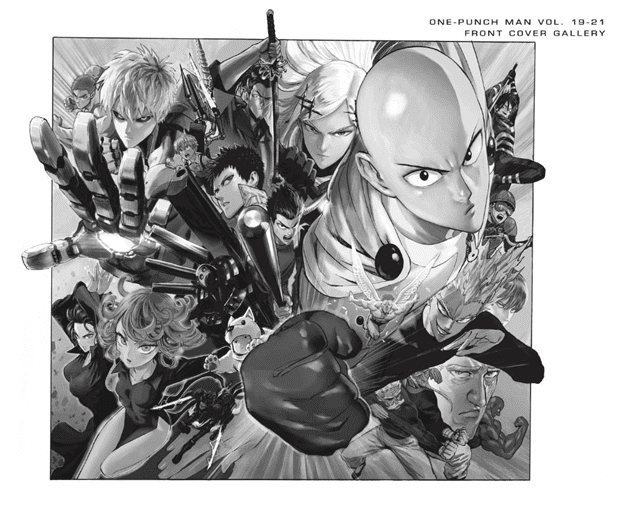 I love how new characters are introduced as a majority are either a part of the Hero Association or the newly founded Monster Association. Each hero and monster are given "Class Ranks" which are historically accurate yet generally meaningless in the grand scheme of things, especially since Saitama is sitting in the middle of the pack yet is beyond pretty much any character in the series
A majority of hero names also coincide with their "powers", and while some are pretty cool, there are some that are just out-of-this-world ridiculous that you can't help but laugh at.
Seriously though, it is hard to explain how fantastic this manga is. I blew through it when time allowed and am waiting on pins and needles for the next release. I also purchased the first two (2) seasons of the anime and am anxiously awaiting time to sit down and watch.
One Punch Man gets one of my highest recommendations for those that enjoy tons of action, magnificent artwork, laugh out loud humor, and a story for the ages.