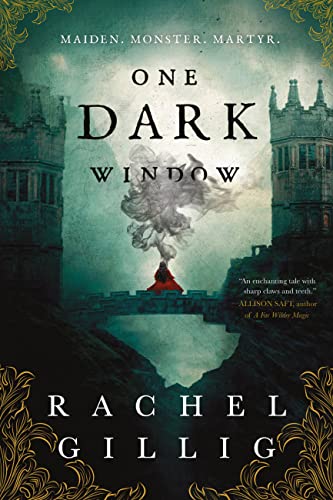 Rating: 9/10
Synopsis:
Elspeth needs a monster. The monster might be her.
Elspeth Spindle needs more than luck to stay safe in the eerie, mist-locked kingdom of Blunder—she needs a monster. She calls him the Nightmare, an ancient, mercurial spirit trapped in her head. He protects her. He keeps her secrets.
But nothing comes for free, especially magic.
When Elspeth meets a mysterious highwayman on the forest road, her life takes a drastic turn. Thrust into a world of shadow and deception, she joins a dangerous quest to cure Blunder from the dark magic infecting it. Except the highwayman just so happens to be the King's own nephew, Captain of the most dangerous men in Blunder…and guilty of high treason.
He and Elspeth have until Solstice to gather twelve Providence Cards—the keys to the cure. But as the stakes heighten and their undeniable attraction intensifies, Elspeth is forced to face her darkest secret yet: the Nightmare is slowly, darkly, taking over her mind. And she might not be able to stop him.
Review:
I think I was in just the right mood for One Dark Window by Rachel Gillig. The fall air is crisp in the mornings and warmer in the afternoons. My Halloween decorations are out and ready to be admired. I have my cozy, bookish fall pillows out. Needless to say, a book that involved tarot-inspired magic was calling to me.
This is a dark fantasy with romance and gothic elements. Something about it just clicked with me. I think the audiobook was such a major selling point, as well. Lisa Cordileone bounces from sinister to joyful with ease, and I thought the voice she did for the Nightmare living in our main character, Elspeth's, head was perfectly eerie.
The magic system in this novel is built around cards, seemingly inspired by tarot. People are able to invoke magic to use against others when they have certain cards, but the usage of these cards is not without payment. You give a little bit of yourself with each use and you can quickly diminish completely with repeated use. I liked this, because the idea that magic needs to be balanced with some sort of other energy when used makes sense to me. Too often we read books where people are able to use whatever magic they want without paying any cost. This makes the stakes higher, makes the usage of magic more dangerous.
Elspeth was a fun character to follow, with Nightmare slowly overtaking her mind and actions. We are left with a cliffhanger in this regard and I won't lie, I am one of those people who LOVES a cliffhanger. With so many book series out there, you gotta pull me in for the next book and One Dark Window won me over there.
The romance hit a sweet spot for me. It was a tad slow-burn but had a bit of steam once it got there.
Needless to say, I need more and I can't wait until the next installment. Thanks to Orbit Books and Hachette Audio for the gifted copies.