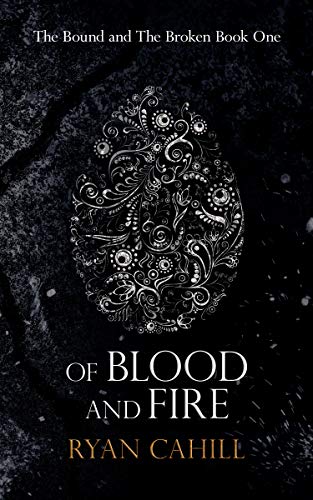 Rating: 8.5/10
Synopsis
Born in fire. Tempered in blood.
Epheria is a land divided by war and mistrust. The High Lords of the south squabble and fight, only kept in check by the Dragonguard, traitors of a time long past, who serve the empire of the North.
In the remote villages of southern Epheria, still reeling from the tragic loss of his brother, Calen Bryer prepares for The Proving—a test of courage and skill that not all survive.
But when three strangers arrive in the village of Milltown, with a secret they are willing to die for, Calen's world is ripped from under him and he is thrust headfirst into a war that has been raging for centuries.
There is no prophecy. His coming was not foretold.

He bleeds like any man, and bleed he will.
Review
When I think of traditional fantasy, my mind always wanders to a select number of names. Tolkien, Jordan, Williams, Feist, Hobb, Gemmell, Brooks. The list goes on and on, and all of these authors are now household names (if your household happens to be a bunch of fantasy loving geeks). But in recent years, traditional fantasy has taken a slight step back to allow for original stories to be told, and the time of elves, dwarves, farm boy chosen ones and prophecies is not currently as massive as it once was. With this said, there has been a resurgence by a number of authors who are holding the flag high for traditional fantasy, telling stories that are at once familiar yet wholly new; classic tales told with a modern voice. And for me, after reading Of Blood And Fire, being the first book in The Bound & The Broken series, Ryan Cahill has cemented himself as one of the forerunners of the "classic fantasy, modern voice" movement.
Before I get into the meat of the story, I just want to say how exquisitely the book itself is produced. The cover design and the naked hardcover are both stunning, the book feels really nice to read (the paper quality is just another level of finely crafted GSM), plus it has a number of illustrations that just help elevate the overall quality and presentation. It genuinely is one of the nicest books I own, along with its sequel of course.
One of the first things that this book did for me was create this feeling of comfort and familiarity in myself. That may sound condescending, but I mean it in the best way. Epheria is a medieval land of man, orcs (or Uraks in OB&F's case), elves, dwarves, dragons, monstrous creatures, swords & sorcery. These are building blocks of a world that I've experienced & enjoyed many times before and will continue to do so in the future. But with these tools, Cahill builds a fascinating world full of rich history, danger and exciting promises for the future of the series. I loved how easily I fell into this setting and how much I grew to want to find out more about it. With other traditional fantasy, the author can sometimes over indulge in the worldbuilding *cough* Wheel of Time *cough* but Ryan strikes a balance of telling us the most interesting and important parts when needed and never bogging down the most crucial elements of the story.
Speaking of the most crucial elements, let me talk about the characters. I really liked the trio from The Glade, Calen (our protagonist), Dann & Rist, all three of who are unique from one another and grow in their own way. I especially liked their dynamic. More like brothers rather than lifelong friends, they laugh, squabble, help each other and hind one another. They fight for each other and fight each other. Cahill takes all three in different and unexpected directions with their arcs, all of which, by the close of the book, are suitably satisfying and leave them in a great place for book 2. The rest of the supporting cast, of which there are quite a number, are also distinctive & memorable, and I feel like they all have a deserved place in the story. Cahill manages to give all the cast a believable past, a sense of personal history that has shaped them into the person they are now, which not only creates these three-dimensional characters that we can identify with (even if some of them are assholes) but also keeps the stakes high when it comes to one of the many action scenes that Of Blood & Fire contains, of which Cahill really shines through in his writing quality.
The book is a bit of a slow start, the first 150 pages being a lot of set up before it really kicks off. The pacing feels slightly off at the start but once the story hits it stride it stays there and rides the wave all the way to the end. For me, I also thought that Cahill's style of prose and the overall quality of the writing drastically improves in the second half. The first half is by no means bad, but it feels like it was written by a different, less experienced author and the second half was written by someone who is proud and confident in their own abilities. Having previously read his prequel book, The Fall, I knew the quality of writing that Ryan could achieve and he really hits that level in the final third.
For me, Of Blood & Fire feels like a love letter to classic, traditional fantasy. It pays homage to a number of the books that helped inspire it while also setting up Cahill's own take on the genre, which by the end of the novel, proves to be a unique, high stakes, epic and fascinatingly told tale. You can really tell that Ryan Cahill is passionate about the fantasy genre, and as someone who is also a lover of all things fantasy, it helps to elevate it just that bit more. I thoroughly enjoyed Of Blood & Fire and I look forward to getting to the chonky sequel!
Before I go, apologies to Ryan Cahill for taking so long to read OB&F, it's been about 18 months since I said I'd read and review it, and about a year since I finished The Fall, and now I have finally started The Bound & Broken series proper!
Be sure to be pick up Of Blood & Fire, book one The Bound & The Broken series, plus many other great books at The Broken Binding. Use code FANFI at checkout for 5% off your order.