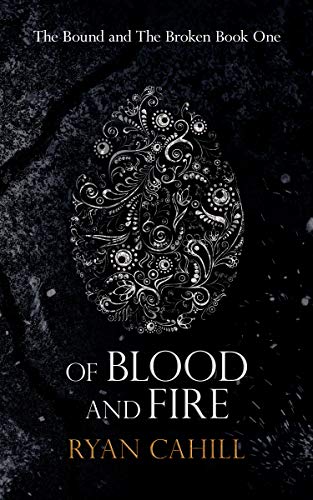 Rating: 8.0/10
Synopsis
Born in fire. Tempered in blood.
Epheria is a land divided by war and mistrust. The High Lords of the south squabble and fight, only kept in check by the Dragonguard, traitors of a time long past, who serve the empire of the North.
In the remote villages of southern Epheria, still reeling from the tragic loss of his brother, Calen Bryer prepares for The Proving—a test of courage and skill that not all survive.
But when three strangers arrive in the village of Milltown, with a secret they are willing to die for, Calen's world is ripped from under him and he is thrust headfirst into a war that has been raging for centuries.
There is no prophecy. His coming was not foretold.
He bleeds like any man, and bleed he will.
Review
Of Blood and Fire is the first in The Bound and the Broken series and author Ryan Cahill's debut novel. I walked away impressed with Cahill's storytelling ability, world building proficiency, skill in developing characters, and detailed descriptions. I liked this book a lot and see a lot of potential for the rest of the series.

(I also previously reviewed The Fall, which is a novella that takes place 400 years before the events of Of Blood and Fire, but which was published after it. You can read that review here. I recommend reading The Fall after this book, as a companion piece. )

For starters, the way the story is introduced in the first few chapters absolutely hooked me. The idea of The Proving was a fantastic idea for getting to know the characters, establishing the culture, and kicking off the narrative; most importantly, though, is how it sank its teeth into me immediately. I could not wait to find out what happened! Of course, things do not go as planned (because when do they ever?), and a series of events is set off that will change the world one way or another. Honestly, it does not get more intriguing than that.

There are so many characters, and I really love them all (even the bad guys). The story is written from several points of view, which I enjoyed because I get the opportunity to view the events of the narrative from different perspectives. Cahill's ability to make every viewpoint count is one of the best parts of this book. Every single one is interesting, and the way it is written the emotion really comes through. The stakes are high for everyone in this book, and every scene is full of tension. Big props to the writing for that.

Another aspect that really kept my interest was the diversity of the character set. There are warriors, mages, dragons, elves, dwarves, etc. At times it almost reads like a Final Fantasy instruction manual (which, in case you are not sure, is a compliment). This was a really fun part of the book to experience.

I would have loved to see Rist get more page time. His character is obviously going to be extremely important in this series, and I felt as though he was forgotten at times. I was also not a big fan of the pacing. While the story was full of conflict, I thought it could have used more mini major conflicts. Everyone loves a mini boss! The chapters were also a little long for my taste, which contributed to the overall pacing issues, in my opinion.

Overall, Of Blood and Fire is really good fantasy, bordering on epic. I came away impressed with Cahill's writing and eager to read more. This series has a lot of potential, and I recommend fans of fantasy give it a try.