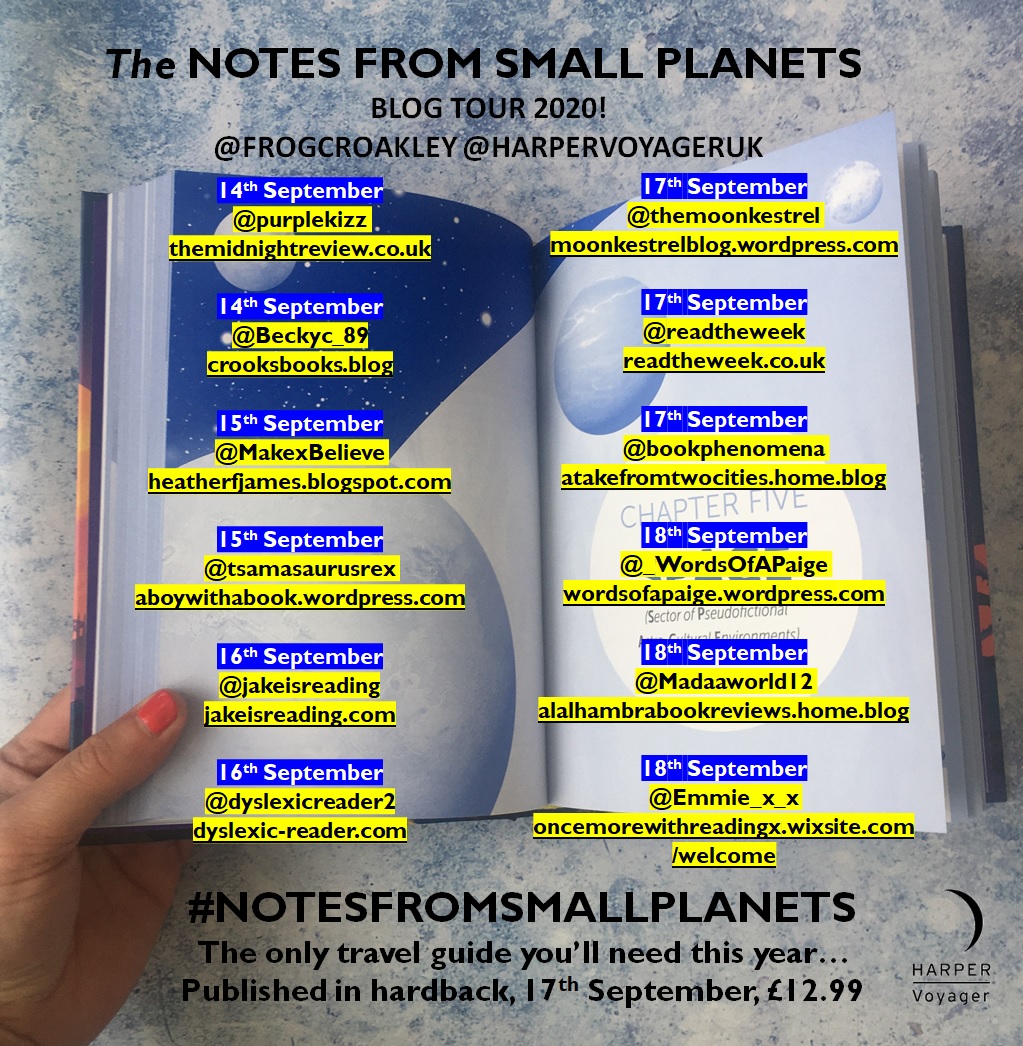 Rating: 10/10
Synopsis:
Journey from fantasy mountains to super-cities, through piratical seas and up into space without missing any must-see sights – or putting a foot wrong with the locals! Whether you're Lord of the shoestring-budget or Luxe Skywalker – Notes from Small Planets is your pastiche passport through the best worlds of Science Fiction and Fantasy.
Your ultimate travel guide to all the must-see locations in the worlds of Science Fiction and Fantasy.
The perfect gift for self-professed geeks and fans of all things genre – from classic genre listeners to new young disciples of nerdery. From misty mountains to wizarding schools, from the homes of superheroes to lairs of infamous villains – visit your favourite worlds and discover new ones – all without ever missing a single landmark or traditional dish. What's orc for 'bon voyage'?
Review:
Thank you to Harper Voyager UK for allowing me to participate in this excellent blog tour. All thoughts are mine, and I was given an ARC in exchange for a review.
This is clearly the ultimate travel book if the Doctor from Doctor Who decided to write down his memiors which practically stretch for thousands of years echoing across human history. This feels like an ancient manuscript that has been lost to the echoes of time. This is primarly Floyd's work, and his commentary is delightful as well as humorous. Though if it was one thing I didn't see coming: The intensive maths. Since it's treating you, the reader as a tourist, I slightly didn't want to be reminded of the large economical cost that a holiday requires so I think it could have been better improved in this part. Don't remind me of the Tudor currency that lies within this book! It's so confusing!
You'll be experience worlds taken inspiration from LOTR, the Terminator, Pirates of the Carribbean, Mad Max, Planet of the Apes and so much more. You'll be in a Conan inspired universe in the next and then sitting in a bar drinking horrible stuff with Robots since they have no sense of taste. The most favorite part of this world is the Pirates. They have a code for everything. Plus there's talking skeleton pirates that touch treasure and become skeletons (some type of curse apparently). And then there's the back and forth, between Floyd, our main writer, and Eliza, the editor of a glorious manuscript such as this who no doubt has to deal with Floyd's biases.
There is a huge amount of diverse cultures, and it would have taken a lot of time to chronicle each and every event you can do as a tourist. I would have wanted to see a bit less of the menu items (and there's a lot!). Sometimes I was reading halfway through an interesting paragraph and then there's the box showing more interesting information. That felt a little jarring. But then again, it reminds me of those old children's books that made you want to experience new worlds. Another thing is while this book had some excellent drawings and illustrations illustrating what the world looked like, I would have preferred to seen more illustrations. More of this would have been very good.
There isn't much for me to say but this is a enjoyable book. Easy to read. No complexity needed. Funny and humorous. And its just the book we need in these challenging times. I'd love to see a Netflix adapation of this some time… 🙂