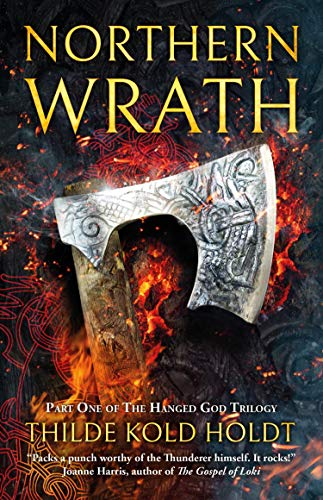 Rating: 7/10
Synopsis:
Following in the steps of Neil Gaiman & Joanne Harris, the author expertly weaves Norse myths and compelling characters into this fierce, magical epic fantasy.
A dead man, walking between the worlds, foresees the end of the gods.
A survivor searching for a weapon releases a demon from fiery Muspelheim.
A village is slaughtered by Christians, and revenge must be taken.
The bonds between the gods and Midgard are weakening. It is up to Hilda, Ragnar, their tribesmen Einer and Finn, the chief's wife Siv and Tyra, her adopted daughter, to fight to save the old ways from dying out, and to save their gods in the process.
Review:
It is that time of year where I'm ramping up my Norse mythology reads in preparation for Spells & Spaceships Norsevember extravaganza. I kicked off a little early this year with Northern Wrath by Thilde Kold Holdt, which I actually won in one of last year's competitions. A gorgeous, signed and doodled copy from Holdt herself. This is a tale of survival, cunning, and strength amidst the chaos.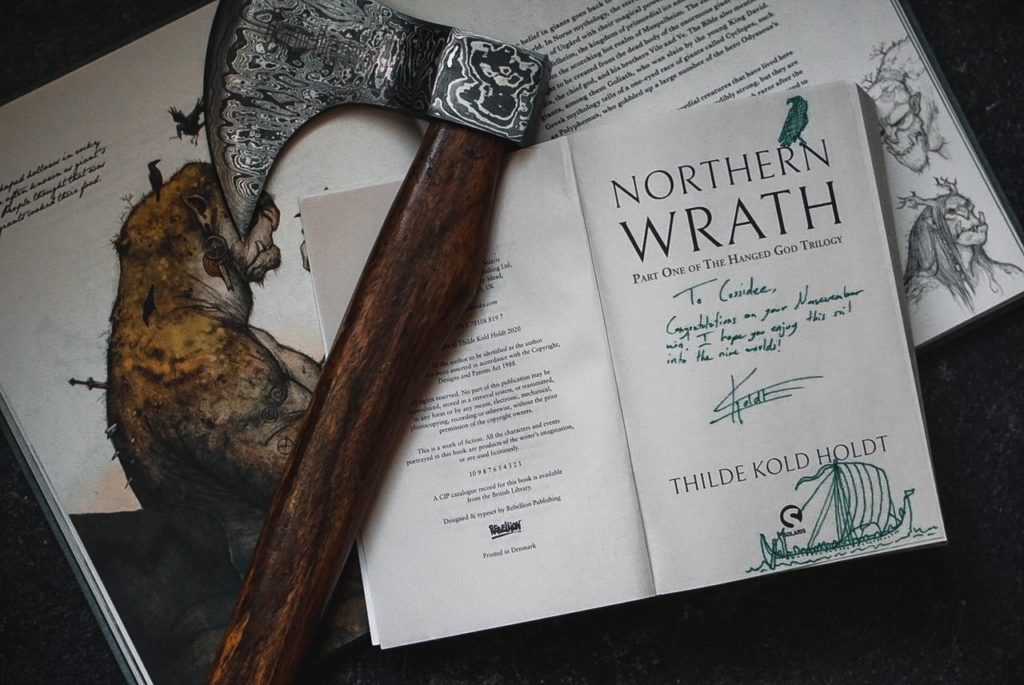 As evidenced by my annual anticipation for Norsevember, I'm a huge fan of the mythology that drives it. I would not call myself an expert by any means as I've barely dipped my toes into the depth that is Norse mythology, but I have read a few handfuls of books based on it.
I love multiple POVs and I enjoyed the way we switched from ones that seemed more dreamlike to ones that were more grounded in reality. Ragnar's chapters take on the hazy view of a man caught up in the tide of the Gods. Hilda goes through some excruciating moments but her voice and vision is strong. Einer and Finn's dynamic makes things interesting and provides tension that threads through the story in a unique way. Siv and Tyra are on a journey all their own, one where we see how cunning and unwavering these women can be.
I really liked these characters, but one of my issues was that I felt that I didn't really get to know them in the way I like to in novels. This is not entirely the fault of the author. Plot-driven readers will undoubtably be enthralled by this novel as there's a heavy combination of battles, journeying, and mischief! Most people that know my preferences know I'm a character driven reader. I need a certain level of closeness to the characters for it to rank among my favorites.
Happily, towards the end of this novel, I started to feel like I was beginning to know them better. Northern Wrath seems like an amazing set-up for what is to come. The ending of the novel was explosive and engaging, making me excited to see what was up next.
The dive into Norse lore was crafted with an expert hand; you will hardly believe that this is a debut novel in that regard. The writing is gorgeous, tidy, and calculated. This all leads to a superior world-building experience. Anyone who puts world-building on the top of their list will be completely satisfied with Northern Wrath. You can tell that Holdt really loves writing about this field of mythology and that her heart is in her writing.
All in all, this was an enjoyable read to kick off my Norsevember experience and I'm lucky enough to have received a copy of the second book 'Shackled Fates' which comes out October 2022. I'll be diving into that soon with eagerness to see where our characters are headed.