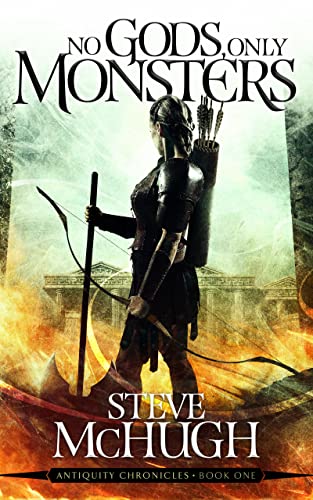 Rating: 7.5/10
Synopsis
Diana, the Roman Goddess of the hunt, lives alone on the far edge of the Roman Empire. When an old friend arrives looking for help, Diana finds herself thrust back into her old life, and old problems.
With innocent lives caught in the crossfire, Diana realizes that the only way to ensure the safety of her friends and loved ones is to do what she does best: hunt her enemies down.
Review
Want to read an incredibly violent and fast paced story of self-forgiveness and a dash of romantic intrigue set in the ancient Roman world? Well, well, well. Looks like this is just the story for you! Steve McHugh has written a wild ride of a story that all takes place in just 200 pages! No Gods, Only Monsters, takes many of your favorite Roman characters of mythology and turns them on their heads to give us a new and fun perspective.
I found Steve's use of popular mythological beings to be uniquely modern and very interesting. While you can find stories that throw a modern twist on mythology (Percy Jackson as an example) I can't really think of another story where the issues and world views of today so genuinely fit the people of the Roman timeframe as portrayed in this novel. Diana is a strong willed female MC who is a joy to read and get to know. Steve's other characters such as an adventurous dwarf and Diana's friend, whom I won't spoil for you, equally entertain and help bring the story to life.
What I loved the most about this book is how McHugh takes some of the most well known 'good guys' and 'bad guys' of mythology and literally switches their roles. Not that they portray different people, but instead he manages to make the good guys pretty much bad guys and the bad guys just misunderstood or entirely mistreated by those around them. This made the read different from other stories I have experienced and kept my attention.
The action and conflict throughout are also very enjoyable. Sometimes I found myself wishing they would last longer or at least have a greater build up in some situations, but overall they were really fun and definitely brutal! Be warned if blood and gore are not your thing. This story certainly has plenty!
There are many main themes in NGOM. Diana's struggle with her past brought up many questions and ideas about personal and moral obligations to those around us. Especially to those who rely on us or are less fortunate. Not to mention dealing with the things inside us all that we are most scared of. This is also an LGBTQ+ story with strong willed females that don't need any kind of man. Other topics I saw are things like stop endangered animal poaching and upper class to lower class abuse. Governmental issues like lazy leaders as well as self centered ones. So many things in such a small book!
I really enjoyed No Gods, Only Monsters as a break from all my long intense fantasy epics. It is certainly a fast paced story that you'll find yourself flying through as each conflict leads to the next. While I do not believe this to be a YA story, it did feel YAesk to me because of the pace and humor, which is certainly not a knock! I'm excited to see where this series goes! Give McHugh a shot! You won't be disappointed.
Thanks Escapist Book Tours for letting me participate in this book tour! I really enjoyed it!
Author Bio & Information
Steve is a bestselling author of Urban Fantasy. His book, Scorched Shadows, was shortlisted for a Gemmell Award for best novel.
Steve was born in a small village called Mexborough, South Yorkshire, but now lives with his wife and three young daughters in Southampton.
Author Website: https://stevejmchugh.wordpress.com/
Twitter: https://twitter.com/StevejMchugh
Amazon Author Page: https://www.amazon.com/Steve-McHugh/e/B007YYWVHA
Goodreads: https://www.goodreads.com/author/show/5819903.Steve_McHugh