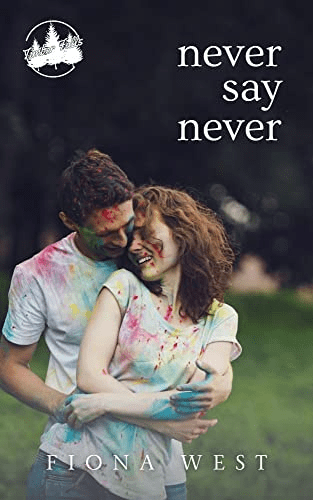 Rating: 9.0/10
One single dad, one overworked nanny, and one word that stems from generations of family rivalry: never.
Charlie Miller has sworn off dating, and for good reason–when his ex-wife left him, he realized what a dumpster fire his life had become. It's just as well: when you're trash, the dumpster is where you belong. His ex is remarried now, and the nanny he just hired? Despite her Snow White looks and amazing way with his kids, she's off-limits anyway. Because the Millers and Zanes have been feuding in Timber Falls since 1921, and that doesn't seem likely to change.
Ruth's been accused of having her head in the clouds, and not just because she's a birder. Her dad and brothers are none too happy that's she's taken this job, but she's never understood their feud. They need the money to take care of their mom, and this is the job that's available. The more she realizes how the Miller kids are hurting, the more she's convinced that Charlie's the one who needs her care most of all…
When they start to see each other in a different light, the pressure of past mistakes and prejudices tries to keep them apart…but when a child's safety is at stake, can they bring these two families together before it's too late?
Never Say Never is the seventh book in the Timber Falls contemporary romance series. It contains tire swing kisses, banter during cooking, and a happily ever after; it does not contain sex scenes. Grab your copy of this powerful tale about redemption, responsibility, and how to lay your burdens down.
---
Review
Full disclosure, Fiona is a friend of mine and I did read this as a sensitivity reader, though I don't think either of those things has influenced my love of this book. I am not usually a contemporary nor a romance reader, preferring to stick to mostly SFF and horror. However, this book was such a needed breath of fresh air for me in so many ways and it is why I will now always recommend to read broadly and, especially, to read outside of your comfort zone!
As I said before, I am not an avid reader of this genre and so this was the first book I have read in the Timber Falls series (though I think they are really only connected through the eponymous town and shared characters). Despite this, Never Say Never was easy to follow and West did an excellent job ensuring that this can be read by itself. It takes place in the fictional small-town of Timber Falls, Oregon and the small-town feel is one of the things that I think was captured really well. Having grown up in small-town America, I understand how they work. Everybody knows everybody and if there's gossip to be spread, it'll get across town faster than you can. For contemporary romance, this is a brilliant conceit because it provides so many opportunities for the author to drive additional tension and character development. For instance, in Never Say Never, the primary characters and love interests, Charlie and Ruth, are from two rival families, à la the Hatfields and McCoys, which is a constant source of external conflict, from the start of their business relationship through to their eventual romantic one.
The area in which West truly shines though is in her ability to write believable characters. Charlie is a divorced dad who has sworn off dating because he has come to believe that he's not worthy of happiness, not worthy of finding a partner, because he knows that he'll just hurt her like all the others before. He almost falls into that kinda toxic masculinity, hold in all of your feelings, and never work to improve yourself because you were rotten from the start archetype, of which I can definitely relate. But, the truth is that he's not actually a bad person. A bit of a womanizer, maybe, but also a dedicated and loving father, a devoted brother, and a hard-working small business owner. It's this false image of himself as the villain that is the primary source of tension for him and it's one that is so well written that I can't really find any fault with it. Opposite him is Ruth, a young woman who has had the welfare of her family on her shoulders for most of her life and so has never truly gotten to live. It's a common sight in small towns, the child who was burdened, through sickness or death, with caring for their family. Never Say Never isn't just about Charlie and Ruth's relationship, though it is the central focus; Charlie's children, his ex-wife and her husband, and both Charlie and Ruth's families play a role as well.
It's the little details that the author gets right that really pull it all together for me. I was consistently surprised by the seemingly inconsequential things that she wrote into the story that really brought the characters alive for me. Having gone through something similar in my own life, I related so much to Charlie and the almost self-imposed pain he carried with him. From the interactions between Charlie and his children's mother and step-father, to his fear of opening up and of going to group therapy, and even the misplaced anger of a child with divorced parents, Never Say Never is filled with nuance and the dueling narratives of Charlie and Ruth only serve to highlight this. If I were to find any fault in the book, it would only be to say that there were a few points where there were small jumps in time between chapters that left me a little disoriented. That's a small gripe, however, and may only be a personal issue.
Never Say Never brings together two broken characters and gives them the space to heal through each other, despite the challenges and obstacles in their paths. With a keen eye for character development and a deft hand at creating tension and conflict, West has written a wonderful story of learning to allow yourself to love and to be loved. I honestly don't think I could have chosen a better book as my first experience with contemporary romance than Never Say Never.