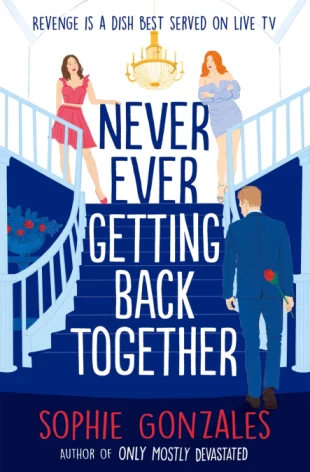 Rating: 8/10
Synopsis:
When their now famous ex-boyfriend asks them to participate in a teen reality show, two eighteen year old girls—one bent on revenge, the other open to rekindling romance—get tangled up in an unexpected twist when they fall for each other instead in Never Ever Getting Back Together by nationally and internationally-bestselling and Indie Next Pick author Sophie Gonzales.
It's been two years since Maya's ex-boyfriend cheated on her, and she still can't escape him: his sister married the crown prince of a minor European country and he captured hearts as her charming younger brother. If the world only knew the real Jordy, the manipulative liar who broke Maya's heart.
Skye Kaplan was always cautious with her heart until Jordy said all the right things and earned her trust. Now his face is all over the media and Skye is still wondering why he stopped calling.
When Maya and Skye are invited to star on the reality dating show Second-Chance Romance, they're whisked away to a beautiful mansion—along with four more of Jordy's exes— to compete for his affections while the whole world watches. Skye wonders if she and Jordy can recapture the spark she knows they had, but Maya has other plans: exposing Jordy and getting revenge. As they navigate the competition, Skye and Maya discover that their real happily ever after is nothing they could have scripted.
Review:
I received a copy of this book from the publisher in exchange for an honest review.
Okay so I loved this. I flew through it in just a few days and regretted every time I had to put it down. At first I was really worried it would lean heavily on the miscommunication trope, but I'm very happy to say that it's resolved early on in the book, and the main focus becomes revenge. I loved seeing Maya and Skye come together to enact revenge on Jordy, and then how their friendship blossomed into something more.
This book may be classed as YA but it definitely sits in the older-YA category, all our characters are 18 or older and definitely show more maturity than I expected from YA. There's also a fade-to-black moment, this doesn't make it not-YA but it's worth noting.
Also, this book is LGBTQ+, and it's not a story of coming-out or finding yourself. Maya just is bi and the story doesn't revolve around that being a bit secret or really all that important to moving the plot along. There's F/F love and it just is. No debate, no struggle, just love.
Never Ever Getting Back Together has so much heart and the setting of a Bachelor-esque reality show, except all the girls are his ex's is so much fun. I especially loved some of the reveal scenes and how Maya experiences the fake-ness of reality shows. It made everything so much more interesting as you never knew what the outside world thought of her.
I've really enjoyed reading rom-coms this year and Never Ever Getting Back Together did not disappoint. I really recommend picking it up, especially if you want a rom-com where the romance/relationship isn't the sole and full focus of the book.