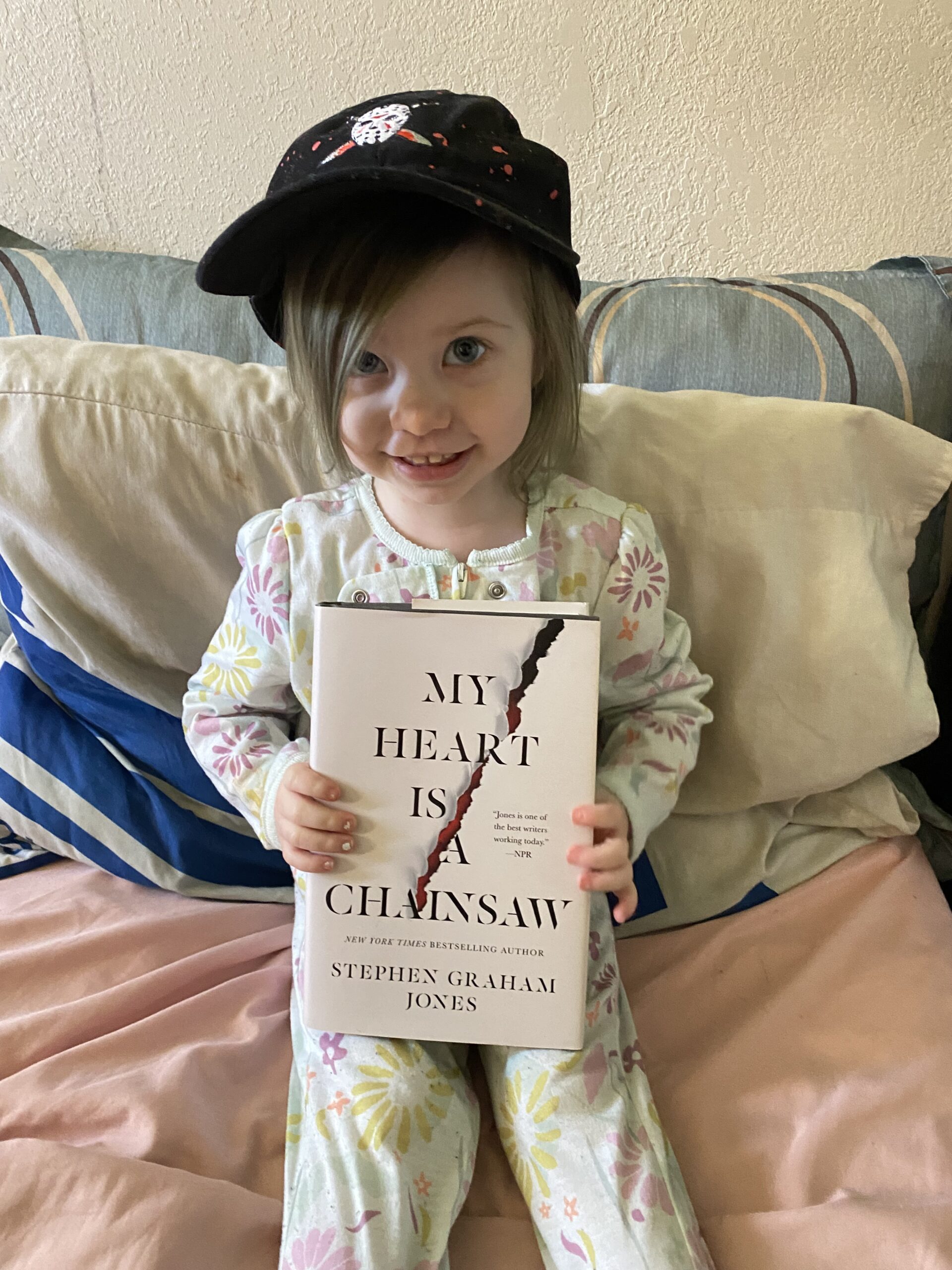 Rating: 11/10
SYNOPSIS
In her quickly gentrifying rural lake town Jade sees recent events only her encyclopedic knowledge of horror films could have prepared her for,
Jade Daniels is an angry, half-Indian outcast with an abusive father, an absent mother, and an entire town that wants nothing to do with her. She lives in her own world, a world in which protection comes from an unusual source: horror movies…especially the ones where a masked killer seeks revenge on a world that wronged them. And Jade narrates the quirky history of Proofrock as if it is one of those movies. But when blood actually starts to spill into the waters of Indian Lake, she pulls us into her dizzying, encyclopedic mind of blood and masked murderers, and predicts exactly how the plot will unfold.
Yet, even as Jade drags us into her dark fever dream, a surprising and intimate portrait emerges… a portrait of the scared and traumatized little girl beneath the Jason Voorhees mask: angry, yes, but also a girl who easily cries, fiercely loves, and desperately wants a home. A girl whose feelings are too big for her body.
My Heart Is a Chainsaw is her story, her homage to horror and revenge and triumph.
REVIEW
Note: This review was written after my third read of My Heart is a Chainsaw.
My Heart is a Chainsaw is an in-depth character study on trauma wrapped up in a gory, brilliant slasher novel. This novel seems like it was written for me. Jade Daniels is one of the most relatable main characters I've ever come across and her journey speaks to me in ways I didn't expect.
Horror, slashers in particular, are my favorite form of entertainment and escapism. Every shirt I own has a slasher on it. Matching hats to go with them. My children who have never seen a slasher know all the mythology of Jason, Freddy, Michael, etc. Stephen Graham Jones writes about these movies with a passion that feels like it was chainsawed out of my heart.
Every chapter (aside from one) is told from Jade's perspective. I could read about her for the rest of my life and be fine. Several times, she had me tearing up, just because I felt like someone finally understood me. I felt like I wasn't a creep or weirdo, or if I was, at least I'm not the only one. Jade lives her life like her eyes are the camera filming the next great slasher. She never sees herself as the star, just the quiet observer. In that respect, Jade speaks to me again. She's the Randy (from Scream) of the story, meant to build up the final girl, even if it means she dies along the way. The idea that she could be the final girl is unfathomable because she doesn't feel like she's worthy of such an honor.
Jones builds the town of Proofrock with a level of skill and depth that matches The (Stephen) King of Horror himself. By the end, I felt as if I'd returned home from a weekend stay in Idaho. Every character feels real, and it's Jade's unreliable narration that deepens them. She'll tell you one thing about someone and then you see them act in opposition to her opinion. Just like in real life, you can never really know someone, even yourself.
My Heart is a Chainsaw is chock-full of slasher references. Most I already knew, and any I didn't was a welcome addition to my watchlist. Every reference made me smile to myself, like I was in on the joke for once. I don't believe understanding the references will affect your enjoyment of the story. The references aren't just a fun addition, they serve a purpose to Jade's character arc. Jade uses horror as a shield to protect herself from the trauma of her childhood. Without them, the story loses its heart.
What I'm trying to say is, this book is creepy. It's bloody and violent. It's funny. It's everything you want from a great slasher. To say it elevates the slasher genre would be an insult to what the slashers that came before have done. But what it does is build on the genre. Just by being a novel, you get a depth to the characters and world you wouldn't get in a film. But it never sacrifices what it is to be something it shouldn't be, it's a love letter to the classic genre.
There's a song by Weezer called Heart Songs. In it, Rivers Cuomo sings about the songs that speak to his heart, that marked important moments in his life, or that helped shape him into the person he is. My Heart is a Chainsaw is my heart book. My new comfort read. My favorite book published in the past ten or so years. Maybe even longer. It reminds me that I'm not alone, that horror is awesome, and this book just a bloody good time.