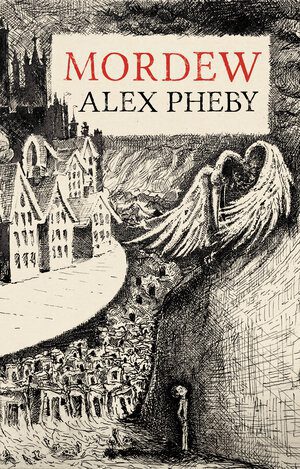 Rating: 10/10
Synopsis
GOD IS DEAD, his corpse hidden in the catacombs beneath Mordew.
In the slums of the sea-battered city a young boy called Nathan Treeves lives with his parents, eking out a meagre existence by picking treasures from the Living Mud and the half-formed, short-lived creatures it spawns. Until one day his desperate mother sells him to the mysterious Master of Mordew.
The Master derives his magical power from feeding on the corpse of God. But Nathan, despite his fear and lowly station, has his own strength – and it is greater than the Master has ever known. Great enough to destroy everything the Master has built. If only Nathan can discover how to use it.
So it is that the Master begins to scheme against him – and Nathan has to fight his way through the betrayals, secrets, and vendettas of the city where God was murdered, and darkness reigns…
Review
Mordew is a wondrous, richly crafted and grimly set first in a new series that surpassed my expectations in every way possible. It's the marvel of Guerdon in the Gutter Prayer and the oddity of His Dark Materials mixed into one. To say that it was full of original wonder would be an understatement, it truly took me through a fever dream, a hallucination of new ideas moulded together by Nathan, Gam, Prissy, Joses, Anaximander and Sirius, and the Master; it's the start of an absolutely stunning new fantasy trilogy that you just won't want to miss.
The story, in short, is about Nathan Treeves, a boy who lives in the slums surrounded by living mud and the dead life that crawl out of it; his father's got the lungworm and his mother is trying to make ends meet as a lady of the night, but that isn't enough. Though, there's one option left for them, the Master of Mordew takes in boys, so he'll be sent there to earn his keep and get medicine for his father. Only, along the way, he manages to owe the nastiest person in Mordew a favour, Padge, and he won't let that go unnoticed. So, Nathan joins the gang headed by Gam and they set out thieving. Now, this is only perhaps the premise – this is a book of four parts. Just when you think you know what the plot's about, it takes a turn for the magical in a massive way. It's really an exploration of the unexpected and, well, the grim. Mordew is not a book that's afraid of stabbing you in the gut, of showing you the underside of the city. The struggle, the coming to terms with who Nathan is and how he goes about this, even when he doesn't have the strength to change anything, and even when he does. I really can't say much other than that as Mordew is a book you really need to go into blind, and the plot's something you really need to give a chance; every original bit of this world takes the view that you've grown up in it. So, there's no real explanation for a lot of it, but don't try to figure out what everything means, just go along with it. That's part of the wonder and I promise it'll pay off.
The character dialogue is something damned special; if you read me dialogue excerpts from the book, even one-liners, I could tell you exactly which character was talking. Each one has mannerisms and speech patterns as unique to them as our voice and way of speaking are to us. The way the characters talk and interact to each other is a work of art I wasn't quite ready for (and in the audiobook so kindly provided to me as an ALC, Kobna Holdbrook-Smith brings this to life in a magical way.)
From living mud to dead life, and the weft, the Master and the Mistress, Anaximander the talking dog, magical lockets and demons, the Spark, and the Itch – a very mysterious magic Nathan can call upon that turned a bit of dead life into a real rat, that then bites and poisons him – there's a smorgasbord of inventive and new ideas that only belong in Mordew. I know this review sounds like a lot of gushing, but this book inspired the same sense of wonder in me as perhaps the first time I went to a carnival as a child or the first time I entered a boutique festival, it is quite the sensual experience. And trying to piece all the weird and wonderful into coherent sentences is very much an impossibility. If you'd just been on an extended visit into Mordew, you'd have the trouble too. It's like that moment when Charlie first goes into the chocolate factory.
The weft is an odd magic. One loosely, if at all, defined. I don't usually enjoy soft magic systems, but this one really worked. Without setting limits to the power, there were visible flaws in its usage (I mean, turning your arm into an insubstantial ghost-arm is a flaw to it, isn't it?) But this is one of the things Pheby does best, shows you something new and unexplained, and strange and weird, but then convinces you subtly that you don't need to know what it is and to just trust and continue to read. Anyhow, it's the power that keeps the waves from taking Mordew into the sea, it's the power that gives life to the dead life and those children not womb born, and the power that keeps away the Mistress and brings to life books and lockets. It's very, very strange.
A special mention goes to Anaximander, the talking dog whose name is Bones, but he decided to choose his own; the POV of a dog is not normally one that I'd say works but it did here. He is very well-spoken, intelligent, and dangerous, but he will explain to you why he needs to eat your face off and challenge any rebuttal to that matter with a carefully worded argument – he's a dog of culture, so he will hear your side, too.
Overall, just go buy it. Ignore my raving if you like but pick up the book. There's a lot more I should or could have said about it but just didn't quite know how to; it's like nothing you've read before. It is undoubtedly my favourite book of the year so far, and no doubt will end up being in my top books of the year.