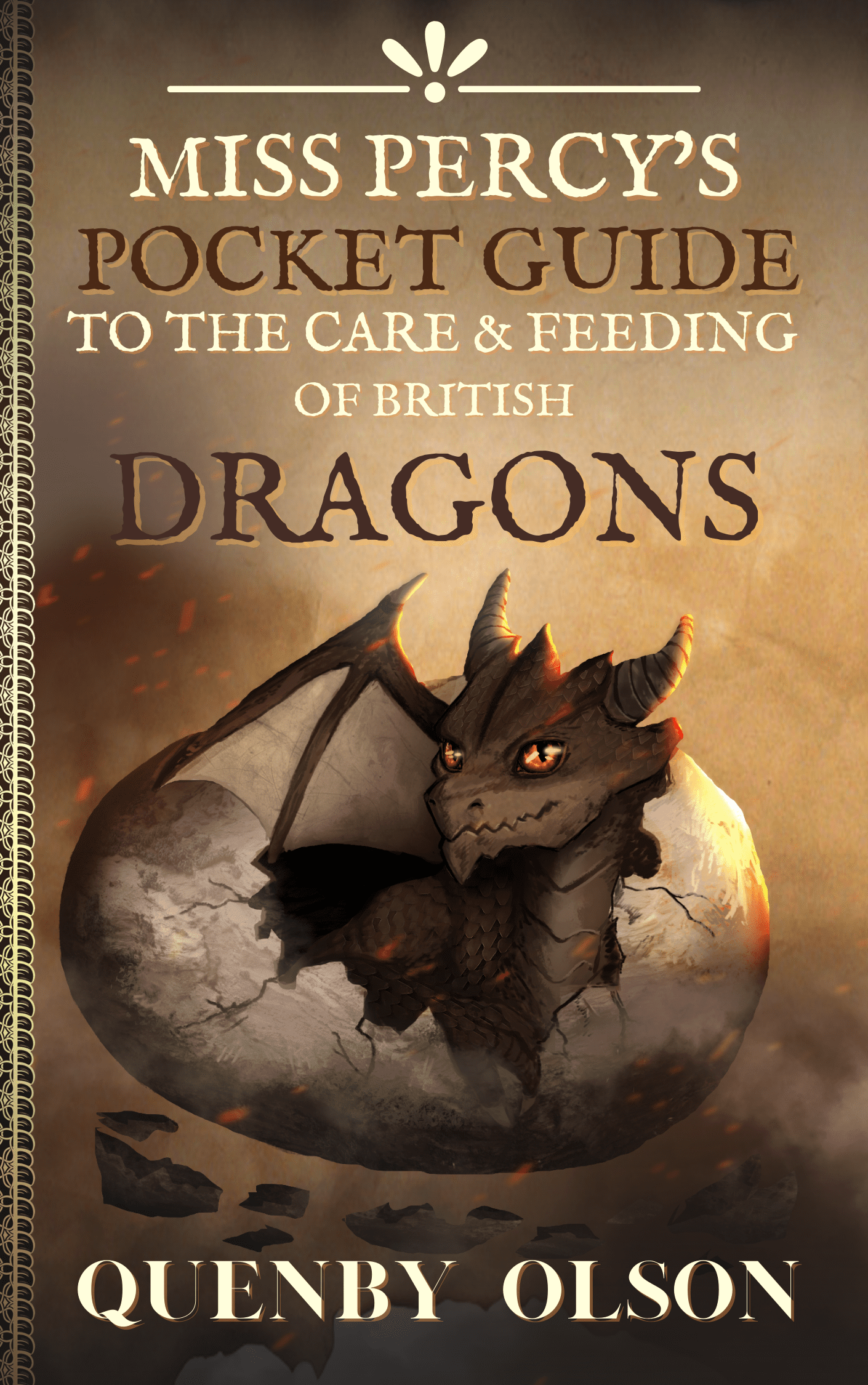 Rating: 10/10
Synopsis
Miss Mildred Percy inherits a dragon.
Ah, but we've already got ahead of ourselves…
Miss Mildred Percy is a spinster. She does not dance, she has long stopped dreaming, and she certainly does not have adventures. That is, until her great uncle has the audacity to leave her an inheritance, one that includes a dragon's egg.
The egg – as eggs are wont to do – decides to hatch, and Miss Mildred Percy is suddenly thrust out of the role of "spinster and general wallflower" and into the unprecedented position of "spinster and keeper of dragons."
But England has not seen a dragon since… well, ever. And now Mildred must contend with raising a dragon (that should not exist), kindling a romance (with a humble vicar), and embarking on an adventure she never thought could be hers for the taking.
Review
Miss Percy's Pocket Guide (to the Care and Feeding of British Dragons) is a book that's so delightful you could spend an entire review trying to come up with analogies and comp titles to fully capture how impossibly brilliant it is. The novel's only downside is that the book is so good that nothing I can say will fully capture how phenomenal it actually is. I will make two attempts to do so, though the first: "The Princess Bride x Bridgerton with tea and cake and dragons", fails to fully do it justice.
Make no mistake. There is tea. There is cake. And boy, there sure is a dragon in it. His name is Fitz and I love him with my whole heart.
But the biggest sticking point in this comparison is the fact that Miss Percy is not exactly a romance. The focus here rests on finding self acceptance, not true love. And though there is a love interest, this novel centers on the learned powerlessness of one Miss Mildred Percy, and the overcoming of it.
It is a book where the central character's diminished self worth, and everything that has been done to strip her of that, has become so routine that when the novel begins it is something to be expected. To be anticipated. There is a degree of intertextuality between this novel and Cinderella. The abuse Miss Percy deals with is so commonplace, so everyday that it is at first seen as a kind of force of nature that couldn't possibly be chafed against.
Ultimately, it takes quite another force of nature to disrupt it: a dragon. Fitz.
Mildred, and the people in Mildred's family, only perceive her as valuable so long as she has use. She is tolerated if the things she does can outweigh the economic cost her presence incurs.
This transactional way of thinking suffuses itself through the actions of the book's antagonists, in ways that permit them to be threatening while also at times comic. Though importantly, neither element takes away from the other.
Which is quite a feat. I've never seen these themes handled in this way before, and never this well. There have been remarkable novels I've read in which a character has felt useless. Ones where their perceived uselessness is a theme or motif. but none that so completely capture the transactional ways that uselessness can be learned, in such an intimately familial context.
And to do it all subtly, in a way that never sacrifices the comedic tone? It's astounding. Mildred must learn to love herself, and believe she is worthy of love.
It's remarkable.
And it also means "The Princess Bride x Brigerton fails to fit a fair summation of this book.
So how else could you describe it? I believe the first way I ever thought to was "Neil Gaiman meets Douglas Adams," which I find apt. But there are still problems with that comparison as well.
Sure, the novel reads as suitably Gaimanesque. An everyday character living an ordinary life finds a supernatural element, hijinks ensue. There is comedy (and we will come back to that), and though Miss Percy skips the more horrific overtones of Gaiman's work, the prose in Miss Percy could go toe-to-toe with Gaiman's best, if not surpass him.
And that's not even counting the parentheticals.
The asides in this novel are not unlike something out of Hitchhiker's Guide. The comedic elements to the prose are often interwoven throughout the events. Sometimes it is not so much what's happening that makes you laugh so much as how Quenby Olson tells it. Which seems sufficiently like Adams.
Except for the unfortunate fact that none of Douglas Adams's books ever got as many chuckles out of me as this book did. And I'm sure we're all aware that Adams was a very funny man. But he is ultimately, believe it or not, on a line-by -line basis, outclassed by Quenby Olson in this book.
So how to do it justice? How do you get someone to read a book when you can't even find the words to explain how wonderful it is? And how wildly disparate elements are contained within? The number of elements Quenby Olson juggles in this book, and the fact that all of them together result in a compounding meaning that enhances the text, rather than taking away from it, is nothing short of masterful.
Perhaps that is ultimately the best way to describe this. Masterful. Have you ever seen those videos of glassblowers working their craft? Or one of someone making chocolate sculptures? A sped-up video of a portrait being painted? You know the awe it inspires to watch somebody who's at the top of their game, the best in their class, throwing their weight around and making something unparalleled? There's a certain satisfaction in watching someone who's the best in the world do what they do. In sitting back as they create something gorgeous, in watching all those layers come together.
That is the appeal of Miss Percy.
And that's why no words can do it justice.