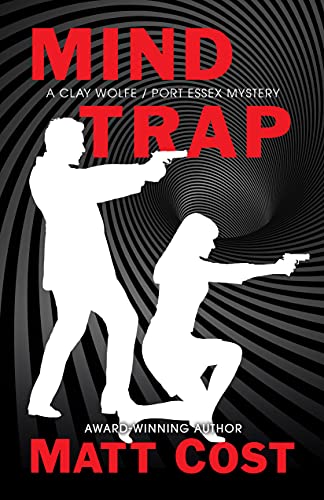 Rating: 7.5/10
Synopsis
"You say your daughter is missing?" Clay Wolfe asked. The man in front of him was slightly disheveled. Red eyes. Fear creased his features.

What is the End Game?

It was as close to ecstasy as the woman had ever been in her life. It was enlightenment. She was no longer Martha Abbott. She was a warrior of Marduk engaged in a war of purity.

What is going to happen on Leap Day?

"We have allowed sin to fill our homes, and it is our divine labor to cleanse that filth from our streets." Marduk's voice boomed through the cavernous temple.

Something evil is lurking in the streets of Port Essex. A missing girl. Violent attacks. It is up to Private Investigator Clay Wolfe, his partner Baylee Baker, and a colorful assortment of friends to get to the bottom of these odious occurrences before it is too late.
Review
Mind Trap is the second installment in veteran author Matt Cost's ClayWolfe/Port Essex Mystery series (though each can be read as a standalone). You might also know Cost's other works, the Goff Langdon Mainely Mystery series. The author clearly has found a niche in the light mystery/thriller genre, and after reading two of his books I can say the writing reflects that fact. (I reviewed the first book in the series, Wolfe Trap, earlier this year).

This book is extremely character-driven. Starting with Clay Wolfe, the MC, who owns a private investigation company and has a bit of a hero complex; his partner in crime, Baylee, who has deep personal issues of her own and is now part-owner of the company; Crystal, their foul-mouthed assistant with a "fuck the world" attitude; Marie, Clay's close friend and local journalist; and Clay's best friend and ex-special forces soldier, Westy. Cost clearly put a lot of deliberate work into giving each character a very distinct personality and history. A crew like this feels very standard for this type of story: the wannabe hero running at the danger when everyone else is running away, the person who is hiding from their past, the assistant who does not give a shit, the reporter always digging for information, and the ex-military officer who has all the guns and is hankering for a fight. The characters were all interesting and brought a different view to the story, which is something I really enjoyed about the book.

The plot is pretty typical mystery/thriller. A man hires Clay to investigate his missing daughter, and, of course, nothing is as it seems. There are lots of moving parts, and a cult culture is discovered. There are a few twists (nothing over the top), but I do have to say certain parts of the narrative did keep me guessing most of the book.

I definitely enjoyed Cost's writing style, which I found to be both similar and different to the first book. With Wolfe Trap I got big noir vibes (a point which the author and I debated a little): back-alley encounters, smokey bar meetings, after hours action. Mind Trap, however, feels much more cozy, East Coast mystery. I would not go so far to say that it is a straight up cozy mystery, but the charms of the sub-genre really come through. Also, I always have to compliment an author when I can tell they know how to write. Cost sets the scene really well in the first few chapters of the book – describing the setting, detailing the characters, lining up plot lines – with the ease of a professional. It never feels like an info dump, but it gives the reader all the information needed to continue in the story and is intriguing enough to draw their interest.

Mind Trap a nice book to read. It is a thriller mystery that is full of genre tropes. I do not say that with a negative connotation, because I have learned that with these types of books I find a lot of comfort in that. There is something satisfactory in knowing exactly what I am getting into in reading a book, especially after reading so much epic fantasy during the course of my reading year. Mind Trap is what they are not: a light, fun, interesting read. If you are looking for a book like that to supplement your colossal TBR, a break from the grandiose, I definitely recommend checking out Mind Trap.