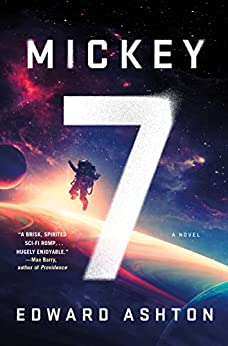 Rating: 8.0/10
Synopsis
Mickey7, an "expendable," refuses to let his replacement clone Mickey8 take his place.
Dying isn't any fun…but at least it's a living.
Mickey7 is an Expendable: a disposable employee on a human expedition sent to colonize the ice world Niflheim. Whenever there's a mission that's too dangerous—even suicidal—the crew turns to Mickey. After one iteration dies, a new body is regenerated with most of his memories intact. After six deaths, Mickey7 understands the terms of his deal…and why it was the only colonial position unfilled when he took it.
On a fairly routine scouting mission, Mickey7 goes missing and is presumed dead. By the time he returns to the colony base, surprisingly helped back by native life, Mickey7's fate has been sealed. There's a new clone, Mickey8, reporting for Expendable duties. The idea of duplicate Expendables is universally loathed, and if caught, they will likely be thrown into the recycler for protein.
Mickey7 must keep his double a secret from the rest of the colony. Meanwhile, life on Niflheim is getting worse. The atmosphere is unsuitable for humans, food is in short supply, and terraforming is going poorly. The native species are growing curious about their new neighbors, and that curiosity has Commander Marshall very afraid. Ultimately, the survival of both lifeforms will come down to Mickey7.
That is, if he can just keep from dying for good.
Review
Thank you to the author (Edward Ashton) and publisher (St. Martin's Press) for an advance reading copy of Mickey7. This did not influence my thoughts or opinions. Mickey7 released February 15, 2022.
"Come on," I say. "You know this as well as I do. One of us has got to go."
Mickey7 was such a breath of fresh air. I've been reading a lot of dark fantasy recently and well, it's really nice to change it up. This was an enjoyable science fiction that felt light on its feet. It reminded me of how I felt reading The Martian, We Are Bob, and Redshirt. I loved how Mickey7 felt tone wise. Despite some sticky situations, it maintained a fun feel to it which is exactly what I needed at this time, and I'm sure there are many readers who may be looking for something similar.
Mickey Barnes is a Mission Expendable. These Expendables are used in dangerous, high risk situations to help fix or test things out because if death occurs, they can replace them using their bio-printed body and personality.
The world building was inventive and imaginative. I thoroughly enjoyed the history of previous colony expeditions and the landscape of those planets humanity was seeking to colonize. I found Niflheim, the ice planet where the story takes place, to be a fascinating creation. The small colony lived inside a dome due to an uninhabitable atmosphere with some creepy lifeforms and it was neat learning the ins and outs of dome living. I would've loved to have explored more of Niflheim. There were some great science-y bits added which really hit that sweet spot.
The book is told through Mickey7's present POV with flashbacks mixed in. Although I found the flashbacks to be very interesting and informative, the plot would flashback just as I was getting into a groove and I'd find myself wanting to stay in the present and continue with what was happening next. The characters were developed fairly well and felt uniquely different. I greatly enjoyed every single character interaction and always looked forward to them. They were always in some sort of jam and I loved reading how they decided to work through it. Woven throughout are moments of introspection focusing on being human, which was an enlightening addition to the story.
Mickey7 shines in plot and its matter-of fact dialogue. The author's creativity with world building and background history was exceptionally satisfying. I loved the concept of a Mission Expendable. I wholeheartedly recommend Mickey7 if you're in the mood for some light and fun sci-fi.