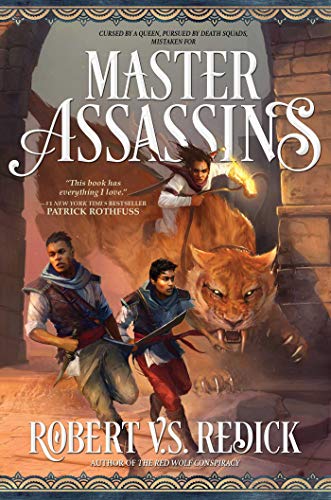 Rating: 9/10
Synopsis
Two village boys mistaken for assassins become the decisive figures in the battle for a continent in the thrilling new desert-based epic fantasy by the author of The Red Wolf Conspiracy.
Kandri Hinjuman was never meant to be a soldier. His brother Mektu was never meant for this world. Rivals since childhood, they are drafted into a horrific war led by a madwoman-Prophet, and survive each day only by hiding their disbelief. Kandri is good at blending in, but Mektu is hopeless: impulsive, erratic—and certain that a demon is stalking him. Is this madness or a second sense? Either way, Kandri knows that Mektu's antics will land them both in early graves.
But all bets are off when the brothers' simmering feud explodes into violence, and holy blood is spilled. Kandri and Mektu are taken for contract killers and must flee for their lives—to the one place where they can hope to disappear: the sprawling desert known as the Land that Eats Men. In this eerie wilderness, the terrain is as deadly as the monsters, ghouls, and traffickers in human flesh. Here the brothers find strange allies: an aging warlord, a desert nomad searching for her family, a lethal child-soldier still in her teens. They also find themselves in possession of a secret that could bring peace to the continent of Urrath. Or unthinkable carnage.
On their heels are the Prophet's death squads. Ahead lie warring armies, sandstorms, evil spirits and the deeper evil of human greed. But hope beckons as well—if the "Master Assassins" can expose the lie that has made them the world's most wanted men.
Review
Master Assassins by Robert V.S. Redick has been in my TBR for quite a while. I'd first heard about it through Mark Lawrence with his glowing praise, and knowing how much I'd loved Senlin Ascends based on his review, I figured I'd like this as well. However, the cover and blurb never really stood out to me so it was never that high on my TBR.
A few years later, I started hearing praise heaped upon the sequel and several of my fellow bloggers recommend it, so I finally took the plunge. And wow, this book was fantastic.
The story is a classic tale of being in the wrong place at the wrong time and the events that spiral out of control based on a few key decisions. We follow two brothers, Kandri and Mektu, as they flee from the army which they used to serve across the desert. In between we get a cast filled with colorful characters, deep and rich worldbuilding, and plenty of strong character development particularly in the well-paced flashbacks.
Two things stood out to me that bring this book into top tier fantasy. First, the intricate worldbuilding. While most of the book is either in a desert or a canyon, the locals were still consistently varied and interesting. The politics of the world and the mysterious characters, particularly the prophet and her motivations, all serve to create a world that I wanted to know more about. There are some very interesting twists and turns about the world and I just want to learn more.
Second, the prose of the book is quite marvelous. In many books, I can skim paragraphs at a time and still get a clear picture of what is taking place and the world around it, but in Master Assassins, I took my time, savoring every word because each is placed with importance and purpose. Several times throughout the book I was marveled by how Redick turned a phrase or said something that caught my attention. Very well done.
My one slight criticism of this book is that I had a tough time truly caring for either of the two protagonists. I've read some grimdark, so I don't always have to love my protagonists, but I feel my favorite books are ones where my emotions get tugged on – and that didn't quite happen here. But I feel that it could change in later books as I continue to understand these characters.
All in all, Master Assassins is an incredible book with top-notch prose and a world that I can't wait to learn more about. Highly recommended and I'll be starting the sequel post-haste!