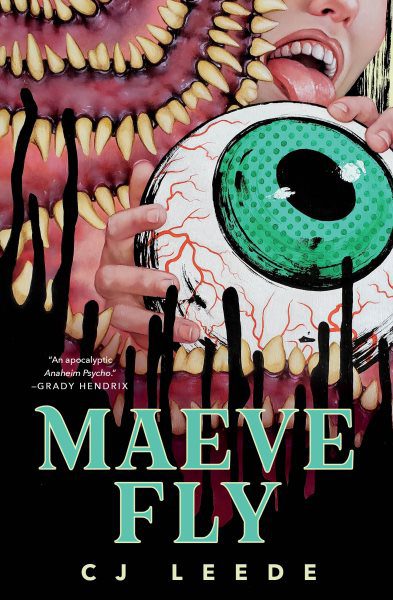 Rating: 7/10
Synopsis
By day, Maeve Fly works at the happiest place in the world as every child's favorite ice princess.
By the neon night glow of the Sunset Strip, Maeve haunts the dive bars with a drink in one hand and a book in the other, imitating her misanthropic literary heroes.
But when Gideon Green – her best friend's brother – moves to town, he awakens something dangerous within her, and the world she knows suddenly shifts beneath her feet.
Untethered, Maeve ditches her discontented act and tries on a new persona. A bolder, bloodier one, inspired by the pages of American Psycho. Step aside Patrick Bateman, it's Maeve's turn with the knife.
Review
Maeve Fly works as a princess in the happiest place on earth, and she loves the park, just like she loves Hollywood, and like she loves Halloween: because they all embrace a state of absolute artifice, with sickness roiling just beneath the surface. This rhymes with Maeve's understanding of the world because Maeve is a psychopath. This fact is clear from almost the very beginning, and it is Maeve's voice, narrating her bloody descent into her own mind that elevates Maeve Fly (Tor Nightfire), the book that bears her name. 
Maeve, in her late twenties, has fled to Hollywood after being disowned by her family. She moves in with her grandmother, Tallulah Fly, who was—long ago—a starlet, and who also happens to be (like so many of the characters) a psychopath. Or, perhaps, she is just one of the few who  recognizes Maeve for what she truly is. Kate, her only friend, is another person who has caught brief glimpses beneath Maeve's polished surface, and though she may blink, Kate appears to accept Maeve for who she is. 
All in all, Maeve's life is pretty good. She loves her job. She lives in her grandmother's big house in the Hollywood hills. She has a good friend. She spends her spare time stalking and doxxing people on the internet, destroying both the guilty and the innocent alike. She occasionally kills people. She's basically living the dream. 
But things come to a crisis when several things happen at once. First, her grandmother slips into a coma. Then Kate begins to drift away as she sees the possibility of Hollywood stardom within her reach. And there are those dolls she keeps finding: Frankensteined creations wrapped in hair and smeared with blood.
The final straw is when she meets Kate's hockey-star brother, Gideon, a man who might just be her match, and who opens up whole new worlds of violence and perversion.
There's little doubt where this story is headed, and it does not fail to deliver. Maeve's final freak out is wild and larger than life, and finally begins to strain the bounds of the novel's highly stylized world. Much like American Psycho, a book Maeve eventually takes as her guide, there is a heavy sense of irreality to the denouement, because in the end, reality doesn't matter much. We're here for Maeve, and she takes center stage with wild delight.
Stephen King has criticized Jack Nicholson's portrayal of Jack Torrence in The Shining, arguing that there is no descent, that the character is clearly insane from the beginning, so there's nowhere for him to go. I felt similar concerns while reading Maeve Fly. An admitted murderer who clearly lacks any kind of moral compass can't really break in any fundamental way. All the author can do is, as in the works of the Marquis de Sade, go for volume. There's some sense of quantity over quality in Maeve's Halloween night massacre. 
And I also found some of Maeve's collection of ticks and obsessions to be a bit cloying (a dedication to Halloween music, for example), but in the end, their falseness almost seemed intentional. Maeve feels less like a character than a collection of ideas because Maeve is not fully human. There is an emptiness inside her, and her "personality" is made up almost exclusively of masks and dirty bits from old books.
It's in the various, painfully poignant moments when others see beneath those masks, that we see something like a human being, aching for real connection but finally incapable, and for all of the rape, murder, and dismemberment in Maeve Fly, that's the real horror: Maeve's need to finally be seen, and the fact that she may have missed that chance.