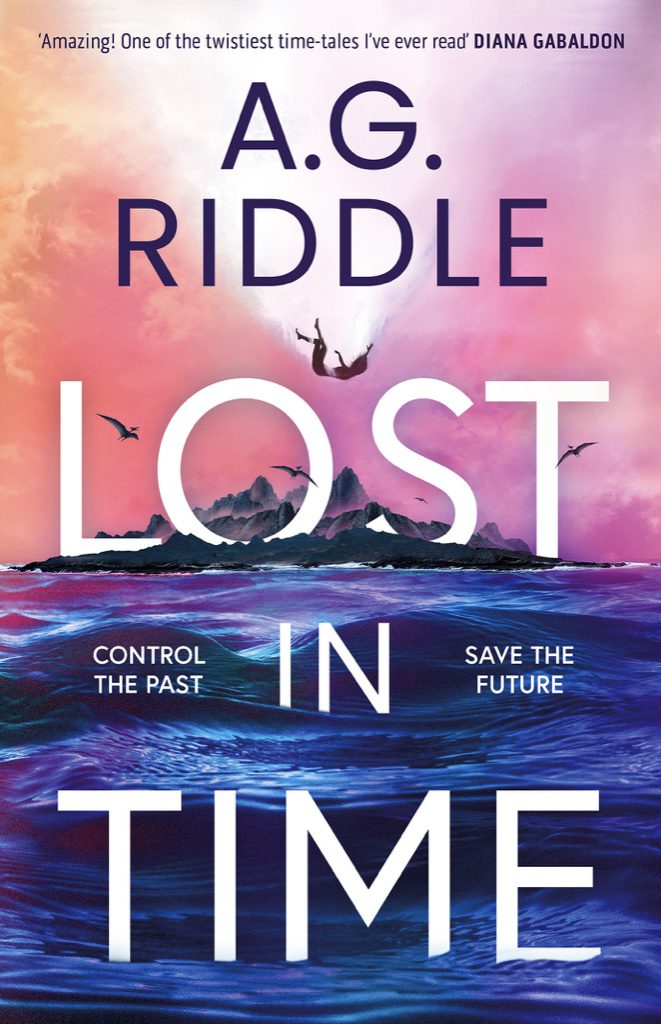 Rating: 9/10
Synopsis
Control the past. Save the future.
One morning, Dr. Sam Anderson wakes up to find that the woman he loves has been murdered. For Sam, the horror is only beginning.
He and his daughter are accused of the crime. The evidence is ironclad. They will be convicted. And so, to ensure his daughter goes free, Sam does what he must: he confesses.
But in the future, murderers aren't sent to prison. Thanks to a machine Sam helped invent, the world's worst criminals are now sent to the past — 200 million years into the past, to the dawn of the time of the dinosaurs — where they must live out their lives alone, in exile of the human race.
Sam accepts his fate. But his daughter doesn't.
Adeline Anderson has already lost her mother to a deadly, unfair disease. She can't bear to lose her father as well. So she sets out on a quest to prove his innocence, and to get him back. People around her insist that both are impossible tasks. But Adeline doesn't give up. She only works harder.
She soon learns that impossible tasks are her specialty, and that she is made of tougher stuff than she ever imagined. As she peels back the layers of the mystery that tore her father from this world, Adeline finds more questions than answers. Everyone around her is hiding a secret. But which ones are connected to the murder that exiled her father?
That mystery stretches across the past, present, and future — and leads to a revelation that will change everything.
Review
Lost In Time is a twisty time-travel whodunnit-murder-mystery rescue-adventure story. And if that wasn't enough, there are also dinosaurs thrown in for good measure! So much is going on in this book, you could easily feel lost, but the magic of this story is that, somehow, it all comes together — disparate things which shouldn't work feel like they belong with one another. So instead of scratching your head, you'll be biting your nails and pumping your fist. And the fact it manages to pull off all these things is truly impressive.
If you're a fan of stories like Here And Now And Then by Mike Chen, or any Michael Crichton sci-fi thriller, then you'll love Lost In Time. It's got a similar vibe, where all the sci-fi trappings are less important than the characters, and what's going on between them is where the real intrigue of the story lies. The pace is gripping, and the scientific flourishes are intoxicating. But a strong focus on character doesn't mean that the plot suffers. The plot of this book is so intricately woven, it's an absolute triumph. What lands hardest is the father/daughter relationship. Because at the end of the day, this is a book about family.
The characters are easy to root for. Sam is a scientist widower who's trying to move on from his grief. Adeline is a daughter who can't accept her father's decisions. The struggles of each character feel organic and there's a naturalness about their relationship that endears you to them immediately. So when they become the obvious suspects in a locked-room mystery, and Sam admits to a murder he didn't commit in order to save Adeline, you feel the strain between them. You sense their desperation as they're separated by millions of years and a whole other dimension, and you really crave for them to be reunited.
The reason they're separated by entire universes is due to the Absalom machine — something which Sam helped to build. It sends prisoners back in time, and plonks them in a parallel dimension to fend for themselves. Crime is virtually eliminated because, let's face it, is any crime really worth being expelled from our universe to fend against dinosaurs for? Convicted of murder, Sam is sent back to the Triassic period, and it's up to Adeline to figure out the impossible — find a way to save her father.
In terms of action, there isn't as much as I was expecting. Do I wish there was more dinosaur action? Sure. But that's not really the focus of the book. And the twists that unfold as Adeline tries to come up with a way to save her Dad are some of the best I've seen in a long time. It's a masterclass of misdirection. I absolutely loved the places where this story went. There's one rug-pull moment in particularly that is so delicious, it should get a Michelin star. So it might not meet your dinosaur-on-dinosaur expectations, but it wildly exceeds anything you can imagine in terms of twisting loops and surprising reveals, and the solution to the mystery of the book is just sublime. If you look at this book as a puzzle, then the way the pieces fit together are a thing of beauty, and it's very, very satisfying to solve.
The chapters are short, and the switches between perspectives allow for some nice comparisons as both Sam and Adeline learn about themselves as much as what's really going on. This makes it a real page-turner. It's a compulsive and compelling read.
Come for the dinosaurs. Stay for the tender reflections on what it means to be a father and a daughter. Lost in Time is an unexpected delight. It's a brilliant concept, and fans of time-twisting stories are sure to love it. Now, all I need is an Absalom machine so I can go back and read it all over again. 

Available to buy now.
Published by Head of Zeus.