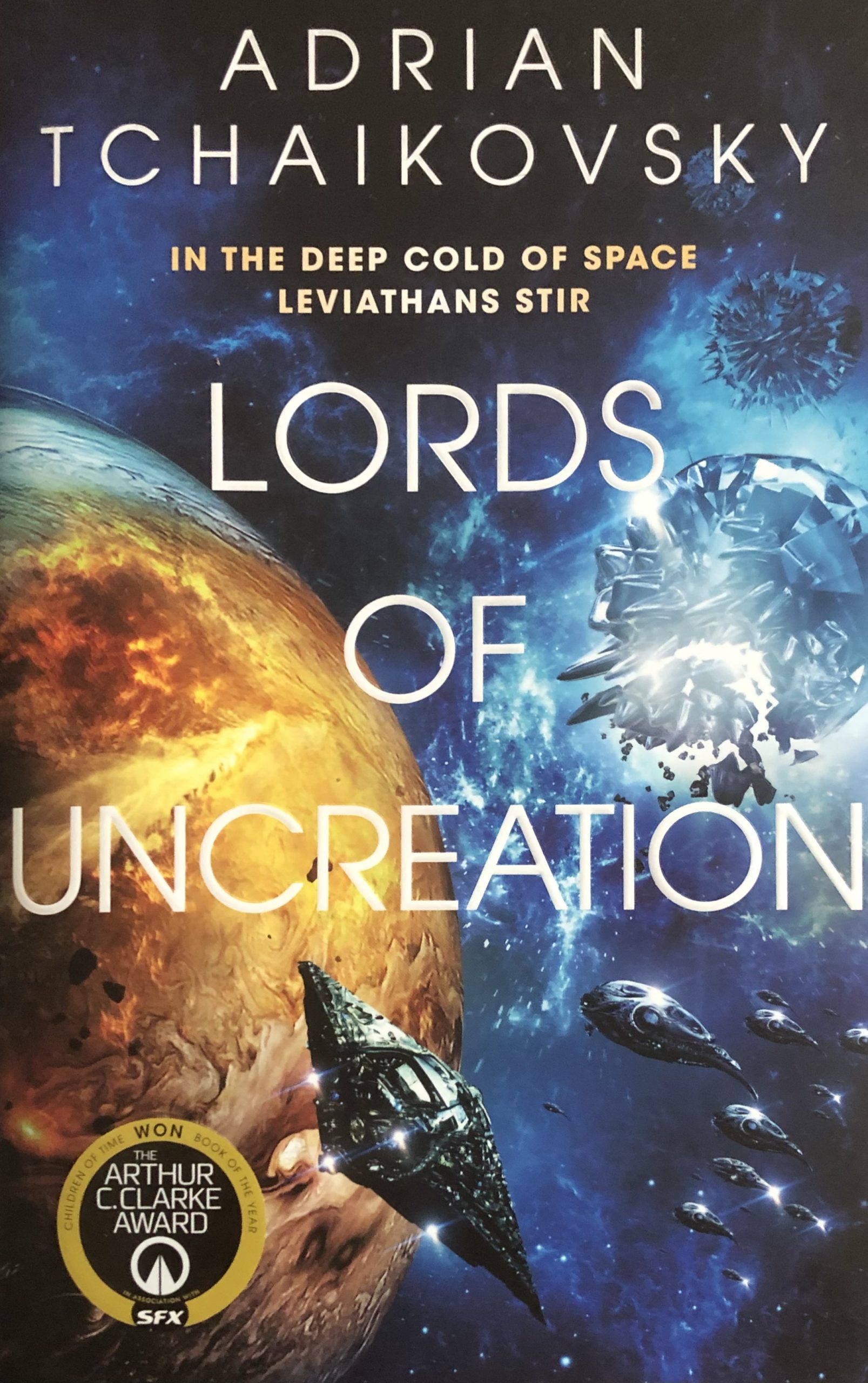 Rating: 9.5/10
Synopsis
Idris Telemmier has uncovered a secret that changes everything — the Architects' greatest weakness. A shadowy Cartel scrambles to turn his discovery into a weapon against these alien destroyers of worlds. But between them and victory stands self-interest. The galaxy's greatest powers would rather pursue their own agendas than stand against this shared terror.
Human and inhuman interests wrestle to control Idris' discovery, as the galaxy erupts into a mutually destructive and self-defeating war. The other great obstacle to striking against their alien threat is Idris himself. He knows that the Architects, despite their power, are merely tools of a higher intelligence.
Deep within unspace, where time moves differently, and reality isn't quite what it seems, their masters are the true threat. Masters who are just becoming aware of humanity's daring — and taking steps to exterminate this annoyance forever.
Review
Epic. It's a tiny word. Four letters long. Minuscule. And yet, the scope of that word is so vast, you could fill an entire book with what it involves and still have covered only a fraction of it. That's why there's no better word than 'epic' to describe the conclusion of the Final Architecture trilogy.
This is a story that goes big. Trying to describe how gigantically massive this book goes is like trying to catch the moon. Impossible. And yet, at the same time, it's a supremely simple story about the power of empathy. When you boil this series down to its very heart, there's something intimate and personal which makes it seem like you can hold infinity in the palm of your hand.
It really is epic.
To give you an idea of the scale we're talking when I say that it "goes big", the opening chapter shows an Architect attack, and a lone ship going up against it. What's an Architect? A crystalline being the size of a moon which appears from a realm beneath normal space called "unspace" in order to refashion a planet into a new shape, killing everything as it transforms the living world into a dead work of art. Terrifying. Brilliant. And you'd be right in thinking that a lone ship standing off against one of these things would make a perfect climax for a story. In any other book, it would. But in this world, this is just the start!
There are at least half-a-dozen main characters. And just as many villains. Betrayals. Twists. Layers. Shifts in viewpoint so perfectly measured that events which happened fifty pages back somehow manage to feel immediate. Like a spider constructing a web, Adrian Tchaikovsky has managed to thread together all these different strands and concepts and characters into a thing that is both beautiful and efficient. And it will snare you. Right from the first page, you'll be hooked, hanging on for dear life, unable to look away as you're worked purposefully and ingeniously towards the centre.
What makes the book really satisfying is that you don't feel like you're on a journey that's building towards something, but you feel like you're on a journey that's going deeper into something. You don't read this book, you dive into it. And much like Idris Telemmier delving through unspace, every word pulls you closer to the core. Answers are coming. And when they do, they'll change the shape of everything you've assumed in the first two books.
Themes which are explored in Shards of Earth and Eyes of The Void are realised to their full here. For example, there's been a mystery as to why the Architects act like they do, who's pulling the strings, and why appeals for empathy are the only thing that stops them. Or then there's the presence which lurks in unspace that's the purest representation of fear imaginable — what is it, and why is it there? The need to push past fear, or the saving role of empathy and communication — these ideas which connect the books don't just drive things in Lords of Uncreation, but they sharpen everything that's gone before into a single point, and it's really impressive.
In terms of characters and their development — every journey feels right. Every beat of emotion feels earned. I could talk about the relationships between the characters, or the growth they experience which moves each of them closer to one another, or the way that every person undergoes a transformation of one kind or another, and how the balance between character and plot is so perfectly pitched that you can't even distinguish where one ends and the other begins. But if you're picking up book three of this series, then you'll be expecting this already. You'll have your favourites, and whoever they may be, whether it's Solace or Idris or Olli or Havaer or Kris — you'll feel utterly satisfied that they're done justice here.
In terms of action, it doesn't let up. If space battles are your thing, then strap in for a wild ride, and take a deep breath before you open page one, because you won't be able to catch your breath again until the very end. But despite the carnage and the adrenaline-pumping mayhem that leaps off these pages, there's enough room for introspection, philosophy, and mystery to keep you rooted. The pacing between set-pieces is flawless, and every word feels essential. And it's funny. There's humour in spades, and the book is as irreverent and entertaining as it is dense and cerebral.
Lords of Uncreation is the payoff you're hoping for, and then some. It's the culmination of an idea that's biblical in scope and beautifully realised. It's intricate, compelling, thought-provoking, action-packed, imaginative, bold, and an incredible feat of storytelling which I haven't quite wrapped my head around yet, despite the fact it's been two whole days since I finished it. How Adrian Tchaikovsky has pulled this off is perhaps the greatest mystery of this trilogy, and one which I don't have the capacity to solve.
Putting it simply, Lords of Uncreation is absolutely EPIC. It's an instant classic and a genre-defining masterpiece. Unmissable space opera for fans of intergalactic sci-fi. And for any storytellers out there who are looking for examples on how to stick the landing, you can put this to the top of your list. It's a master-class in how to conclude a story, and you'll be very, very glad you took the journey across these books when the destination is as breathtaking as this.