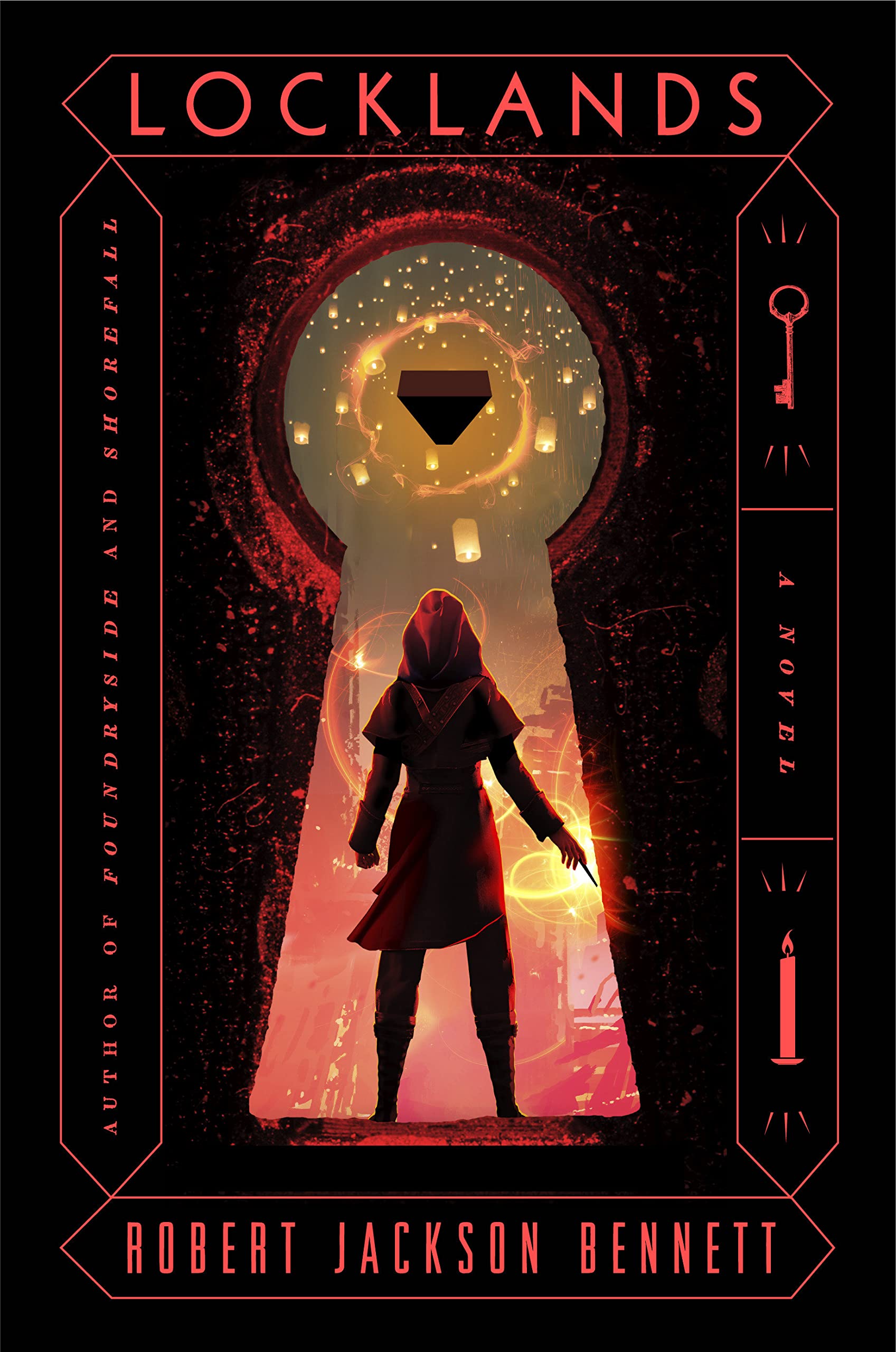 Rating: 10/10
Synopsis
The jaw-dropping conclusion to the acclaimed Founders Trilogy, from the Hugo-nominated author of Foundryside and Shorefall.
Sancia, Clef, and Berenice have gone up against long odds in the past. But the war they're fighting now is one even they can't win.
This time, they're not facing robber-baron elites or even an immortal hierophant, but an entity whose intelligence is spread over half the globe—one that uses the magic of scriving to control not just objects but human minds.
To fight it, they've used scriving technology to transform themselves and their allies into an army—a society—unlike anything humanity has seen before. With its strength at their backs, they've freed a handful of their enemy's hosts from servitude, and even defeated some of its fearsome, reality-altering dreadnoughts. Yet despite their efforts, their enemy marches on. Implacable. Unstoppable.
Now, as their opponent closes in on its true prize—an ancient doorway, long buried, that leads to the chambers at the center of creation itself—Sancia and her friends glimpse a last opportunity to stop this unbeatable foe. To do so, they'll have to unlock the centuries-old mystery of scriving's origins, embark on a desperate mission into the heart of their enemy's power, and pull off the most daring heist they've ever attempted.
But their adversary might have a spy in their ranks—and a last trick up its sleeve. And to have a chance at victory, Sancia, Clef, and Berenice will have to make a sacrifice beyond anything that's come before.
---
Thank you to Del Rey Books for sending me an ARC of this book for review consideration. This does not influence my thoughts or opinions.
---
Review
A phenomenal conclusion to a phenomenal series, bringing its character arcs, relationships and world-ending implications to a satisfying end.
I'm going to start this review with a bold statement: Robert Jackson Bennett's The Founders Trilogy is one of the best modern fantasy series. Period. From the opening chapter of Foundryside to the closing paragraph of Locklands, the trilogy astounds with its rich history, evocative worldbuilding, complex magic and fearless character development. Out of every book I have read this year, Locklands hit me the hardest. It rocked me to my core, in the best possible way, and that tangle of emotions has lingered with me ever since.
There is something special about a fictional world that can grab you so intensely, and then hold on without remorse, chapter after chapter, book after book. That's how I feel with this series, having fallen deeply in love with its protagonist Sancia, the city of Tevanne and the Italian Renaissance-inspired world surrounding them.
Front and center is the strange paradox that Sancia, this grime-covered thief in a grime-covered setting, shouldn't be likeable, but somehow she is. She is a selfish lowlife, but continuously shows through her actions that she has heart and a desire for a better world. As she meets other characters across her story arc, I could see that her actions and thoughts spoke louder than her outward personality. And once those other characters—Berenice, Orso, Gregor, Clef—became intertwined with Sancia, they all played off each other so well that I adored them as a group.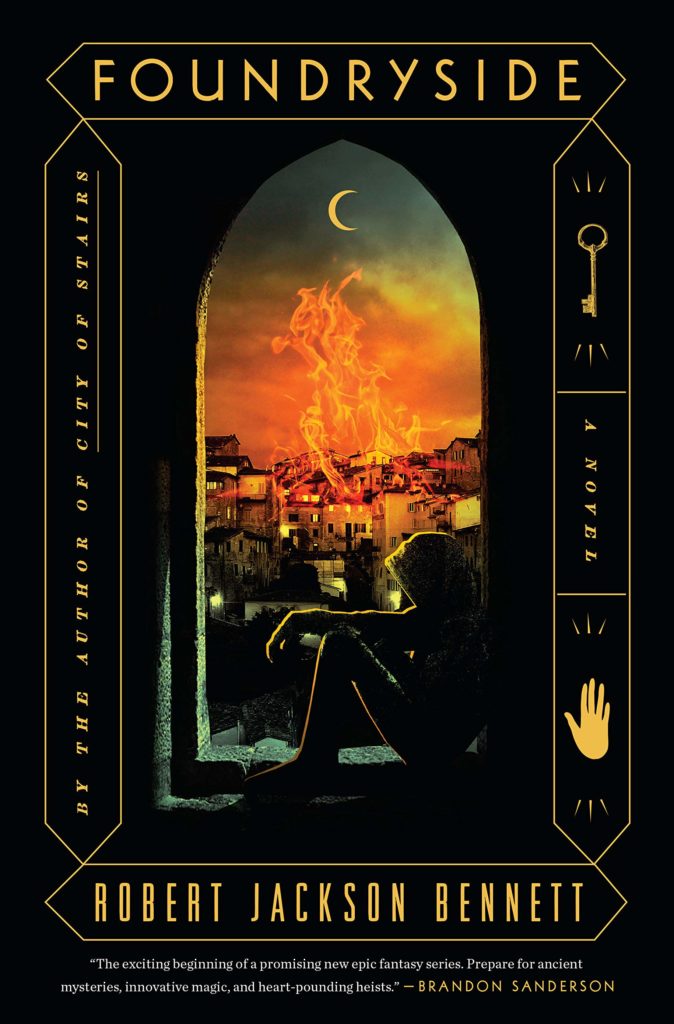 It's quite a magical thing when you can invest in a whole cast of characters, see them take on unimaginable conflict, and root for each one in their own way. Foundryside fostered my empathy for Sancia, and Shorefall and Locklands cemented my deep care for the entire crew. (Side note: they are also so funny together, bouncing jokes and quippy dialogue that land perfectly at a given moment.)
What was especially incredible was how their actions as a group, their love for each other and the city they call home, fed so well into the core systems of Bennett's world. The magic, an awesome play on hacking/coding called scriving, required them to solve brain-twisting logic puzzles every time the characters needed or had to use it. They would manipulate the environment around them to pull off devious heists, fight foes and even go about daily life in an "enhanced" sort of way, scriving the world around them as a convenient analog to our modern technological lives.
Beyond that, there is a wealth of lore to the world, its history and its mythology. From the mysterious origins of scriving and its creators, to the eventual rise of powerful antagonists, it all serves as intricate foils for Sancia and the gang, as well as a reflection on modernization and industrial revolution in cities like Tevanne. There is so much thoughtful commentary on our reality in these books, from technology and politics, to religion and history—from the perspective of both its victors and losers. Who should be in charge of society? Can those who afford power actually wield it for the good of humankind?
These are all questions that are pondered throughout the series, and Bennett uses purposeful time jumps between each book to give a logical boost to characters' knowledge and abilities, environmental and societal changes, as well as relationship development. This decision made me so happy, as I felt the ante was upped between each book, bringing new, monumental stakes to the table—it elevated the tension in a way that kept me hooked.
Locklands is where that pays off the most though. There is a confidence in Bennett's approach to book three, with strong writing, engaging character interactions and an advancement to the world that feels natural and refreshingly cool. There are so many ways Bennett has thought to use his scriving magic system and I was endlessly blown away by its implementations.
The book also features more POV chapters from various characters that I have become so invested in, especially Berenice and Clef. There is a level of character development on display here that I cannot help but applaud, and all of it directly connects to the web of history and magic and mythology built up across three novels. Plus, the various new locations are mind-blowingly fascinating, action scenes are explosive, tense and epic in scale, and the pacing is near-perfect.
Most surprising of all is how Bennett ab-so-lute-ly stuck the landing. The ending to this book, let alone this series, was a heart-wrenching, bittersweet reflection on everything it has constructed up to this point. Loose ends are tied up in spectacular fashion, mysteries are unveiled in sumptuous, powerful moments, characters die and others live, but somehow the world goes on—despite the unbelievable odds they all faced. And the way the world goes on, after the sheer devastation wrought upon it, is just captivating. As I write this on the verge of tears, I cannot, will not, spoil anything, so please, please, please read this series!
From top to bottom, The Founders Trilogy has buried itself in my heart, torn me asunder and stitched me back together again. Robert Jackson Bennett has crafted something truly special with this series, delivering a lush tapestry of a world, one soaked in magic and history, blood and suffering—but also love, community and hope. This is intelligent, brutal, thoughtful and fun fantasy, with every word, sentence, paragraph and page wrought with passion.
Foundryside started a revolution, Shorefall burned it all down, and Locklands gave this trilogy the ending it deserves.
Click here to find out more about Robert and his work, and click here to check out my one-on-one interview with the author.