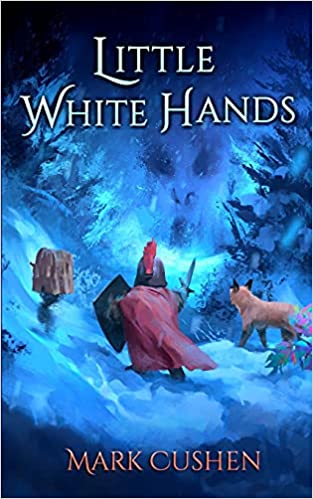 Rating: 10/10
Synopsis
Garlan the kitchen boy's dream of becoming a knight may not be as impossible as he is often led to believe, when the immortal players in a war from centuries gone reignite their feud right on his very doorstep.
Chased from his home and thrust headlong into an epic adventure that spans the entire kingdom of Faeland, Garlan will traverse impossible mountains and stormy seas, battle nightmarish creatures and the weight of his own fears, all to keep the world he loves safe from an ancient enemy who will stop at nothing to bring about a never-ending winter.
With a cast of wise and whimsical characters to aid him in his quest, can Garlan find and wield the courage he needs to rise above his station and become the hero he always dreamed of being?
The fate of the world rests in his hands.
---
Review
When I was approached with Little White Hands, I was immediately captured by the idea of a questing, adventure-filled narrative. What I wasn't expecting was how much heart would come in such a small package.
Garlan is but a kitchen boy at the start of his adventure. He knows little of the world and has experienced even less of it. Still, when a wounded man crosses his path, it sets him on a journey that will change everything about who he is.
I have to admit that I haven't read a Middle Grade story in quite a while. My last foray was the Lemony Snicket books, and I'm still salty about how they ended. Truthfully, I didn't know that LWH was MG for about a chapter and struggled with how simply it was written. I was worried for the book, to be frank. However, once I pulled my head out of my rear and realized what I was reading, I dove headlong into it with newfound fervor. I embraced Garlan and his journey completely, and through his trials and sorrows, I felt deeply what he did. In my opinion, that is nothing but a testament to Mark's talent. Being in the mind of a child (especially a preteen) is no easy place to be, especially as an adult. But Mark did it with such gentility and kindness that it was impossible to look over.
If you have children, I can tell you this: get this book in their hands as soon as possible. It is filled entirely with motivation, wonder, and reassurance. I don't know how he was able to pull it off, but Mark made me feel like I was the one who needed reminding of my worth. In a lot of ways, I was. On nearly every page, someone was there to remind Garlan of how much he meant to those around him. It made me feel warm and fuzzy. I cheered Garlan on as much as his companions did, and with every victory, loved him a little bit more. If my stepdaughter (she's 13, lord help us) enjoyed reading, I would want this to be the next book she read. I would want it to remind her of just how capable and strong she is, just like Garlan. I can't be with her right now, but I want her to always, always know that she can do anything she put her mind to. Reading this book as a parent is a treat because it reminds us of the things we need to say to our kids.
Kids are our future. When we're old and gray, they will inherit the world we leave them. And books like Little White Hands are just what they need. Just what WE need. My daughter's adventure may not be filled with swamp monsters and the embodiment of the four seasons, but wherever her journey takes her, like Garlan's companions, I will be by her side cheering her on. I know I'm supposed to praise the book in this review, and I hope I have, but this is so much more than a book. It is a lesson that children and parents can both learn from.
That first step out your door is always the hardest. But that step can take you so many places. For Garlan, it was the adventure of a lifetime. For us, it might just be reminding our kids (and ourselves) how much we love them.