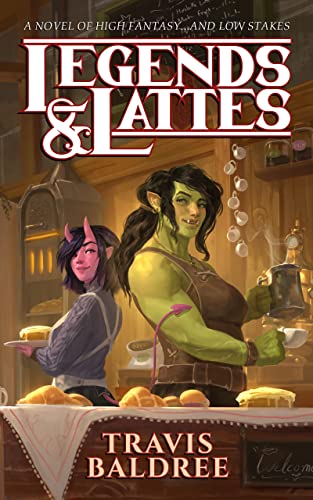 Rating: 7.5/10
Synopsis
Worn out after decades of packing steel and raising hell, Viv the orc barbarian cashes out of the warrior's life with one final score. A forgotten legend, a fabled artifact, and an unreasonable amount of hope lead her to the streets of Thune, where she plans to open the first coffee shop the city has ever seen.

However, her dreams of a fresh start pulling shots instead of swinging swords are hardly a sure bet. Old frenemies and Thune's shady underbelly may just upset her plans. To finally build something that will last, Viv will need some new partners and a different kind of resolve.

A hot cup of fantasy slice-of-life with a dollop of romantic froth.
Review
A steaming cup of optimism and hope flavored with a hint of romance, the book felt like reading a Disney movie! If Disney made this movie, it'd be similar to Ratatouille!

It's charming, it's cozy, it's a comfort read in all meanings for the word. One which you could relax over a drink (preferably Gnomish coffee if you can get that) and let it drain you of life's problems. A oasis in the dark world of grimdark books! Guaranteed to put a smile of your face and leave you with a feeling of content and satisfaction!

Viv is an Orc Barbarian who is tired of her warmaking lifestyle and wants nothing other than to hang up her sword and retire into a world of Gnomish Coffee that she had before during her adventures and can't get out of head! A life of retirement, of relaxation, of good drinks and sweet eats!

Guided by a stone of legend supposedly bringing luck, she sets about getting a place and turning it into a shop, building relations and making friends along the way and somehow becoming a pet parent of a mysterious and magical dire-cat that decided to make her shop it's home! The path to a cozy retirement isn't that smooth as her past catches up to her. What happens then? Dies Viv realizes her dream? Does the city get coffee and snacks? Lots of tasty questions that books answers well leaving you with a full heart!

Like a cup of good coffee, author keeps the mix simple. The prose flows well, plot moves along at a healthy pace and just like that we are part of the scene. The characterization is done perfectly well and I was fully invested in the joys of the progress and getting quite stabby angry when the past catches up. The trials, tribulations, joys and sorrows, blend in smoothly making this a wholesome read indeed!

If you are looking for a break from heavy reads, or just looking for a book to unload your burdens, give this a read.

Recommended!