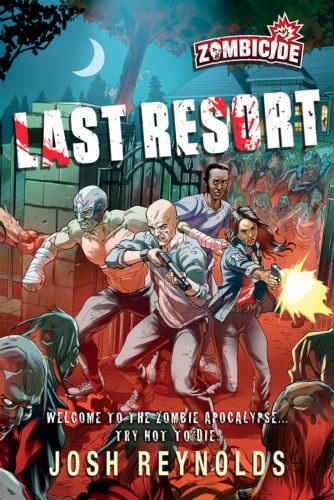 Rating: 8/10
For Westlake, navigating the apocalypse is simple. Get to the Villa, get his money, don't get eaten by hordes of flesh-eating zombies.
Synopsis
Breaking out of the boot of a two-bit gangster's car is a hell of a way to start your apocalypse. For career criminal Westlake, it's only a minor setback in getting the money owed to him by mob boss Sal. The major setback? Oh, just the zombie hordes.
Set in the manic world of the Zombicide game franchise, Last Resort brings hordes of zombies out to play as Westlake is forced to team up with the FBI agent whose security detail he slipped. Together they search for "the Villa", a fabled mafia resort and ultimate safehouse. Westlake assembles his crew and sets off on what could well be his most dangerous job yet.
Review
A disclaimer, I'm a sucker for the Zombicide series. I even have my own 3D-printed miniature version of me, shotgun in hand, that has seen plenty of use in the original game so this is a special book for me.
The action in Last Resort stays true to mowing through hordes of the undead as you do in the board game. As a fan of the games, I was so glad that Reynolds nodded to the huge, colourful Zombicide cast with the crew Westlake takes to the Villa. Master thief Westlake brings along the hot-headed former FBI agent Ramirez; the whip-wielding, boozy, molotov cocktail master Hutch; the cowboy divorcee scavenger Labrand; the shotgun-toting conspiracy theorist Ptolemy; zombologist Kahwihta (actually an environmental biologist but someone may as well document their observations on these zombies) and her apocalypse dog Attila; and the delightfully over-the-top-zombie-crushing lucha libre, Calavera.
The antagonists of the book don't shine quite as brightly as Westlake's crew but still serve their purpose. Park ranger Sayers is always teeth-grindingly one step ahead of the party, while the cookie cutter mafia goons give us plenty of zombie and cannon fodder later on. The final act, which I won't spoil, perfectly pits the crew against an abomination that is hellbent on taking down Westlake.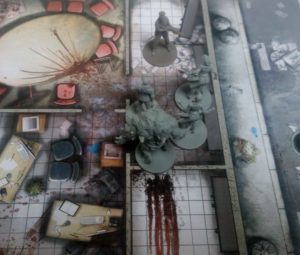 If all of the above sounds crazy, Last Resort certainly is, which is exactly what I expected from a novel adaptation of the Zombicide board game. For all its success in hitting its brief, Last Resort doesn't reinvent the wheel of the zombie genre but it delivers a classy zombie romp in a way that will appeal to fans of Romero's Night of the Living Dead and the Left for Dead video games, in every squishy, chompy chapter of this perfectly-paced zombie splatterfest.
More from Aconyte
I should mention for fans of sci-fi and the Zombicide Invader series, Aconyte will be publishing Planet Havoc by Tim Waggoner in February 2022 (US) and March 2022 (UK).