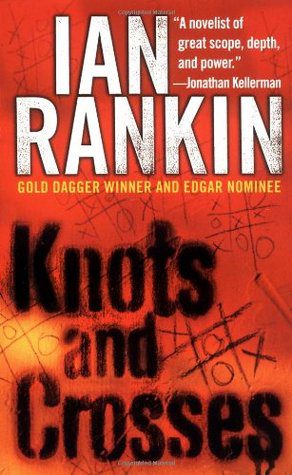 Amazon UK
Amazon US
Audible
Book Depository
Abe Books
Kobo
Goodreads

Review: ★★★★
Synopsis

Detective John Rebus: His city is being terrorized by a baffling series of murders…and he's tied to a maniac by an invisible knot of blood. Once John Rebus served in Britain's elite SAS. Now he's an Edinburgh cop who hides from his memories, misses promotions and ignores a series of crank letters. But as the ghoulish killings mount and the tabloid headlines scream, Rebus cannot stop the feverish shrieks from within his own mind. Because he isn't just one cop trying to catch a killer, he's the man who's got all the pieces to the puzzle…
Knots and Crosses introduces a gifted mystery novelist, a fascinating locale and the most compellingly complex detective hero at work today.
Review
"These tourists spent so much time photographing things that they never actually saw anything, unlike the young people milling around, who were too busy enjoying life to be bothered capturing false impressions of it."
At the moment my TV viewing is mainly made up of watching detective thrillers. Sherlock, True Detective, Midsomer Murders, Father Brown, etc… When I really enjoy watching a series I sometimes decide to check out the books to see how close they are to what I've viewed and because I also adore a good mystery read. That's what I did with Knots and Crosses, the first entry in the Inspector Rebus series.
Two 11-year-old girls were kidnapped and subsequently murdered by a criminal known as the Edinburgh Strangler. He seems to be a child murderer that the police can't catch. The violence and reasons for the killings are not sexual. Inspector Rebus from Edinburgh is a well-respected booze-loving, maverick police officer and is one of many officers working the case. He does, however, feel uncomfortable as he also has an 11-year-old daughter. It may even be that the killer could know Rebus as they send him cryptic messages on the days that the girls are abducted and the envelopes include a knot of string or a matchstick cross.
The main characters we follow are Rebus, his policeman ally Cambell, a journalist called Stevens, a media liaison officer called Templer, and his hypnotist brother. This is a complex and thrilling tale which Rankin described as being a modern-day interpretation of Stevenson's Dr. Jekyll and Mr. Hyde and is based partly on the real-life gentleman criminal Deacon William Brodie. I devoured this in 24-hour hours and thought it was pretty awesome. The way I analysed the written portrayal of Rebus was more in line with John Hannah's presentation than Ken Stott's. I also enjoyed reading about sections that were only hinted at briefly in the television versions such as an emotionally despondent segment where under hypnosis Rebus reflects on his time training for the SAS.
The conclusion was nicely wrapped up and exciting until the very end. I believe Rankin didn't initially intend for Inspector Rebus to turn into a series so everything wraps up nicely here but I'll definitely carry on reading the adventures of everyone's favourite drunken wildcard Scottish policeman.