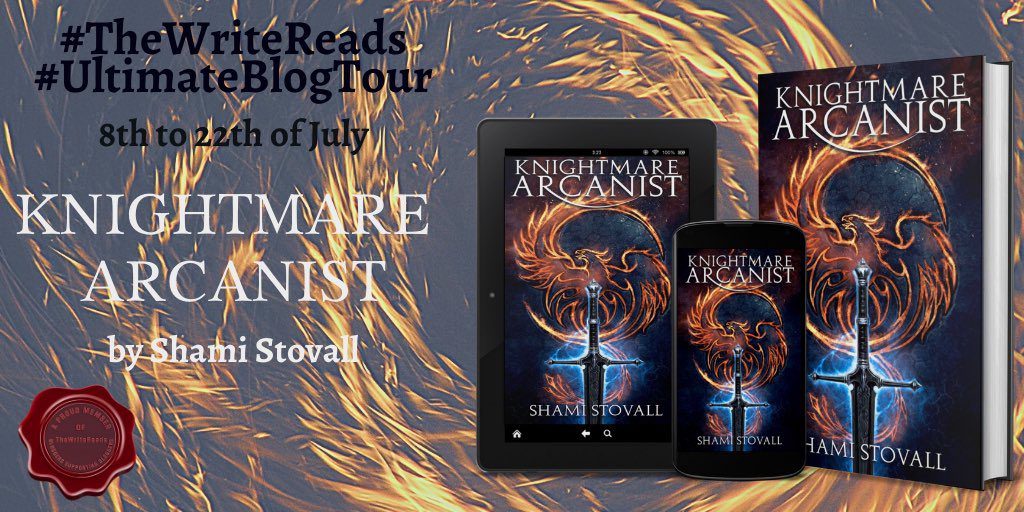 Rating: 10/10
Synopsis:
Magic. Sailing. A murderer among heroes.

Gravedigger Volke Savan wants nothing more than to be like his hero, the legendary magical swashbuckler, Gregory Ruma. First he needs to become an arcanist, someone capable of wielding magic, which requires bonding with a mythical creature. And he'll take anything—a pegasus, a griffin, a ravenous hydra—maybe even a leviathan, like Ruma.

So when Volke stumbles across a knightmare, a creature made of shadow and terror, he has no reservations. But the knightmare knows a terrible secret: Ruma is a murderer out to spread corrupted magic throughout their island nation. He's already killed a population of phoenixes and he intends to kill even more.

In order to protect his home, his adopted sister, and the girl he admires from afar, Volke will need to confront his hero, the Master Arcanist Gregory Ruma.

A fast-paced fantasy with magical creatures for those who enjoy the Furies of Calderon (Codex Alera series) by Jim Butcher, Unsouled (Cradle Series) by Will Wight, and Percy Jackson and the Olympians by Rick Riordan. 
Review:
Edit: I had completed the review, I just forget to post it due to some RL issues.
Knightmare Arcanist is a novel you should def consider reading. A light-hearted, straight to the point novel. This had elements of Pillars of Eternity, Dark Souls, Gothic III, Diablo, and Dragon Inquistion. I felt I was on an adventure. The book itself relied more on physical descriptions to an extent, and I did notice that during moments of nervousness, you had ruffling hair. I would have wanted more varation.
The dialogue is the strength of this novel. I normally don't read fantasy such as this because I'm more into Asian setting. But this took a unique twist, a unique approach on the medieval fantasy genre in terms of plot. In terms of reinventing anything new, not really. I don't think its needed. But I am glad it is showing that wizards are like politicans to a degree, and that they can be corrupt, and fearsome. They are the real evil are they not to some extent?
The descriptions of voyages is one of the most-breath-taking parts of the story. I felt immersed. The story's pacing started excellently and Volke Savan is another favorite character of mine. But I felt he needed more personality in the sense, I wanted to see his character to evolve and learn more from the deep secrets that he begins to learn.
I also think it was too easy for him in parts, and there should have been more difficult obstacles for him as he trains with the group. One of the weaknesses of the novel, for me, is that the pacing works well at times and is weak at other points. For example, discovering Gregory Ruma as the villain works.
But then when we near the novel's end, it felt too easy to take him out. Was Volke not helped by his cast of supporting characters that are suprisingly some of the best written characters of all time? Of course. It felt too short – this story – but I don't mind that because this is more or less a set up. The second and third novels that will continue in this series will expand on this.
Plus, we have talking animals and mystical creatures that remind me of Avatar the Last Airbender and the Legend of Korra. I can def see the influences of there. I do want to see Atty and Volke's relationship develop into something more. However, I feel that Volke and his adopted sister's relationship was rocky from the start, and thats because his adopted sister wants more than just to be a gravedigger's daughter. I also would have wanted to seen William make an apperance at the end. And killing Ruma is not the end I feel. There's more to this than we can imagine.
Overall, there's a fantastic cast of characters, epic battles, magic and much more in this. I've barely skimmed over this. Fantastic book. Fantastic story. 10/10 also for the epic cover.