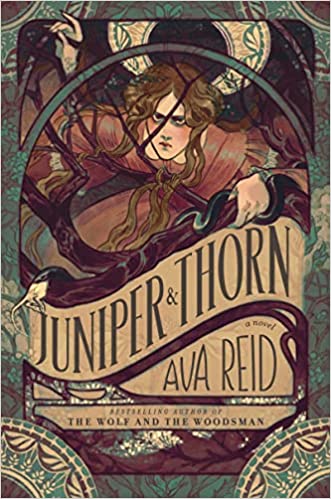 Rating: 8.5/10
Synopsis:
A gruesome curse. A city in upheaval. A monster with unquenchable appetites.
Marlinchen and her two sisters live with their wizard father in a city shifting from magic to industry. As Oblya's last true witches, she and her sisters are little more than a tourist trap as they treat their clients with archaic remedies and beguile them with nostalgic charm. Marlinchen spends her days divining secrets in exchange for rubles and trying to placate her tyrannical, xenophobic father, who keeps his daughters sequestered from the outside world. But at night, Marlinchen and her sisters sneak out to enjoy the city's amenities and revel in its thrills, particularly the recently established ballet theater, where Marlinchen meets a dancer who quickly captures her heart.
As Marlinchen's late-night trysts grow more fervent and frequent, so does the threat of her father's rage and magic. And while Oblya flourishes with culture and bustles with enterprise, a monster lurks in its midst, borne of intolerance and resentment and suffused with old-world power. Caught between history and progress and blood and desire, Marlinchen must draw upon her own magic to keep her city safe and find her place within it.
Review:
If you are a fan of Grimm-style fairytales, Juniper & Thorn will be up your alley. In fact, it's loosely based off one of their darker stories, The Juniper Tree. This is a gruesome story and it's not the happiest. Marlinchen is treated the worst of her siblings and she waits on her father, who was cursed with never being satisfied. So he eats and eats, and never gets full, but Marlinchen is able to keep his hunger occupied with carefully planned meals. Her father is constantly taking advantage of Marlinchen's empathetic and caring nature.
This novel is told with a melancholy tone, but Ava Reid's prose is as beautiful as you could hope for. It's quite a contrast to the horrifying things that happen in Juniper & Thorn. Reid is able to enchant us with the poetry in her words, fully immersing her readers in this dark tale. Marlinchen takes an awful amount of abuse throughout her whole life, but when she experiences the first inklings of love, it gives her motivation to break through the grasp of her father and escape from under the shadows of her sisters. This is quite a tale of survival, both physically and mentally, from all that she had to endure.
Juniper & Thorn will not be a book for everyone. It's haunting and sad, but it makes its way towards hopefulness and love. Ava Reid has a talent for telling these woeful tales in a way that encourages you to look beneath the horror to pull out the messages within. In this retelling, Marlinchen is given a voice and dimension, she is somehow untouchably ethereal and vividly realistic at the same time.
There's quite a few content warnings on Reid's site that I'd like to share, for anyone who is interested in the novel, but isn't aware of the triggers that it might incur:
Gore and body horror
Child sexual abuse; incest
Cannibalism
Antisemitism, xenophobia, and scientific racism
Physical and psychological abuse from family members; gaslighting
Self-harm and suicidal ideation
Bulimia; graphic descriptions of vomiting
Animal death
I would like to thank Harper Voyager for a finished copy of Juniper & Thorn for review. It was absolutely my pleasure to read.