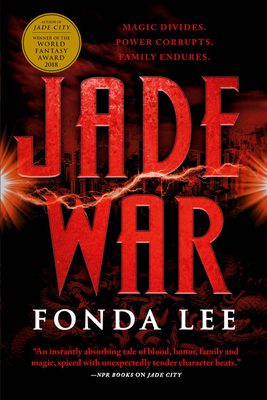 Rating: 9/10
Synopsis
In Jade War, the sequel to the World Fantasy Award-winning novel Jade City, the Kaul siblings battle rival clans for honor and control over an Asia-inspired fantasy metropolis.
On the island of Kekon, the Kaul family is locked in a violent feud for control of the capital city and the supply of magical jade that endows trained Green Bone warriors with supernatural powers they alone have possessed for hundreds of years.
Beyond Kekon's borders, war is brewing. Powerful foreign governments and mercenary criminal kingpins alike turn their eyes on the island nation. Jade, Kekon's most prized resource, could make them rich – or give them the edge they'd need to topple their rivals.
Faced with threats on all sides, the Kaul family is forced to form new and dangerous alliances, confront enemies in the darkest streets and the tallest office towers, and put honor aside in order to do whatever it takes to ensure their own survival – and that of all the Green Bones of Kekon.
Jade War is the second book of the Green Bone Saga, an epic trilogy about family, honor, and those who live and die by the ancient laws of blood and jade.
Review
Jade War by Fonda Lee increased everything I loved about the first book and made for a truly breathless read. While the first book was enjoyable, something about it was lacking for me. This sequel expelled any doubts and was a fantastic continuation of the story. (minor spoilers for the first book follow)
Jade War picks up a bit after where Jade City left off and continues the story of the Kaul family and their rivalry with the Ayt Clan.
In this second novel we get a vast expansion of the world of the Green Bone Saga and see how rest of the world views the city of Janloon and their jade. The political intrigue of this book was stepped up a notch and felt a bit more typical political urban fantasy as opposed to the more gangster feel of the first novel – although that was still very much present.
I really enjoyed the political maneuverings of Shae and her decisions in the Weather Man's office, the evolution of Hilo as a leader, and Anden's adventures off island. Each character feels real and has their own motivations which make sense in the context of their story. Shae in particular grew on me and became my favorite character.
Jade War started off a bit slowly, but a little before the halfway point, a certain event happens, and I didn't want to set it down until the end. But beware, this book will take your heart out and stomp all over it – you've been warned.
I won't spoil where all the story goes as it spans several years in the lives of these characters. But one of the highest praises I have for this book is how each time jump feels justified and makes sense for who these characters are. One of my least favorite tropes in books is sudden time jumps where characters have changed beyond recognition (looking at you The Passage series) but this was non-existent here.
I also loved all the different POVs we get here. Some were short for only a chapter or two and fleshed out different characters – I love when authors give us a snippet of different people from around the world. It mkes everything feel alive and real, plus it breaks the mold of just sticking to two or three POVs.
Finally, the themes present in Jade War are excellent. The battle between family and duty, love and war, peace and power, all were well done. Getting to see how the world views green bones and the way that Kekon seems to be stuck in the past all are compelling elements to make a great story.
All in all, Jade War expelled any doubts I had about not loving this series. I've said in past reviews I'm a sucker for middle books in a trilogy so bring it on Jade Legacy – lets see if you can top this one. If you're like me and liked but didn't love Jade City, give this one a shot – I think you'll be glad you did.