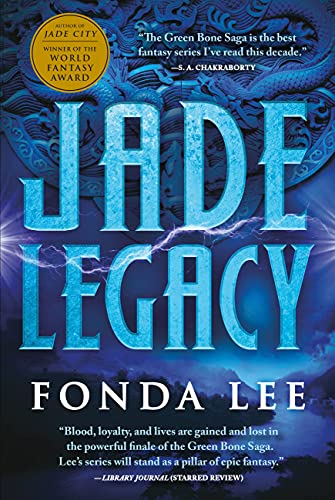 Rating: 10.0/10
Synopsis
Jade, the mysterious and magical substance once exclusive to the Green Bone warriors of Kekon, is now known and coveted throughout the world. Everyone wants access to the supernatural abilities it provides, from traditional forces such as governments, mercenaries, and criminal kingpins, to modern players, including doctors, athletes, and movie studios. As the struggle over the control of jade grows ever larger and more deadly, the Kaul family, and the ancient ways of the Kekonese Green Bones, will never be the same.
The Kauls have been battered by war and tragedy. They are plagued by resentments and old wounds as their adversaries are on the ascent and their country is riven by dangerous factions and foreign interference that could destroy the Green Bone way of life altogether. As a new generation arises, the clan's growing empire is in danger of coming apart.
The clan must discern allies from enemies, set aside aside bloody rivalries, and make terrible sacrifices… but even the unbreakable bonds of blood and loyalty may not be enough to ensure the survival of the Green Bone clans and the nation they are sworn to protect.
Review
Endings are a tricky thing. A good ending can reframe an entire story or bring home the points that an author was making. A bad ending can sour the experience of a whole series or story. Thankfully, Jade Legacy, the third and final book in the Green Bone Saga, is a smashingly good ending.
Jade Legacy by Fonda Lee is without doubt one of the best books I've ever read. If you read my reviews of the past two books, you'd know that I enjoyed the first one but didn't love it and really like the second. With Jade Legacy, this book has cemented itself as one of the all-time great trilogies up there with Mistborn and the Nevernight Chronicles. This was an ending that made all that came before it even better in retrospect and I encourage any reader to pick up this series.
So, what made Jade Legacy so special? For me, it's the characters. It has been quite a while since I spent time with a cast as interesting and engaging as the characters in the Green Bone Saga. Every SINGLE character from the book (and past books) is fully developed and complex. I felt like I knew each and every person. They felt real, they made decisions and choices that felt in line with who I knew them to be – while still being able to surprise me and grow.
Every person from the past two books comes back into play here and is vital to the story. Even with tons of POVs, Lee was still able to keep me caring about every page I read and by the end, everyone had played a major role in the story.
One of the amazing things about Jade Legacy is that it is set over the course of decades. I had read review after review saying that this was handled incredibly well but I still went into the book skeptical. I'd been burned before by books that had time jumps where characters changed and became unrecognizable for the sake of plot. None of that is found here. Every person stays true to who they were but still has room to grow and change as they age.
Getting to watch Hilo, Shae, Anden, and even Bero, as they continue to struggle with the change in globalization of jade and the cold war with the Mountain clan is just a joy to read. It's tough to talk about the plot here too much, considering where it goes and ends up, but rest assured it's both sweeping and intimate. The story grows and grows as the world expands around our characters, but it never loses focus on the people we care about and their struggles that began this whole tale.
We get to meet the next generation of Green Bone warriors who will one day take over the clan and each was a treat to spend time with. Ru was a particular favorite of mine to read.
The themes that I discussed in my first reviews are present here as well. The push and pull between family, honor, and tradition, while still trying to live in a world that is quickly leaving those traits in the past is a fascinating dynamic. None of our characters are perfect and they make mistake after mistake while trying to navigate a changing world – and yet they continue fighting and trying. It's just fantastic writing.
Oh, and if you were wondering if Legacy would be easier on the heart, be prepared. This book made me laugh, cry and turn the page holding my breath as I truly felt like anything could happen and no one character was safe. You've been warned.
Usually, I have a few minor annoyances when I read a book. But I'm hard pressed to think of any here. This isn't the kind of book I read very often, and the first one didn't knock my socks off, but I strongly recommend anyone read this.* The characters and the struggles they face are so compelling – it's just a masterpiece.
So please, go pick up the Green Bone Saga. Well done Fonda Lee, you've made me a huge fan.
---
*My only caveat to this series is the content can be fairly graphic. The violence, sex and language can be strong at times but not any worse than an R rated movie. If you're averse to this content, you may want to look elsewhere.