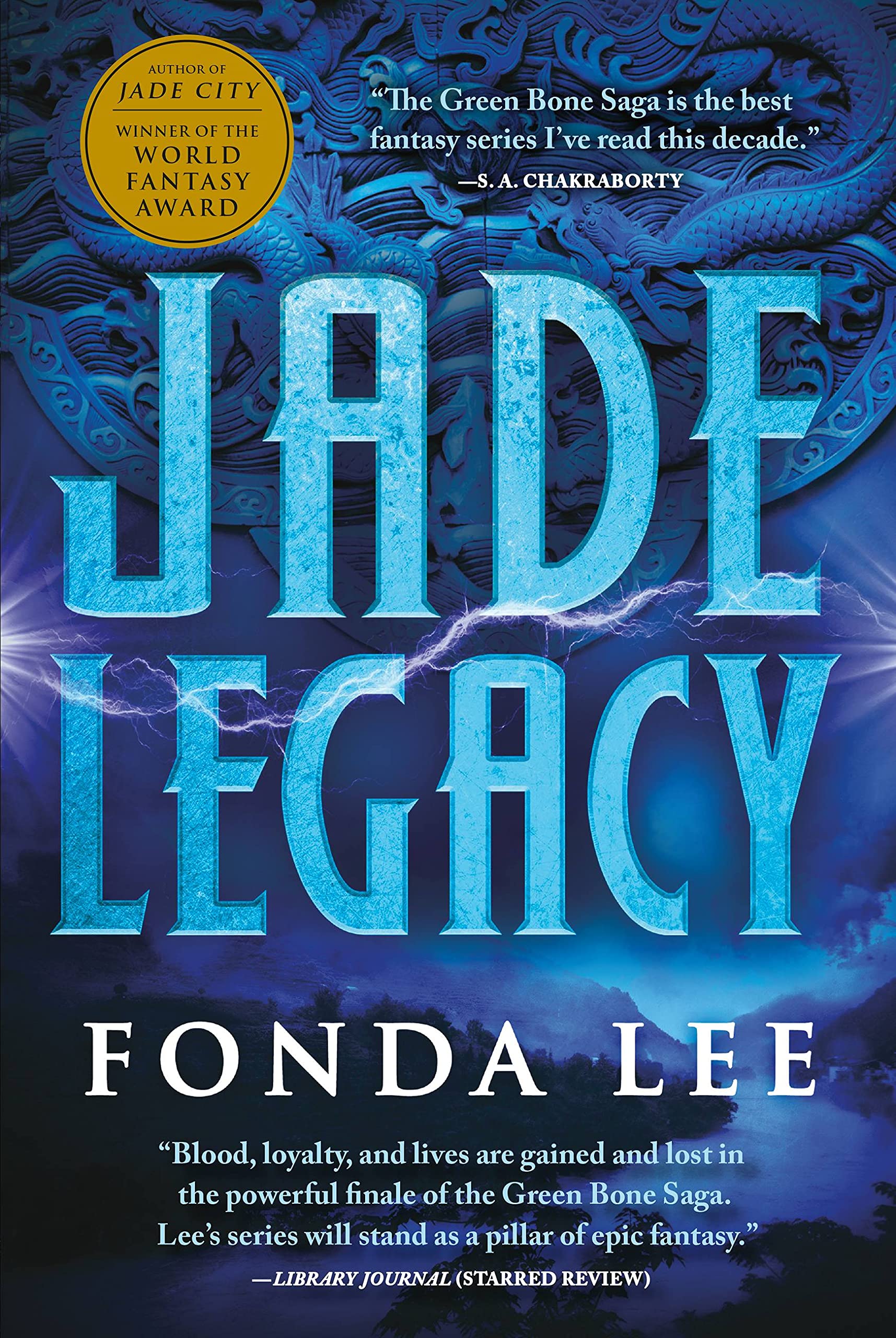 Rating: 10/10
Synopsis
The Kaul siblings battle rival clans for honor and control over an East Asia-inspired fantasy metropolis in Jade Legacy, the page-turning conclusion to the Green Bone Saga.
Jade, the mysterious and magical substance once exclusive to the Green Bone warriors of Kekon, is now coveted throughout the world. Everyone wants access to the supernatural abilities it provides, from traditional forces such as governments, mercenaries, and criminal kingpins, to modern players, including doctors, athletes, and movie studios. As the struggle over the control of jade grows ever larger and more deadly, the Kaul family, and the ancient ways of the Kekonese Green Bones, will never be the same.
Battered by war and tragedy, the Kauls are plagued by resentments and old wounds as their adversaries are on the ascent and their country is riven by dangerous factions and foreign interference. The clan must discern allies from enemies, set aside bloody rivalries, and make terrible sacrifices… but even the unbreakable bonds of blood and loyalty may not be enough to ensure the survival of the Green Bone clans and the nation they are sworn to protect.
---
Review
The epic crime family saga comes to an explosive and emotional end with thrilling action, gripping relationships, devious clan warfare and life-or-death stakes.
Jade Legacy is a masterpiece, bringing Fonda Lee's epic Green Bone Saga trilogy to a gut-wrenching, thoughtful and satisfying close. Each book in this series stands on their own in such a unique way: Jade City is a story about a city and its warring clans; Jade War broadens the scope, establishing a country on the geopolitical world stage; and Jade Legacy goes even further, as multiple generations of a family come to grips with their legacy and the future of their nation. As time progresses, as power waxes and wanes, who will finally take control of Kekon?
With each successive book in this series the scope gradually increases, and I've been left in awe of Lee's skill as a writer. With a deftness for language and characters and world, this grand story work on so many levels, delving deeper into the morally complex relationships of the Kaul family and their enemies—as well as the place they call home. As a result, The Green Bone Saga weaves a genuine and emotional tapestry of flawed characters in a flawed world, bound by honor and duty to the ones they love. It is a mesmerizing rise to power, and Jade Legacy solidifies all the successes of its predecessors but amplifies them across a sprawling thirty-year narrative that had me riveted from beginning to end.
After the massive shake ups and twists of Jade War, I was anxiously awaiting where Jade Legacy would take the story. And honestly, I was surprised that Fonda Lee used time as her major narrative play in this book. As the story begins, the Kauls and the No Peak clan are still locked in a stalemate against their rivals the Mountain, and with the majority of chapters there are time jumps of days, weeks, months, even years. I wasn't sure it would work, but it did—in every possible way.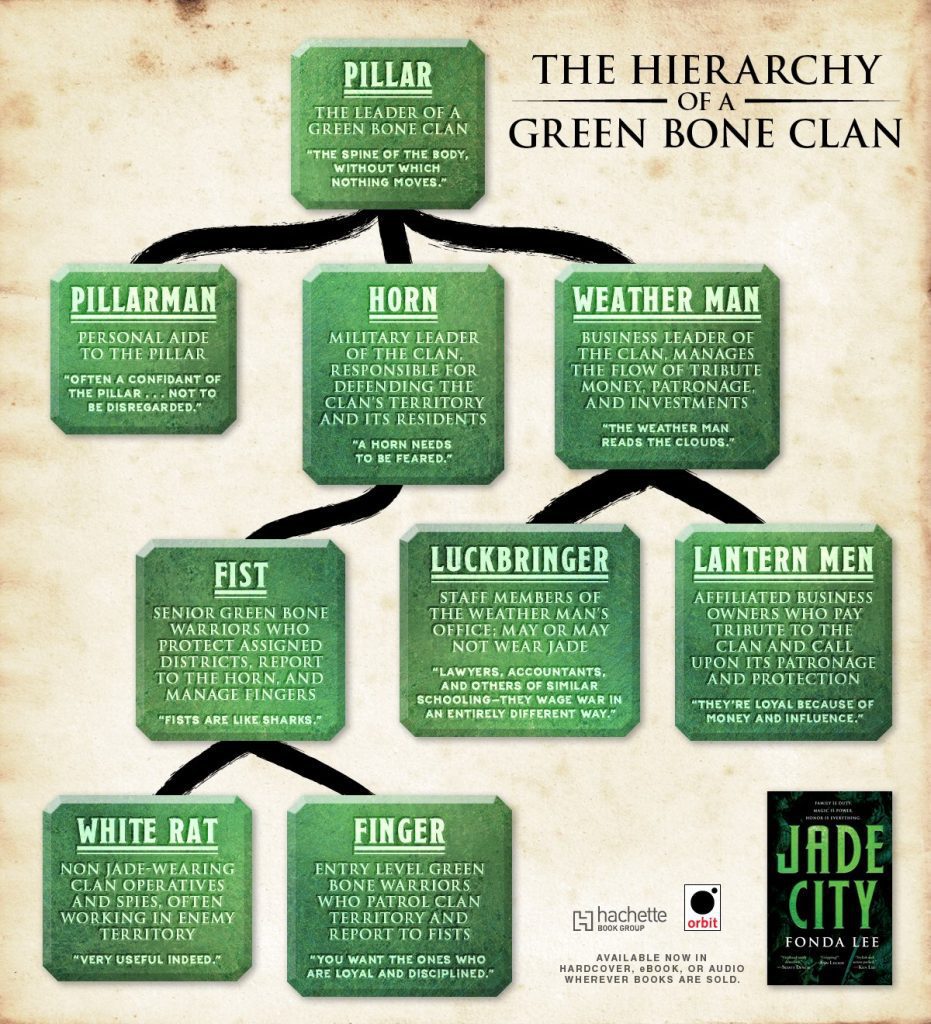 The pacing at the beginning was a bit slow, and purposefully so, as it readjusted me to the world and players in a clear and enjoyable way. I felt I needed that, given the amounts of characters and governments and countries. From there, each time jump is done in such a way that you understand exactly why that amount of time was passed over, who is involved in the current scenario and what connects that current scenario to the plot lines and characters that came before. I thought I would be jarred, but thirty years passed over the course of Jade Legacy and at no point did I think, "I need more context for this" or "Why was this happening?" It all felt natural within the framing of the overarching story and how the characters were developing individually as well as in relation to one another.
What also helped the pacing was a conscious shift in tension, going from serious, humorous or heartfelt character moments to political manipulations, betrayals and twists to pulse-pounding fight scenes. Time of course plays into all of this, but Lee's writing style carries enough weight and detail to pull you into a scene without drowning in it, then leads you into the next in a way that isn't jarring.
The pacing and time mechanic also felt natural for the world itself. I loved the geopolitical intrigue and scheming of Jade War, and that's juiced up in the final book. Countries are undermining each other, fighting proxy wars, using lawful and unlawful methods to outwit one another, and taking advantage of both financial and political weapons as much as real ones. All of this complex interplay takes time, as politics and wars and legislation are damn slow processes.
Meanwhile, the clans themselves are doing the same thing, expanding beyond Kekon with overseas businesses and investments, political allies and more. This international scope was so well executed because every location visited or mentioned came across as fleshed out and unique, but also very intentional. They were all fitting for the characters and story arcs that surrounded them, and each locale had the right amount of description and cultural depth that I could understand them in relation to the Kekonese perspective.
Even better, the characters themselves were so well utilized across the board. Each character and every location they visited was paired beautifully, giving that exact character the perfect opportunity to reveal more about themselves (both in relation to them and those around them). For example, the necessity for Hilo, as the clan Pillar, to be mature and wise constantly conflicted with his past as a fearsome warrior. But it was his relationships with his wife and children and the scenes they shared that clearly emphasized his personality and how he was changing, bit by bit. Sometimes for better, sometimes for worse. The same goes for Anden or Shae or Wen and so many other characters.
It also applies to the Kaul children, Niko, Ru and Tia, who have been raised in this fucked up environment of power and politics… and death. They are the ones who will take the mantle of this clan and carry it into the future. They bear the burden of what came before and what will come later: the legacy of a family, a clan, a city and a nation. That is by no means an easy responsibility, and each child handles it in their own way, resulting in three separate (but also interconnected) journeys that are just as engaging as those of the previous generation. How that passing of the torch plays out toward the conclusion is one of the best aspects of Jade Legacy.
All in all, the many characters in this series each have unique, memorable personalities and histories, and they are consistently challenged in situations that best reflect their strengths and weaknesses—that is what makes them interesting and relatable. This is even true of the villains, such as Ayt Mada. I know they are all damaged people, part of a culture of violence and pride. I know they have done terrible things. Yet I still empathize and connect to them because, beneath the weight of the clans and Kekonese culture and religion and all of it, these are well-realized fictional humans whose flaws I understand and whose resiliencies I admire.
But as The Green Bone Saga progressed, it was clear to me what the focus was: yes, the No Peak clan and the Kaul family are at war with the Mountain clan and the Ayts; and yes, Kekon is a small, once-isolated nation struggling to maintain its culture and jade power amidst global tensions and political maneuvering; but the core of this series truly lies within the Kaul family, their interpersonal relationships, their struggles and turmoil and deaths and persistence. Jade Legacy hones in on this family dynamic with purposeful precision, amplifying the gravity of their decisions and never shying away from authentic losses or successes, pains or pleasures.
The moment I finished the last sentence of Jade Legacy, the last word creeping its way into my brain, I was left feeling an intense satisfaction mixed with a sense of loss. Satisfaction in that I'd come to the end of a series I adore in so many ways, happy with how it ended; loss in terms of saying goodbye to characters and a world that I love. It's like having a great friend move to another city, watching them walk away across the airport lobby and knowing in your heart all the meaning they brought to your life, the lessons they taught you, the love and excitement and heartache you shared throughout your journey together. This is where Fonda Lee has left me with these three books, and I am all the better for it.
The Green Bone Saga tore me apart as a reader, launching me on a roller coaster of emotions again and again—but it graciously pieced me back together by the finale. Despite the sadness I felt at times and the twisting of my moral psyche, the series is rife with human moments and relationships, tenderness and honor, and a sense of hope for the future. As I write this, I know I am saying goodbye to Hilo, Shae, Lan, Anden and the whole Kaul clan. I know I am wishing a fond farewell to Janloon and Kekon. But that's okay. Every moment I spent there, every word and paragraph and page, was time I will cherish for the rest of my life.
Thank you to Orbit Books for sending me an eARC of this for review. Click here to find out more about Fonda and her work, and stay tuned on Dec. 2 for my one-on-one interview with the author.