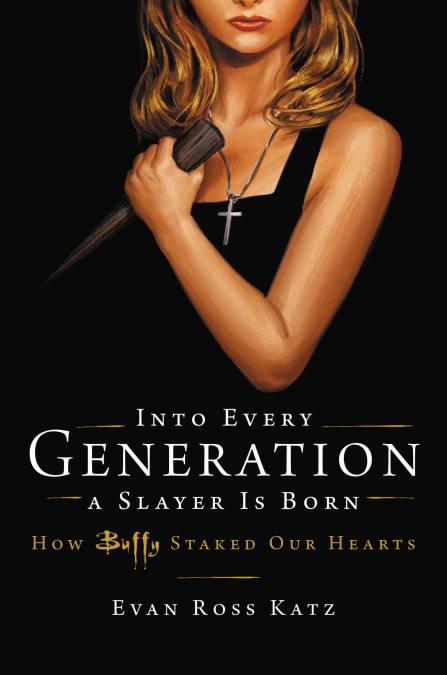 Rating: 10/10
Synopsis:
Explore the history and cultural impact of a groundbreaking television show adored by old and new fans alike: Buffy the Vampire Slayer.Over the course of its seven-year run, Buffy the Vampire Slayer cultivated a loyal fandom and featured a strong, complex female lead, at a time when such a character was a rarity. Evan Ross Katz explores the show's cultural relevance through a book that is part oral history, part celebration, and part memoir of a personal fandom that has universal resonance still, decades later.
Katz—with the help of the show's cast, creators, and crew—reveals that although Buffy contributed to important conversations about gender, sexuality, and feminism, it was not free of internal strife, controversy, and shortcomings. Men—both on screen and off—would taint the show's reputation as a feminist masterpiece, and changing networks, amongst other factors, would drastically alter the show's tone.
Katz addresses these issues and more, including interviews with stars Sarah Michelle Gellar, Charisma Carpenter, Emma Caulfield, Amber Benson, James Marsters, Anthony Stewart Head, Seth Green, Marc Blucas, Nicholas Brendon, Danny Strong, Tom Lenk, Bianca Lawson, Julie Benz, Clare Kramer, K. Todd Freeman, Sharon Ferguson; and writers Douglas Petrie, Jane Espenson, and Drew Z. Greenberg; as well as conversations with Buffy fanatics and friends of the cast including Stacey Abrams, Cynthia Erivo, Lee Pace, Claire Saffitz, Tavi Gevinson, and Selma Blair.
Review:
We will start out by putting this plainly: Buffy is one of the few fandoms I have held onto after wholly disagreeing/being disgusted with who the creator is. I think for me, disowning Buffy would be more of a disservice to Sarah Michelle Gellar and all of the characters who put their heart into this show.
I love that Katz addresses the biggest issue with Stan Culture: fans who cannot love something without recognizing the problematic nature of the thing they love. We are not going to add to that part of the culture; there's plenty of problematic things in Buffy, but many of us still hold love in our hearts for it regardless.
Thus, Katz starts by stating that this is a book that celebrates the women of Buffy while acknowledging the pain that Joss Whedon caused before going into a celebration of the series. There's rehashing of the trauma he has inflicted later in the book, too. I think that was most excellently done—to ignore the trials these actors went through while creating this larger-than-life how would be dishonest, and not very true to Buffy.
Obviously there's some plot lines that would not go over as well today, but Buffy still manages to evoke emotion in the best of us. If you're a fan of Buffy, you know that Joss Whedon has become a paradox in relation to Buffy. For a show that is built with such empowerment, a show that embraces the weirdos of the world, he has acted in complete opposite to the feelings that show evokes in others. The way he is described very much reminds me of a boss who abuses you mentally but then gaslights you by calling the crew a family, which is something I'm sure many have experienced in their lives. Even though we know this behavior is abusive, we still try to please them and want to be appreciated by them.
We get a LOT of interviews and discussion by almost every other major person involved with Buffy, but Joss Whedon declined to interview for the book. Now, enough about him and onto the rest.
For all the negativity associated with the show, it still remains a cult favorite, commanding feelings of adoration from many. The show has this ability to make people feel seen, and the book focuses on that. It also focuses on the wonder that is Sarah Michelle Gellar and the devotion to her role as Buffy. Buffy would not have catapulted to such impressive heights without all of her hard work.
Buffy made being weird cool, made the outcasts feel accepted, and the ones hiding a part of themselves feel seen. This book made me cry tears of nostalgia, made chills run down my spine at some of the messages imparted, made me sympathize and feel grateful to the cast who worked under pressure and a tyrannical creator. Sarah Michelle Gellar has always been a queen to me and this book solidified that even more. It was such a formative part of my upbringing and some of my friendships (if you ever read this, Kyle, I will always fondly remember alternating singing parts of the musical episode).
It discusses how Buffy was also one of the first shows that approached being gay as something that you don't have to come out of the closet as— there's plenty of shows where there's a big reveal episode, and those are needed, but this show approached it as something naturally a part of Willow and something that her friends automatically accepted her for. That was needed on television, too. Katz points out the innate queerness of Buffy and why it has such a following in the community. Once again, it doesn't shy away from scrutinizing the missteps made in representing the LGBTQ+ community or where it failed. Despite this, Katz make it clear that this show is very beloved within the community and has helped many people on their journey to accepting themselves.
There's also the debate of whether this was actually a feminist show and the dive into white feminism. It recognizes absolute whiteness within the show and lack of characters who are not white, but it also recognizes that for all of its flaws, Buffy was radically groundbreaking in forging the steps for women and feminism in later shows. I think one of the biggest takeaways is that to love something and feel seen by something, it doesn't have to be perfect. We can acknowledge those issues and still hold a place for it in our heart. Leader Stacey Abrams talks about the impact Buffy played on her life and how important it was for her to see representation in the powerful Black slayer, Kendra.
I had my disagreements with the author in some instances—season 7 is one of my faves, and so emotional for me. I bawl like a baby every single time. I loved the show more as it progressed throughout seasons, not less. Yet, I love seeing other perspectives on this iconic show and what meant the most to them. This book made me realize how there's so many different aspects of Buffy that meant so much to different people.
Into Every Generation a Slayer is Born is a wonderfully conversational book, and the narration by Evan Ross Katz was perfect. I wouldn't have wanted anyone else to narrate it. I felt like I was listening to a podcast rewatch of the series. I enjoyed the content within it so much that I bought a physical copy, too! I cannot thank Hachette Audio enough for sending me an audio copy to listen and review. This was absolutely phenomenal and one of my favorite books this year. I didn't expect that. I thought we'd have a fun little dive into Buffy; I didn't expect the emotion that this book would bring out in me. I didn't expect to be blown away by the way that Katz has crafted a perfectly balanced celebration and scrutinization of Buffy. There's so much to take in and this book really makes you think deeper into the cultural phenomenon that Buffy the Vampire was and still is.
If you're a fan of this show, you gotta check out this book. If you were a fan and can't stomach it anymore due to Whedon (to which is absolutely understandable), I still recommend checking it out.