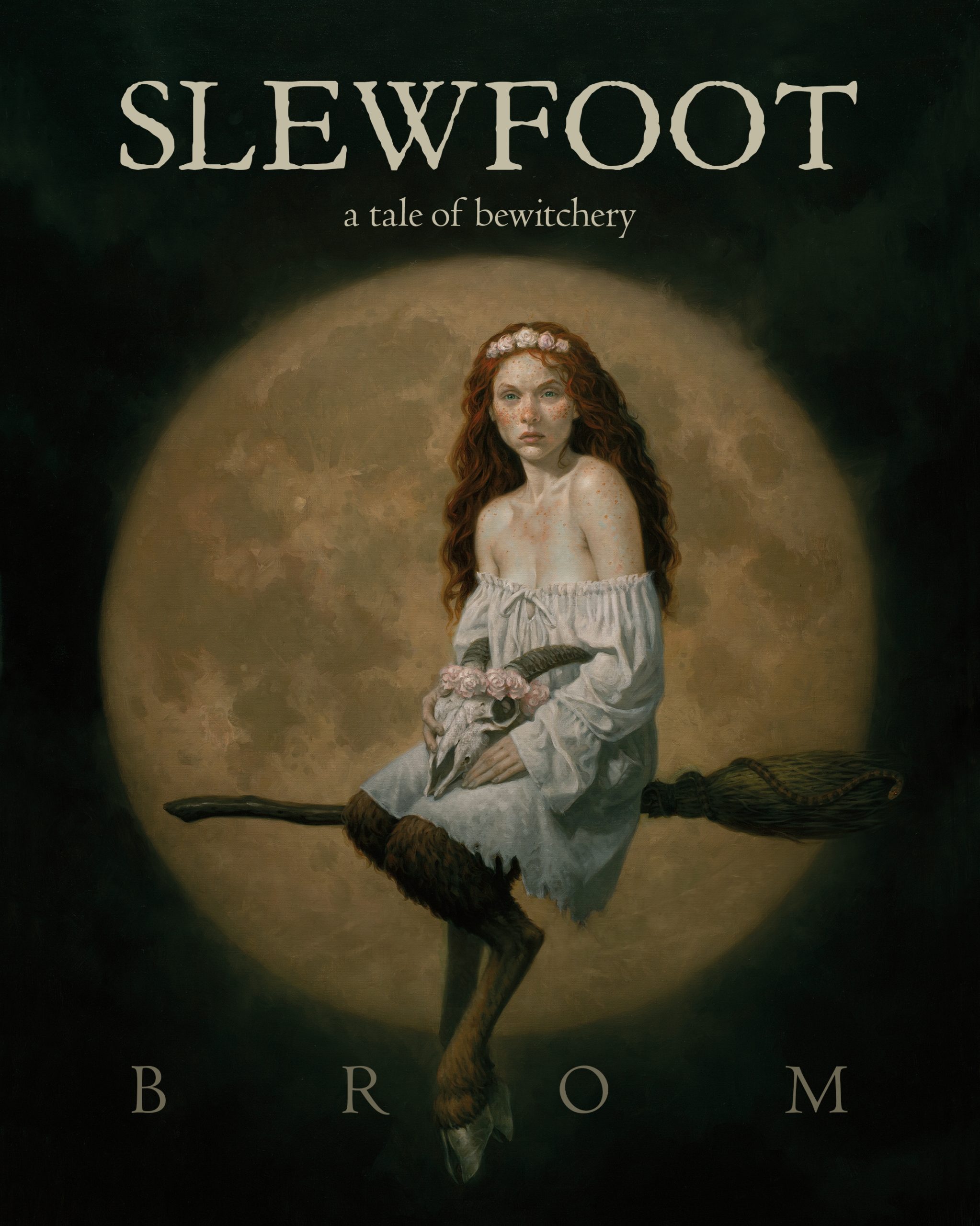 Rating: 7.5/10
Synopsis
A spirited young Englishwoman, Abitha, arrives at a Puritan colony betrothed to a stranger – only to become quickly widowed when her husband dies under mysterious circumstances. All alone in this pious and patriarchal society, Abitha fights for what little freedom she can grasp onto, while trying to stay true to herself and her past.
Enter Slewfoot, a powerful spirit of antiquity newly woken… and trying to find his own role in the world. Healer or destroyer? Protector or predator? But as the shadows walk and villagers start dying, a new rumor is whispered: Witch.
Both Abitha and Slewfoot must swiftly decide who they are, and what they must do to survive in a world intent on hanging any who meddle in the dark arts.
Review
Thanks to the publisher and author for an advance reading copy of Slewfoot: A Tale of Bewitchery for review consideration. This did not influence my thoughts or opinions.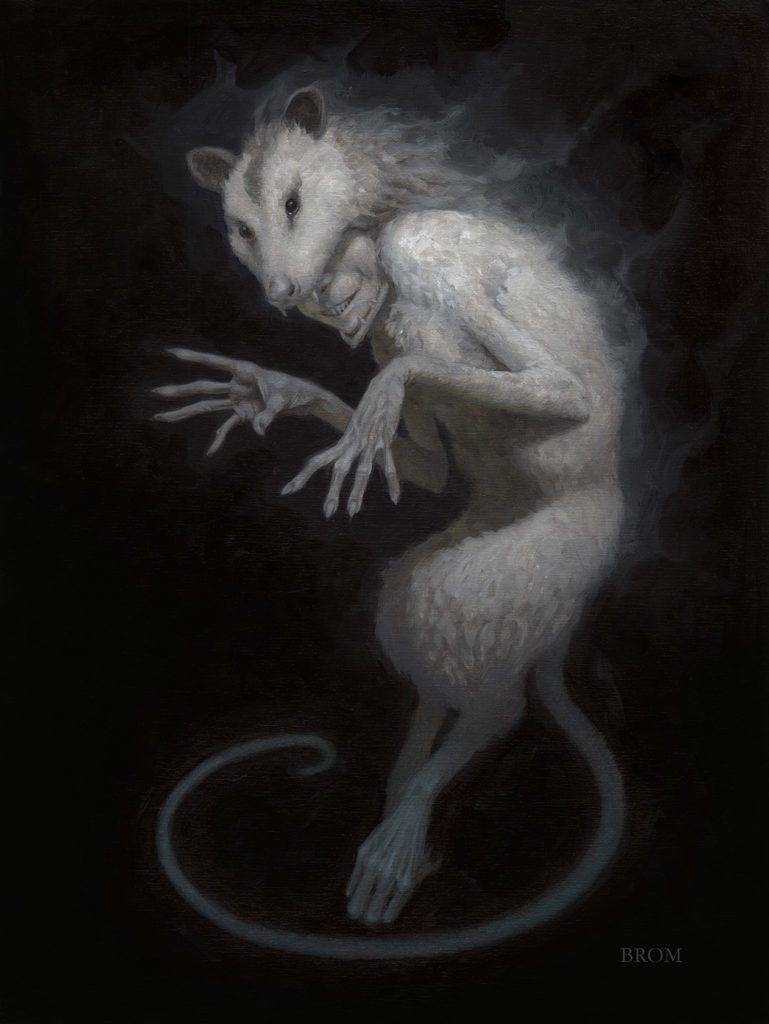 Brom has been an author I've wanted to take a chance on for quite a while. He is clearly a writer many are fond of, and there is no doubt he is one of the finest artists out there. If you are not familiar with his works, I highly recommend checking out some of his previous releases or simply doing a quick Google search. His artwork is hauntingly beautiful; nothing I would probably frame up around the house but definitely eye-catching to the point where I have a majority of his works in print.
Slewfoot is an intriguing horror story that is both extremely unsettling and utterly satisfying. It is both a tale of finding oneself and pure, unadulterated vengeance. It is both exactly and not even close to what I was expecting upon completion, and I thoroughly enjoyed my gateway drug to Brom's library.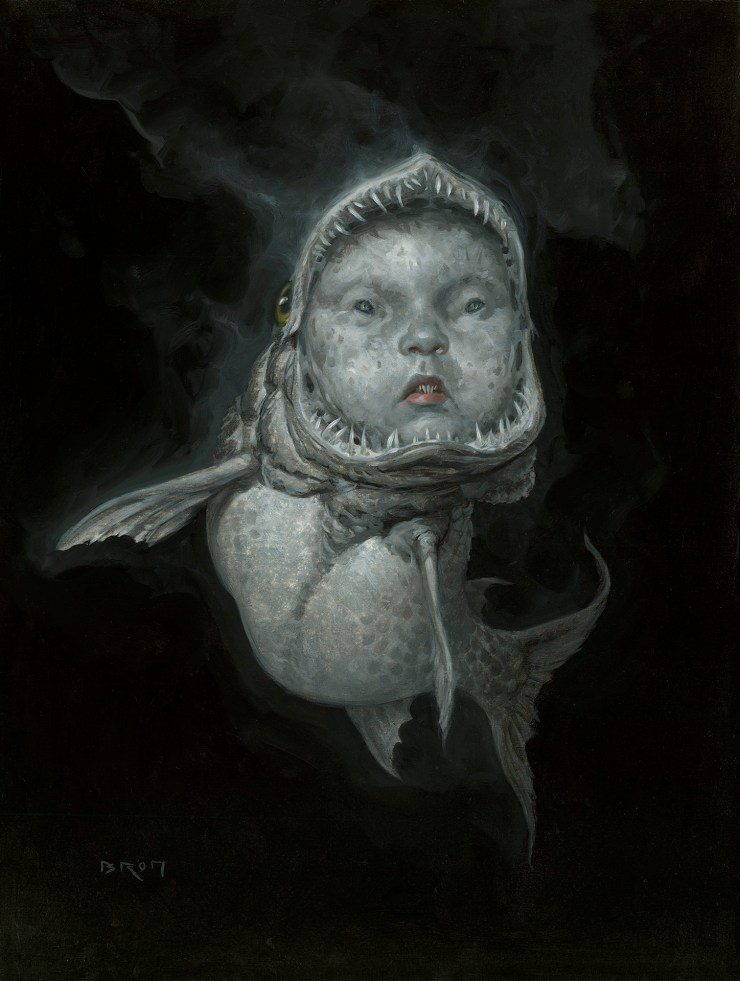 The story we find here is fairly straightforward, at least from Abitha's point of view. Her husband is killed fairly early on in the story and Abitha is left to somehow pick up the pieces, tend to a farmstead on her own, and basically escape the clutches of her brother-in-law who wants to take everything she has away.
In steps Slewfoot and the fork where the story takes a more interesting approach. Where most stories involving the devil show a powerful demon that knows exactly what it wants, Slewfoot is a creature with absolutely no memory of what it is, what it has done, or what it plans to do. Well, at least until he begins feeding on the living and the memories come flooding back like a tidal wave of blood and viscera.
The two of them form what can be described as a sort of 'partnership' in order to help one another survive this world in which they find themselves. This basically involves selling one's soul to the devil, practicing witchcraft, and steamrolling an entire town.
Wicked.
If horrifying fairytales are your thing, this one is a goodie. I also recommend checking out Barrie Kreinik's narration if you are into audiobooks. I ended up finishing this one out on audio and I thought she did a wonderful job portraying both Abitha and Slewfoot, amongst the litanty of other minor characters that played fairly large roles throughout the story.
Interview
1. Tell me a bit about yourself (growing up, moving around, and your "obsession with the creation of the weird, the monstrous, and the beautiful")
My father was an aviator in the military, so we moved around a lot. I spent the first three years of my life in Japan and credit a barrage of androgynous super heroes, transforming robots and giant monsters for getting things started. From there we lived in such places as Alabama, Texas, Virginia, Hawaii, and eventually I graduated high school in Frankfurt, Germany. Art and literature were my constant companions through all these travels, especially my fascination with the fantastic and the macabre, the friends I could always count on to be there.
Also, I see you lived in Alabama for a time. What part? I am just outside of Birmingham.
Most of my family is in the Tuscaloosa area, so despite all my travels, Alabama always feels like coming home.
2. Was illustration always your passion growing up?
Pictures and prose. I was drawing and writing the exact same material as I am today, making little evil books in my room. Only then I used crayons, notebook paper and staplers instead of oil paints and the computer.
3. Tell me about your time with TSR and how it influenced your later works.
I joined the staff when I was twenty-four, so having the opportunity to work alongside such a talented group of seasoned pros, was the best art education I could've asked for. Additionally, TSR gave me so much creative freedom, such a wonderful opportunity to explore and develop my own style.
4. Who are some of your influences, writing and painting-wise?
My earliest influences came through art, from the dinosaur paintings of Charles R. Knight to the fantastic paintings of such greats as Frazetta, N.C. Wyeth, N. Rockwell, Howard Pyle, Waterhouse, the list is rather endless, really. Literature, early on, E. R. Burroughs (John Carter of Mars), R.E. Howard (Conan), Tolkien (Lord of the Rings), Michael Moorcock (Elric), Poe, then later, Stephen King, Clive Barker, Anne Rice, Cormac McCarthy.
5. When did you decide to start writing?
I've made comics since early childhood, but it wasn't until my early twenties that I began trying my hand at short stories. When did you decide to start writing seriously? B – Probably early thirties. At that point I was becoming burnt out on illustration and wanted more control over my art, one way to do that was to write my own material. My first novel was a split between paintings and words, sort of a hybrid. I have since gone on to write novels that rely primarily on the prose, with art as a support.
When the spark hit to begin your first novel, were you always going to add your own illustrations or did that "seed" get planted later?
Yes, it was all about the art in the beginning, but later the writer in me wanted to prove that I could create a novel that stood on prose alone.
What made you decide to continue that trend?
A deep down love of the way prose and pictures can create such a rich, individual vision. I love illustrated books as a kid, and have never lost that, now the joy comes from creating my own illustrated books.
6. Do you feel that painting helps you overcome writer's block, or vice versa?
Yes. They work together for me. I discover ideas in each that influence and inspire the other. At times it is almost like two separate people collaborating on one project. The illustrator in me will often surprise the writer in me, and vice versa. I love the discoveries that come up when I switch from one discipline to the other. It is the most enjoyable element of the process and it keeps the project fresh for me.
7. What comes first now: the illustrations or the words on the page?
Early on it was all about what I wanted to paint, but as I've grown as a novelist, the uniqueness of an idea or plot tends to lead the creative process, once that is established, I then set the illustrator in me loose to add my twisted dark visuals.
8. What is your fascination with the macabre?
Hmmm, not an easy one to answer. I've never had any overly traumatic events to warp me, or unhealthy influences; most of my family has very mainstream taste. I feel it is simply a thing born in me, what I am naturally drawn to. I've been collecting skulls since pre-school. There is such inherent drama in the macabre; it is hard not to be interested in the things that can bite you.
9. For those that are unfamiliar with your works, can you talk a little bit about your most recent releases?
Lost Gods – The inspiration for this story came from one of my issues with most ghost stories. Why is it that a ghost can often kill people with no repercussions? Meaning, once a ghost kills you wouldn't you be a ghost too? And as a ghost wouldn't you essentially be sharing the same ghost super-powers? And as such, wouldn't the first thing you would do is beat the crap out of the ghost that killed you? Exploring what happens after a ghost kills you and you become a wayward spirit bent on revenge was the catalysis for this tale and journey through the underworld. And in this book the underworld is a place where all the ancient gods and spirits are cast down into once they are forgotten.
Krampus – As many know, Krampus is essentially the darker side of Christmas, usually portrayed as a Christmas demon, the creature that will put naughty children in a sack and beat them bloody. I'm always fascinated by what makes a being wicked and more times than not, find it hard not to be empathetic to their plight on some level. This novel is an exploration into who Krampus is and where he came from, and why he wants to kill Santa Claus. On top of that, it answers the question that the eight-year-old in me was dying to know—who would win in a fight, Santa or Krampus? It is also a story of a down-and-out song-writer who has lost everything until one night, Santa's endless toy sack lands on his roof. Oh, and for added fun, I set the whole dern story in Boone County West Virginia.
10. Tell me a little bit about what to expect in your newest release, Slewfoot.
Blood, tears, witchcraft and mayhem in no particular order. It follows the arc of a young spirited woman with a pagan background who struggles to adapt after being sent to a puritan village. When her husband is murdered, she finds herself all but alone, with one exception, a lost forest spirit who is asking for her help, offering his help in return. But everything comes with a price, especially in a society looking for devils beneath every stone.
11. What was the inspiration behind this "hallucinogenic fairy tale" as Christopher Buehlman puts it?
It was while watching a documentary on the Salem witch trails that I kept thinking, Now, what would it be like if those accuse of witchcraft were really witches, if the Devil was their ally, what havoc would ensue? And from there, the tale of Slewfoot was born.
12. What are you working on next?
I try to make time to create a few paintings just for myself between novels, some dark explorations that have been haunting my psyche; it's the only way to get them to leave me alone. But I am also pecking away at a new novel, a horror novel believe it or not, it deals with possession and what makes a soul truly evil—more to come.
---
About the Author
Born in the deep dark south in the mid-sixties. Brom, an army brat, spent his entire youth on the move and unabashedly blames living in such places as Japan, Hawaii, Germany, and Alabama for all his afflictions. From his earliest memories Brom has been obsessed with the creation of the weird, the monstrous, and the beautiful.
At age twenty, Brom began working full-time as a commercial illustrator in Atlanta, Georgia. Three years later he entered the field of fantastic art he'd loved his whole life, making his mark developing and illustrating for TSR's best selling role-playing worlds.
He has since gone on to lend his distinctive vision to all facets of the creative industries, from novels and games, to comics and film. Most recently he's created a series of award winning horror novels that he both writes and illustrates: "The Plucker", an adult children's book, "The Devil's Rose", a modern western set in Hell, "The Child Thief", a gritty, nightmarish retelling of the Peter Pan myth, "Krampus, the Yule Lord", a tale of revenge between Krampus and Santa set in rural West Virginia, and his latest concoction, "Lost Gods" one man's determined trek through the brutal landscape of purgatory, "Slewfoot" a historical horror novel of witchery and vengeance, set in colonial America.
Brom is currently kept in a dank cellar somewhere in the drizzly Northwest. There he subsists on poison spiders, centipedes, and bad kung-fu flicks. When not eating bugs, he is ever writing, painting, and trying to reach a happy sing-a-long with the many demons dancing about in his head.