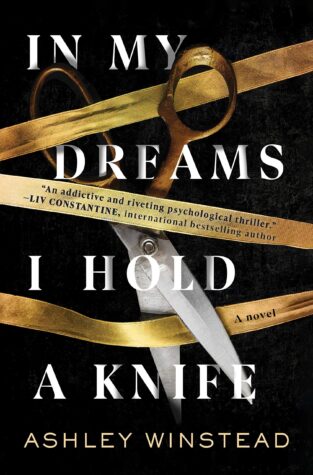 Rating: 8/10
Synopsis:
Six friends. One college reunion. One unsolved murder.

Ten years after graduation, Jessica Miller has planned every detail of her triumphant return to Duquette university. Everyone will see who she wants them to see – confident, beautiful, indifferent. Not the girl she was before, back when Heather Shelby's murder fractured everything.

But not everyone is ready to move on. Someone is determined to make the guilty pay. When Jessica and her friends are reunited, they are forced to confront not only what happened that night, but the secrets they would do anything to hide.

Told in racing dual timelines, with a dark campus setting, In My Dreams I Hold A Knife is an addictive, propulsive read you won't be able to put down.
Review:
I was sent a copy of this book in exchange for an honest review.
When I was a teen I used to read crime & thriller books like they were going out of fashion. So, every now and again when I return to the genre I hope it's going to reignite the love I had for it as a teen. Not to say I don't love the genre now, but it's no longer my favourite in the way it used to be.
For the first 100 pages or so I was a bit worried that In My Dreams I Hold a Knife was going to be your average thriller, good but nothing to write home about. However something managed to really catch my attention and from then on I couldn't put it down. The back and forth between the university years and the reunion started to really ramp up and I genuinely didn't guess who the killer was.
There was something about Jessica wanting to return triumphant and having proved people wrong that really hit home with me & honestly I'm not sure that's such a good thing. I wouldn't say there's a single character in this book who is 'good' everyone is morally grey but so much more real for that fact. Everyone, and I mean everyone, has secrets that inevitably end up being revealed.
It felt to me like Ashley Winstead really captured the confusing & messy time that is university perfectly. From friendships to love and the overall weirdness that is those years of your life. Her vivid descriptions of locations on the Duquette campus that were revisited over and over again meant that you can clearly picture where each major event is happening, in whichever timeline you're reading.
With a dark academia setting and a dark storyline this is the absolute perfect read for autumn.