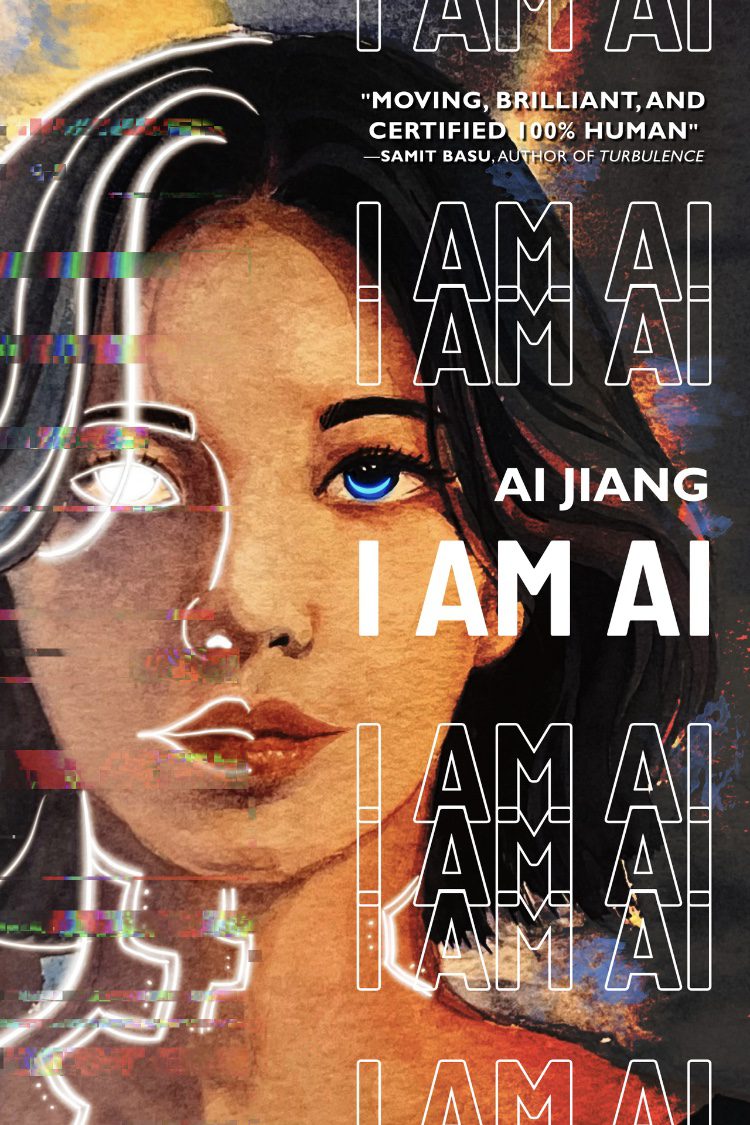 Rating: 10/10
Synopsis
If you have the opportunity to give up humanity for efficiency, mechanical invincibility, and to surpass human limitations. . . would you?
Ai is a cyborg, under the guise of an AI writing program, who struggles to keep up with the never-blinking city of Emit as it threatens to leave all those like her behind.
Review
Novelettes are bitesized. Perfect for a quick read, but can they really compare to a novel? How could they ever be as rich, immersive, or substantial? If you've ever been tempted to ask that question, then may I present the answer: I AM AI.
I was totally blown away by this novelette. I have so much to say about it, and yet, when I think about this story, I'm left speechless. What a perfect, intricate, heart-stirring, soulful, speculative masterpiece. I felt things reading this book that I haven't felt in entire trilogies before, let alone novels!
Ai is an augmented human who writes articles when she isn't spending her time chasing her next battery charge. If she runs flat, she'll be drained of everything, including her life. Maybe it's because of the way we keep everything on devices these days, but as Ai's battery percentage drops closer to 1%, my stomach was knotting so tight, I may have pulled a muscle! Tying Ai's battery life to her actual life works on so many levels — it gives the story immediate stakes, it provides an idea of Ai's status, enriches the world, but most importantly, it invites an amazing speculation on who we are — what makes Ai a person and not a product? This is one of the questions which drive the story, and it's ever present in imagery, symbolism, metaphor, and an almost poetic style that constantly looks to explore, rather than to preach.
Community and individuality are key aspects to how the themes play out across the story. If you belong somewhere, the question is — why? What makes you belong? What makes any of us belong? And the answer is so perfectly presented, it's astonishing when it arrives.
I've touched on the style of the book, but I want to come back to it, because Ai Jiang (yes, the author shares her name with the main character, which makes the whole thing feel so personal) is an absolute genius when it comes to style. She has a knack of layering so much into a sentence. Every line is packed with character, but that's just the surface of what you're reading. There's a subtlety to the sentences which somehow enable them to convey whole stories in themselves. For example, early on, you'll find a wonderfully descriptive paragraph about a clock which doesn't work — it's broken, there are wires sticking out of it and the alarm never goes off at the right time, yet Ai's auntie refuses to get rid of it because she's so fond of it. But all of this is punctuated with a line like: "Sometimes, I feel like the clock." There's so much said which is outside of the page. So many implications. So many dynamics. So many emotions. And yet, it's so simple, elegant, and deliberate. I adore this style of storytelling, and Ai Jiang does it effortlessly. It's breathtaking, satisfying, and absorbing. There's a frequent playfulness about the language too, and it's just such a delight to read.
I'm a huge fan of the way the book manages to convey a sense of the world through small details. This future has such a massive scope, but it's revealed organically and seamlessly, appearing in hints rather than exposition. You get the sense of the technological city of Emit, even in just the name. You might read about the way a building looks, or a painting, or a description of a keyboard, and think it's just an inconsequential flourish. Yet, all these things accumulate in the imagination to form a fantastically rendered and realistic setting. Mesmerising stuff.
But, as you may have already deduced, the thing I most admire about this story is the emotions it manages to produce. You definitely go on a journey through this book. It doesn't take long to read, but the feelings it stirs up are surprisingly weighty. You'll find yourself longing for the next word. You'll sense your heart racing, breaking, expanding, collapsing, growing, and soaring. It all culminates in an overwhelming sensation which I can't even now comprehend. I was aglow by the final page-turn. There's something inexplicably affirming about the path this book walks — something cathartic, and necessary.
In short, I loved it.
If you're looking for a quick sci-fi read that's emotionally resonant, then I absolutely insist you check out I AM AI. It's a beautiful, beautiful, BEAUTIFUL book. It'll leave you heartened, pondering the nature of creation, connection, and community, and feeling just that little bit more human. This book is essential. It gets 10/10 in a heartbeat.