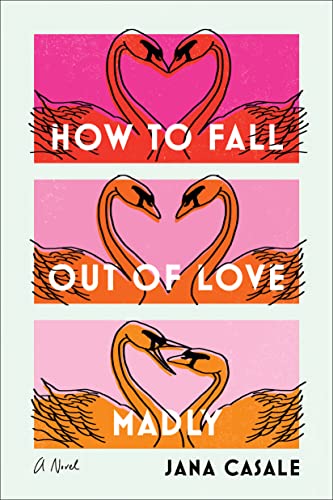 Rating: 9/10
Synopsis:
Joy and Annie are friends and roommates whose thirtysomething existences aren't exactly what they'd imagined for themselves. Struggling to make ends meet, they decide to rent their extra bedroom to Theo, who charms Joy with his salt-and-pepper hair and adoration of their one-eyed cat. When Annie goes to live with her boyfriend, Theo and Joy settle into a comfortable domesticity. Then Theo brings home Celine, the girlfriend he's never mentioned and who is possibly the most stunning woman Joy has ever seen. Joy resolves to do whatever it takes to nurture the bond she and Theo have forged. Anything Celine might deny him, Joy will grant. Distracted by her need to please Theo, Joy fails to see that Celine's beauty doesn't protect her from her own insecurities. Celine is so haunted by an event in her past that she can't access the confidence she yearns to exude.

Annie is worried about Joy's senseless devotion to Theo, but she has her own troubles. Eager to please her commitment-phobic boyfriend, she can't stop parsing his texts and pretending to be the easy-going, cool girl he wants. At work, where she leans into her natural assertiveness, Annie is a star. But then an anonymous letter lands on her desk accusing her esteemed and supportive boss of sexual misconduct, and Annie is forced to decide who and what she's willing to stand up for.

Perceptive, mordantly funny, and full of heart, How to Fall Out of Love Madly tells the story of three women who believe in equality yet inexplicably tolerate terrible behavior from men, equating being desired with worth. As Joy, Annie, and Celine grapple with the ways their lives have been subverted by the forces of gender, money, power, and the need for intimacy, they realize their futures will be determined by how hard they'll fight to reclaim control. 
Review:
I read How to Fall Out of Love Madly over a month ago and I've been dying to sit down and write a review about it, but life got busy. Here I am, a week past publishing date, ready to review.
I inhaled this book, it's exactly the type of contemporary writing that I love. If you've heard of this novel, I'm sure you've seen it compared to the works of Sally Rooney. The comparisons to Rooney come from a well-intentioned place, but they're only partially right. Both of the authors are brilliant, and Jana Casale writes with a similar honesty and perceptiveness that Rooney is known for. Casale's characters are a bit more touchable, though. This is not a dig at Sally Rooney, because she's one of my favorite authors, but I felt like Casale's character could be some of my own friends. Though she writes with that realistic worldview that can veer into the melancholy––if only for being frankly honest–– I still found that her writing had a more hopeful tone to it altogether.
"People could tell you whatever politically correct garbage they wanted to, but youth meant something in this world and it especially meant something for a woman. What would life be to leave sexiness behind? To no longer be the age that mattered? Movies were about young people. Songs were about young people. Sex was about young people. All of it was slipping away. She'd been blindsided by this feeling. In her twenties, she never gave aging a thought, but now that she was thirty, she had a hard time placing herself."
How to Fall Out of Love Madly embodies womanhood and all that it entails; the pining, the crushing emotion of unrequited love, the sexual harassment and assaults, the unrelenting fixation on weight and body image, the sisterhood of friendship. The traumatizing moments and the empowering moments that just come with the territory of being a woman. Jana Casale made me think about so much. She made me think of the moments when we put our own interests before our friends and the moments when we put their interests before our own. She made me think of the times when someone has said something little about my appearance or personality that have stuck with me forever; the half-truths and lies told that you're only too willing to believe.
She also made me proud of the women that stand up for others. The ones who decide that they've had enough of the men around them getting away with inappropriate touches or comments. She made me think about all that we suffer silently. Sexual assaults that seem easier to just let go, because they're 'not a big deal,' even though they're a violation of your body all the same. It's a conditioning so deeply ingrained.
"I had taken the incident on as a little piece of shame that I tucked away and carried around, and that was it; never did I left the burden fall on anyone else's shoulders but my own. In college, a guy at a party grabbed my butt as I walked past him. He said something to me like, "Hey, gorgeous." I just kept walking around and didn't acknowledge it. I wanted to turn around and say, "Fuck you," but my instinct was to just leave the party as soon as possible, so I did."
This whole novel resonated with me. I think it will resonate with many women. I felt for Joy, a self conscious and chronic people pleaser, in love with a man who was only too happy to use her for an emotional relationship while having a sexual relationship with another. I felt for Annie, finding out that the boss who has always been kind to her has been preying on women at the office, while dating a man who is never supportive when she needs him. I felt for Celine, praised for her beauty and overlooked for any other qualities, dating the 'nice' man because she feels it's the right thing to do. I understood the way Annie and Joy were able to see what would be the best thing for one another and to recognize unhealthy patterns in the other, but not be able to do the same thing for themselves.
"And then I shut the hell up because I realized something: my body was defining my life and her body was defining her life, and it was reckless and absurd of me to pretend we were living the same life."
The prose is lovely and Casale is meticulous in the way she writes. She writes profoundly, clearly and perfectly expressing herself. She dives into our deepest thoughts and pulls them to the surface, laying them out for the world to see. I admire the writers who are brave enough to do this. I think it takes a valiant person to be able to write in a way that bares the thoughts and concepts that the rest of us keep hidden or struggle to place into words. Raw, intoxicating, and impactful. How to Fall Out of Love Madly is such a gift from Casale to the world. Thank you to Penguin Random House for the advanced copy!