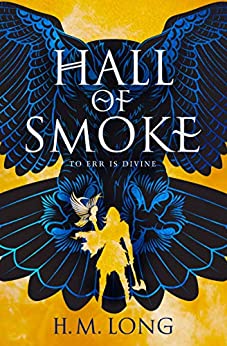 Rating: 10/10
Synopsis
Hessa is an Eangi: a battle-hardened priestess of the Goddess of War, with the power to turn an enemy's bones to dust with a scream. Banished for disobeying her goddess's command to murder a traveller, she prays for forgiveness—but while she is gone, raiders burn her town to the ground.
Grieving and alone, Hessa—the last Eangi—must find the traveller and atone for her weakness. As clans from the north and legionaries from the south tear through her homeland, slaughtering everyone in their path, Hessa strives to win back her goddess's favor.
Beset by zealot soldiers, deceitful gods, and newly-awakened demons at every turn, HEssa burns her path towards redemption and revenge. But her journey reveals a harrowing truth: the gods are dying and the High Halls of the afterlife are fading. Soon Hessa's trust in her goddess weakens with every unheeded prayer.
Thrust into a battle between the gods of the Old World and the New, Hessa realizes there is far more on the line than securing a life beyond her own death. Bigger, old powers slumber beneath the surface of her world. And they're about to wake up.
Review
Let me just start out by saying I did not go into Hall of Smoke expecting to be blown away. Yet here I am writing a review that I am rating 10/10 with my socks knocked clean off! I was in the book store browsing for something from 2021 to read and review and caught sight of the beautiful cover and it found its' way home with me. I had never heard of it before so I had no idea what I was getting myself into. I'm so thankful that I did!
Hall of Smoke is a viking inspired story that reminds me of the Roman and Celtic stories that took place in the first couple centuries AD. Lots of gory fights and filled with gods and beautiful landscapes. Yet, what made this story so much more interesting for me was that it takes places from the perspective of the northern Celtic type people and not from the Roman type perspective as many of those stories do. (For an example go check out the movie The Eagle and you'll see what I mean)
I found that H.M. Long did a fantastic job world building and creating a believable history for this world. In fact, without the history the story wouldn't have worked at all and it probably would have fallen flat. Not only was she able to set up a believable world but she also managed to create a cast of characters who I found to be very interesting and unique. The star certainly being Hessa, who we spend the entirety of the book with. Hessa's life slowly gets confronted with truths that challenge everything about all she's ever known in a way that comes across natural and in such a way that encourages self evaluation. Or at least that's what I took from it!
While most of the gods in the story are not fleshed out in the way that Hessa or Nisien are, I found this to be a nice change of pace for a story centered around a world built on religion and gods. The gods were given just enough life to be present in the story and appear divine but not enough to become something that a mere human couldn't relate to or handle.
Ultimately, this was an exciting story of loss, self discovery, and personal growth with lots of action and adventure to keep the story moving and entertaining. I highly recommend Hall of Smoke and I cannot wait to read Temple of No God when it comes out in the next couple weeks!