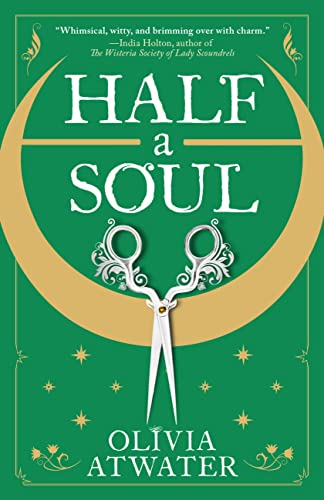 Rating: 9/10
Synopsis:
It's difficult to find a husband in Regency England when you're a young lady with only half a soul.

Ever since she was cursed by a faerie, Theodora Ettings has had no sense of fear or embarrassment—an unfortunate condition that leaves her prone to accidental scandal. Dora hopes to be a quiet, sensible wallflower during the London Season—but when Elias Wilder, the strange, handsome, and utterly ill-mannered Lord Sorcier, discovers her condition, she is instead drawn into peculiar and dangerous faerie affairs.
If her reputation can survive both her curse and her sudden connection with the least-liked man in all high society, then she and her family may yet reclaim their normal place in the world. But the longer Dora spends with Elias, the more she begins to suspect that one may indeed fall in love even with only half a soul. 
Review:
When I saw that Half a Soul was a regency era faerie tale, I knew I had to pick it up. I adore reading about the regency era and of course, I love anything with an air of the fantastical about it.
Atwater creates a wonderful alternate world within our own that speaks for itself. The writing is delicately weaved and I felt very much swept away into the dreamy story.
Though Theodora only has half a soul, she isn't any less dimensional of a character. Whatever she is supposedly lacking by having only half a soul (like, the ability to feel great love and emotion), she makes up with her extreme bravery and a natural sense of caring about the general wellbeing of others. Though she may not feel the full magnitude of what it is to have an overwhelming sense of love for another person, she is a GOOD person and can't turn away from someone being mistreated. This is quite a message, actually. So often, because humans don't have an emotional attachment to something, they are able to detach themselves from caring. Then there's some of us who cannot detach ourselves, who feel every slight against our fellow humans and search for ways that we can make it a greater world for all. I am only now realizing the full scope of this theme throughout this novel – it's funny how putting your thoughts to writing can do that.
I think it can be easy to overlook this message while you're reading this book that is beautifully whimsical and charming. That's one of the things I love about fairytales and fantasy in general. We can have lighthearted, we can have sweet prose, we can have magic and alternate universes… but we can also explore the darkest pieces of humanity and bring awareness to them. With fantasy, we can do this and not feel like we are being burdened by the weight of the world. As in Half a Soul, we can shut the book with a sigh of pleasure and fulfillment, while taking a nugget of wisdom back with us into our lives. Half a Soul was so much more than I expected it to be, and Atwater should be proud of the multi-faceted work she created here.
There's so much I could delve into here to back up my explanation, but I'd hate to ruin all of the things that make this novel what it is. There's magic, a humanitarian crisis, faeries that are obsessed with English society, and a whole lot of heart.
Thanks to Orbit for the review copy and thank you to Hachette Audio for an audio copy. The narration by Madeleine Leslay was just as charming as the writing was. She was a perfect match for Half a Soul. She managed to make us feel that part of the soul that Dora was missing while also giving us a glimpse of the emotion that we could tell she was capable of. The narration was entrancing!