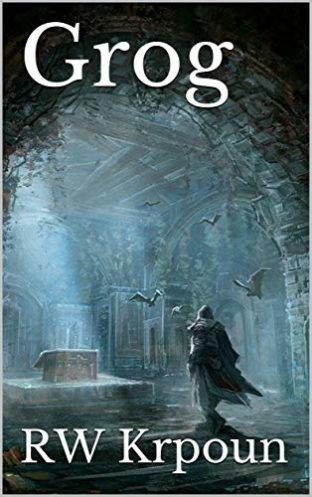 Rating: 10/10
Synopsis
Grog is a brute (half Human, half Ukar) slave raised from birth to fight in the pits for the entertainment of the crowds. He is content with his role in the city, proud of his barracks, and in awe of his owner, the sour Master Horne. Life, by Grog's reckoning, is good. Then an enigmatic churchwoman enters his life, and Grog finds himself swept from the city which has been his entire world, to travel and learn amid as strange a group as he has ever seen. He knows nothing of the group's mission, just that his skills are necessary and the quest is 'a good thing'. But slowly, on this strange journey of both distance and spirit, Grog learns of the goal his new employer pursues, and its role in a troubled world. More importantly, he learns the value, and price, of freedom, and neither aspect is anything like what he imagined. A fast-paced fantasy novel by the author of the popular Dream series (and eighteen other novels), Grog takes the reader on a journey through an embattled Empire and a world in which things are seldom as simple as one expects.
Review
As anyone who has seen my reviews knows, I am a huge fan of indie and small press fantasy. I discovered this thriving community of authors writing some of the most amazing stories over a decade a go, and have read and listened to over a thousand indie books in that time. I am always on the lookout for new worlds and characters to get lost on adventures with. And that's where Grog comes in. I'll tell you this up front, if this book had been published this year, it would be tied with Dragon Mage and Paladin Unbound as my choice for fantasy book of the year.
The characters in this book are absolutely fantastic. Grog, the main protagonist, is one of the best characters I've ever read. He is such a ball of contradictions, and its so much fun watching him slowly unravel them. Enslaved as a baby, and being a Brute, he is held in no regard, other than what he can earn for his master as a high rate pit fighter, bodyguard and enforcer. Being told he's stupid his whole life, he has bought into it, but remains in awe of his master, who he see's as the only one who cares for him. As the story moves along, and he realizes there's more to the world than just pit fighting, he still reverts to his training, where honoring a contract and giving quality service are just ingrained into him. He has such an interesting arc, as his interactions with the other characters on a personal level really start to open up new avenues for him, keeping him from continuing as a tragic character.
The secondary characters are an interesting bunch, and they are so well fleshed out. Definitely not cardboard cutouts, they have their own arcs, and they just draw you in themselves. There is Burk, Grog's fellow pit fighter slave, who is more rebellious, but discovers things aren't always greener on the other side of the fence. Provine Sael is an Dellien, an elf like race, who's self appointed mission to help save the empire and free the slaves of the empire is an uphill battle. Hatcher is a Nisker, a slender halfling like race, who is an expert on traps and "acquiring" things of unknown provenance. She is such a fun foil for Grog, because she is always trying to get him to think beyond the current moment, and aspire to more, something he has no interest in. Torl is a ranger type who actually prowls the frontier on the lookout for Uraks who need killing, and Hunter is a wizard interested in getting the best paycheck possible. All these characters go through some changes and growth as they discover a greater threat to not only themselves, but to the empire itself.
The world building is also a strength. This world looks like it may have had some inspiration from the later Roman period, where slavery is a massive part of the empire's economy, and there has been a succession crisis with the emperor, who has just finally ascended from a regency upon reaching his majority. There is also an external threat that is supposed to be impossible, and yet seems to be occurring while the empire is at it's least prepared in centuries. This is the world Grog and Burk must protect Provine Sael and her companions through, as they searching for something that can help strengthen the emperor. There is magic and muscle, and wealth and squalor throughout, and it is just so well written as to seem real, and draw the reader in.
The narration for the audiobook was performed by A.T. Chandler. I was unfamiliar with his work before this book, but he has been fairly prolific. He does an excellent job bringing the characters to life, and you are never in doubt which character is speaking. His voice for Grog is especially good, but it's obvious he was invested in making each character as unique as possible. His narrative pacing is excellent, and doesn't suffer from any monotone or unusual pauses. I'd recommend checking this version out, or adding it as a whispersync to a kindle purchase.
I was surprised that a book with such an unassuming title could be this good. It's not any kind of satire or play on tropes, but an epic fantasy that draws the reader in and doesn't let go. You find yourself invested in these characters within the first chapter, and it will hold your attention throughout. If you are a fan of fantasy, this book should appeal to you. Check it out today!