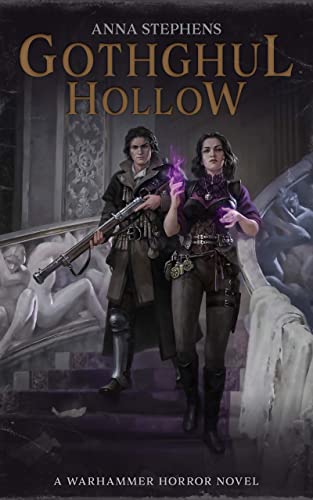 Rating: 9/10
Synopsis
Fantastic Horror story from the exciting Mortal Realms of Warhammer Age of Sigmar.
The Hollow. A lonely Shyishan town, obscured amongst wild moorland, inhabited by folk of vigilant routine. What remains of the once illustrious Gothghul family endures season upon season of monastic isolation in their castle on the hill. Aaric Gothghul, made callous by loss, shuts himself in his study and broods over arcane texts, while his strange and formidable daughter wanders the forests alone.
But when the town is threatened by a spate of sinister manifestations, the quiet formality of their days end. Worse still, the upheaval disturbs a terrible family secret – a chilling memory that Aaric has kept buried for twenty-five years. Now, father and daughter must set aside their differences and search for answers to an ancient curse that is somehow linked to their past. Aided by a straight-talking sharpshooter and a shrewd man of faith, they seek to fathom the forces that assail the Hollow.
Scholar. Sorceress. Killer. Priest. Four people divided by their secrets and lies, bound together by horror, must unite their strengths to uncover a diabolic mystery – the clue to which they have but one incomprehensible word: Mhurghast.
Review
Do you ever read a book that, within just a few lines, completely sucks you into its world, atmosphere, characters, action, plot and pretty much every element therein? For me, Gothghul Hollow – another absolute blast of a book by one of the Queens of Grimdark, Anna Stephens – is the latest example of a book that does just this. Immediately starting with a vicious, brutal and bloody beast attack, Stephens grabs you by the throat and pulls you through this journey of buried truths, gothic magic, the colour purple, and plenty of savage action sequences.
We follow the two last members of the noble but secretive Gothghul family, along with a killer for hire and a shamed priest, as they attempt to thwart whatever evil being is slaughtering the denizens of the titular town and plaguing their lives. One of the first things that popped out at me (other than some blood and guts of a number of poor villagers) was just how tightly-paced this novel is. There's not a single ounce of fat on its bones; everything is done at a sprint, every twist, turn, fight, magical spell; you name it, this book has it and it keeps you turning each page wanting more. In fact, for a 350 page book, I read this in just a few days, and I'm a slow reader with not a lot of spare time on his hands, so those of you that devour books or listen to them on audio (of which anything by Black Library on audio is always great!) you'll probably get through it even quicker because you just won't be able to stop. This is no detriment to the characters either, who are relatable, believable in their choices and motivations and wonderfully complicated humans.
A big thing with me and horror books is atmosphere. I love to be immersed in the scene with the characters, I like to get the same feelings as them or be able to really feel myself there beside them. Luckily Gothghul Hollow has this in spades. The Gothic elements really bleed from the page, from the imposing, impossible castle to the town that surrounds it cradled in fear of the beast that attacks them, to the pounding of the rain and the tolling of the bell that strikes midnight, every detail that's given to us is masterfully chosen to sink the reader into its gruesome hold. Couple this with the deep sense of magic and almost unknowable sorceries that some of the characters wield, it becomes this almost Victorian-esque tale of woe, deceit and familial drama.
Although this book is technically part of a series, it is very much a standalone. Most Warhammer novels, even those that are part of a massive series (yes including Horus Heresy, although some view that as a heretical statement) all tend to be written in a way that you can jump in wherever and still have a good time. With this being the first of the Tales of Mhurghast series, it just so happens to be the best jumping in point anyway! Currently there are only two Tales of Mhurghast books available, this and Briardark by C L Werner, but there are more planned. Warhammer Horror, a subsection of Black Library, has really been taking off the past few years, and Gothghul Hollow stands proud as the best of the bunch. It's not just a good Warhammer book, it's a great fantasy book altogether. It's like a fine gourmet meal; it's only small, but every bite is absolutely delicious and by the end you'll be left wanting so much more!