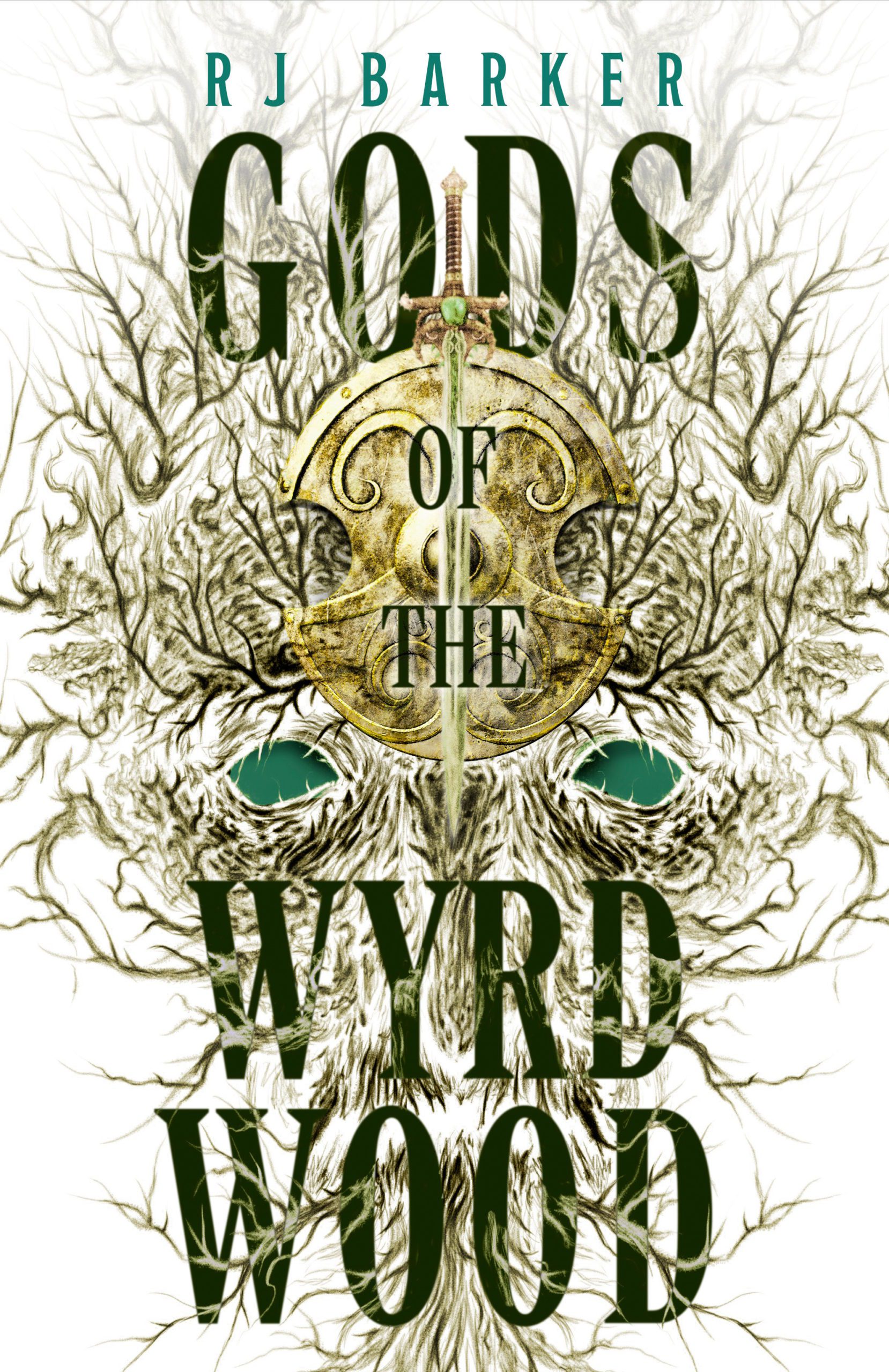 Rating: 6.5/10
Synopsis
In a world locked in eternal winter and haunted by prophecy, a young boy trains for years to become the Chosen One, only for another to rise and claim his place in the start of an unmissable epic from a rising star in fantasy.
The northlands of Crua are locked in eternal winter, but prophecy tells of the chosen child – who will rule in the name of their God, and take warmth back from the South. Cahal du Nahere was raised to be this person: the Cowl-Rai, the saviour. Taken from his parents and prepared for his destiny. 
Review
Gods of the Wyrdwood is the newest book by RJ Barker. I've read and enjoyed his Wounded Kingdom trilogy and plan to get to the Bone Ships trilogy someday. When I saw the cover of this one however, I knew I had to get my hands on it as soon as possible. I love the forest and the pitch for this series sounded super interesting, so I went in with high expectations.
And it sort of met them? I'm conflicted about this one. Let's get into it.
We begin by following Cahan, the Forester, who has a mysterious past and a dim outlook for the future. He's living on his farm and soon, his past begins to catch up to him. Cahan is an immediately interesting protagonist. We get glimpses of his past throughout, and I really enjoyed reading his inner conflict and watching as he grows throughout the story.
From the first few pages, it's evident that Barker isn't going to hold our hands in the worldbuilding. Names, places, terminology, and more are thrown at the reader in rapid succession. But it all worked seamlessly. Nothing ever felt like too much of an info dump and if you had a question about a certain plant or creature, it would eventually be revealed as the story went on.
Another highlight of this book is Barker's writing style. It's often in short, clippy sentences which I really enjoyed. It was similar to his Wounded Kingdom books, but different enough that it felt like its own thing. It made the action punchy, the moments epic, and drew me into the world.
So far, we've got a great main character, awesome worldbuilding and good prose. So why only 6.5 stars?
Part of it boils down to my expectations and part of it is just general plot related issues. Minor plot spoilers follow. First, the pacing is all over the place. The story kicks off with its main plot hook around 100 pages in, wraps that up, then does a quick side quest (the best part of the novel if you ask me), then kinda ties everything together in that last half with a big action set piece.
Unfortunately, this means that the story doesn't really flow together in a seamless way. It felt like the whole side quest was thrown into the middle just to set up several threads to the reader. While that may have been the case, it also contained the most interesting parts of the worldbuilding and introduced the fabled Wyrdwood. All of that stuff was fascinating, and I was confused when that story line was pretty much wrapped up mid-way through the book.
Also, while I really enjoyed the flashbacks throughout the book, they all blurred together by the end and the second half of them didn't really add anything new – they just repeated the same two or three story beats.
We also have a second POV in the story in addition to Cahan. I really enjoyed this character in the first half of the book. They had interesting motivations and compelling reasons for what they were doing. But by the end of the book, I felt Barker didn't know what to do with them and it felt like it amounted to very little.
It may sound like I'm being a bit too harsh, but there is such awesome potential in this book, that I just feel obligated to discuss at length.
So, let's end with a few other positives. There are other side characters in the book that I really enjoyed including a fun animal companion. And while I didn't exactly love where the plot itself ended up, the final third of the book is pretty tense and I couldn't put it down. There are some great character moments and action scenes during the final sequence that kept me reading.
Thankfully, when I look back on the positives and negatives of the book, many of the negatives can easily be fixed in the sequels. I liked both the characters and the world and that'll keep me coming back. Plus, it ends on juicy hook for the next installment, and I'll definitely be checking out the sequel.
All in all, Gods of the Wyrdwood was a bit of a mixed bag for me. I really wanted to like it more than I did, but I still enjoyed myself. You may end up enjoying it much more than I did if the plot aspects don't bother you. It's a well written fantasy with unique worldbuilding that isn't afraid to throw you in the deep end. If any of this sounds intriguing to you, be sure it pick it up when it releases in June.
*thanks to Orbit for an advance reading copy*