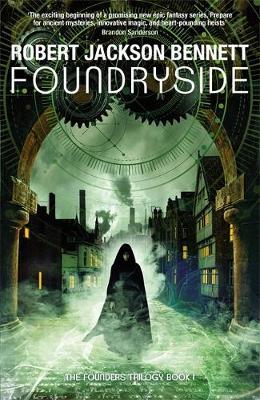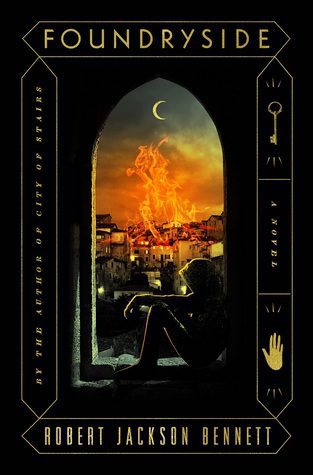 Genre: Fantasy
Publisher: Crown
Hardcover: 505 pages
Audiobook: 19 hours and 34 minutes
4.5/5 Stars
I want to thank the publisher for sending me a physical copy of Foundryside (Founders #1) in exchange for an honest review. Receiving a copy of the novel does not influence my thoughts or opinions on the material, author, or publisher.
Why has it taken me so long to get around to reading Robert Jackson Bennett's work? I have had his Divine Cities trilogy sitting on my Kindle for what seems like forever and now, after having read Foundryside, it has jumped to the top of my list.
Sancia Grado is much like the other denizens of Tevanne: poor, hungry, and hanging on by the skin of her teeth while those of the Merchant Houses stay wealthy, filled, and still crave more. Good news is, Sancia is a darn good thief and is able to live a little bit above her peers, even if it means sticking her neck out on occasion.
She is hired by an unknown party to steal a box from a dockside warehouse owned by one of the four (4) merchant houses, but faces obstacles at every corner. When she finally gets her hands on the prize, she can't wait to see just exactly what she was paid so handsomely for (but you know, curiosity killed the cat and all that). It turns out to be a key, but to what, she has no idea. When she reaches in the box and pulls the key out, a voice begins echoing around inside her mind and tells her that his name is "Clef".
Oh yeah, did I mention the part where Sancia has this ability to touch inanimate objects and they sorta… well, talk to her? Sounds pretty cool, but it is also debilitating. Even routine tasks like changing clothes or taking a shower will bring her to her knees.
Now, these items, they have to be what is called 'scrived' in order for Sancia to use her ability. Scriving is simply defined as magical directions being etched onto metal plates that can, well, "convince" normal objects to be something else. As an example, scriving a crossbow bolt to believe it is falling from a great height in order to increase its speed as it moves toward a target. Pretty neat, right?
Ok, back to the storyline. As Clef begins to tell Sancia just exactly what he can be used for, the picture for Sancia becomes framed, so to speak, and what she thought would be an easy B&E becomes everything she didn't sign up for. Now, on the run, Sancia decides to keep Clef, to learn more about him, but to also keep him from falling into the wrong hands. Her life is in danger, but the fate of Tevanne and beyond its borders is a little more important to her.
Every innovation—technological, sociological, or otherwise—begins as a crusade, organizes itself into a practical business, and then, over time, degrades into common exploitation.
Wow. Where to begin. First off, the magic system. Scriving is one of the coolest uses of magic I have ever seen. The ability to make every day objects act like something else, even if for a short period of time, is absolutely fascinating. Bennett expertly crafts Tevanne around this industrialized system and weaves a magnificent story that I can only imagine will continue to get better. The world-building is top-notch; from the lowly apartments to the fancy merchant houses, the amount of detail the author puts into bringing the reader into his world is astounding. But in all honesty, the relationship between Sancia and Clef is what steals the show; but mostly Clef. His witty banter and consistent comic relief makes this read so enjoyable, even with the dark machinations happening in the background that lead up to a dramatic conclusion.
Foundryside is the start to what I expect to be a fantastic series through and through. I highly recommend picking up a copy and giving it a read, especially for the magic system.
Amazon | Audible | Barnes & Noble | Google Play | Kobo | Libro.fm
-Review by David