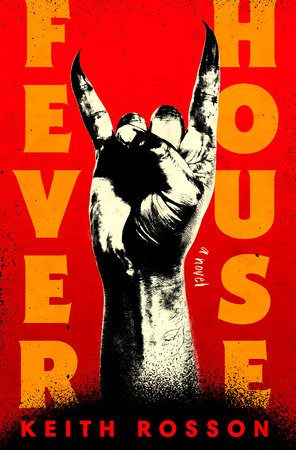 Rating: 8.0/10
Synopsis
A small-time criminal. A has-been rock star. A shadowy government agency. And a severed hand whose dark powers threaten to destroy them all.

"A modern-meets-classic horror story that keeps the stakes high until the very last sentence."—San Francisco Chronicle

"The unsettling darkness of Joe Hill meets the cryptic mystery of The X-Files."—Delilah S. Dawson, New York Times bestselling author of The Violence

When leg-breaker Hutch Holtz rolls up to a rundown apartment complex in Portland, Oregon, to collect overdue drug money, a severed hand is the last thing he expects to find stashed in the client's refrigerator. Hutch quickly realizes that the hand induces uncontrollable madness: Anyone in its proximity is overcome with a boundless compulsion for violence. Within hours, catastrophic forces are set into motion: Dark-op government agents who have been desperately hunting for the hand are on Hutch's tail, more of the city's residents fall under its brutal influence, and suddenly all of Portland stands at the precipice of disaster. . . .

But it's all the same for Katherine Moriarty, a singer whose sudden fame and precipitous downfall were followed by the mysterious death of her estranged husband—suicide, allegedly. Her trauma has made her agoraphobic, shackled within the confines of her apartment. Her son, Nick, has moved home to care for her, quietly making his living working for Hutch's boss.

When Hutch calls Nick in distress, looking for someone else to take the hand, Katherine and Nick are plunged into a global struggle that will decimate the walls of the carefully arranged life they've built. Mother and son must evade both crazed, bloodthirsty masses and deceitful government agents while exorcising family secrets that have risen from the dead—secrets, they soon discover, that might hold the very key to humanity's survival.

Can you resist the hand? Find an excerpt from the next Fever House novel at the end of the book.
Review
"Fever House" is full pedal to metal on the highway to hell! Keith Rosson does not hold back! This novel took me on a thrilling ride as it careened out of control, blending an eclectic array of genres into a harmonious chaos. It's a gripping concoction of crime noir infused with zombies, shadowy government agencies, a punk rock band, and occult elements that I do not want to spoil!
This book does not shy away from brutality, violence, and gore; it revels in it. I genuinely felt like no character was safe and I personally love when a book makes me feel that way. The stakes are high and there is no room for error. What truly captivated me was the rich mythology and history of the "remnants," epitomized by the haunting and awesome image of the severed hand gracing the book's striking cover. In this world, it seems devils and angels walk among us. It is not fully explained but I found out this is just book one!
Beyond the violence, gore, and terror, the novel delves into the deeply human aspects of its characters and their past. With multiple distinct points of view, each character possesses a unique voice that is instantly recognizable even without reading the chapter titles. They all carry their burdens from the past, their personal demons coming to the forefront as the present unfolds. This added layer of emotional depth to go along with the chaotic narrative made it a multidimensional rollercoaster well worth the price of admission.
Overall, I certainly recommend checking out "Fever House". My only complaint is that it ends just as it seems to be getting to the best part! However, a second novel is coming next year and it is already one of my most anticipated reads of 2024.