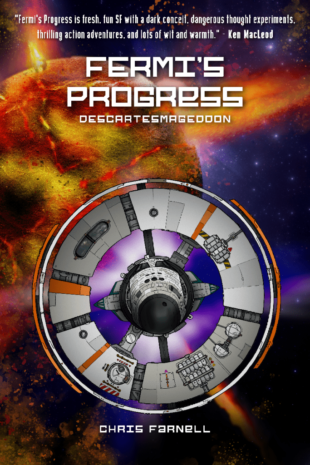 Rating: 7/10
Synopsis
"The Fermi is the Earth's first and last faster-than-light spaceship. The last, because it turns out its engine vaporises entire star systems in its wake. And nobody knows how to turn it off."
The Fermi's faster-than-light engines have destroyed the Earth, and an alien Dyson sphere, and its crew still have no idea how to switch it off. What's worse, as they reach a planet of sentient fungus, their supplies are already running low.

But this world has its own problems. People have been losing their souls, with the survivors huddling together in abandoned shopping malls as society falls apart. And when the Fermi's crew arrive they will discover something that will challenge their very idea of what it is to be human.
Review
I received a copy of this book from the author in exchange for an honest review.
In the second installment of the Fermi's Progress novella series Chris plunges us into yet another totally alien yet fully-realized planet. Following the same core characters as before (now with the extra addition of The World) we get a glimpse into yet another alien civilization before they are wiped off the face of the universe.
The story of Descartesmageddon lies in a zombie tale. The aliens on this planet are living through their own version of a zombie apocalypse, complete with barricaded safe hubs, zombies that are attracted to noise and roam at night, and the idea that you're never quite safe. There's also a philosophical element here about what makes someone human, as it isn't quite the zombie plague you expect. The philosophical stuff went slightly over my head, but that's entirely a me thing.
Part of what makes this stand out is Chris' mastery of creating alien species. The first time we meet the aliens it's through their own eyes and interactions, there's no mention of how the function or what they look like. I started out with a very humanoid image which quickly got scrapped when the humans meet the aliens and you discover what they are actually like. I was way off the mark with the image I had.
In such a short amount of time Chris makes a world, an alien species and a whole backstory for them. I'd love to see a full length novel set on this planet because Chris gives us so much to explore and, while the book doesn't feel lacking in any way, I would love to see what he could do with all that extra time!
Our humans split up in this volume. So we see the apocalypse from two sides, those within the safe walls and those outside. I loved this because it added an element of mystery to some of the plot points and it made me question who was right and who was wrong. I won't give anything else away but it was a great choice on Chris' part.
Chris has a talent for building worlds and societies in this series. Each one feels real and fleshed-out, it's almost a shame to say good bye to them at the end of each novella. These are so worth adding to your TBR, I promise you will not be disappointed!
Brought to you by the amazing people at The Broken Binding. They live to serve all of your fantasy and science fiction needs with signed books, fantastic reprints, and the most amazing gift wrapping you could ever ask for. Make sure to visit them at http://TheBrokenBinding.co.uk and tell them that the FFA crew sent you.