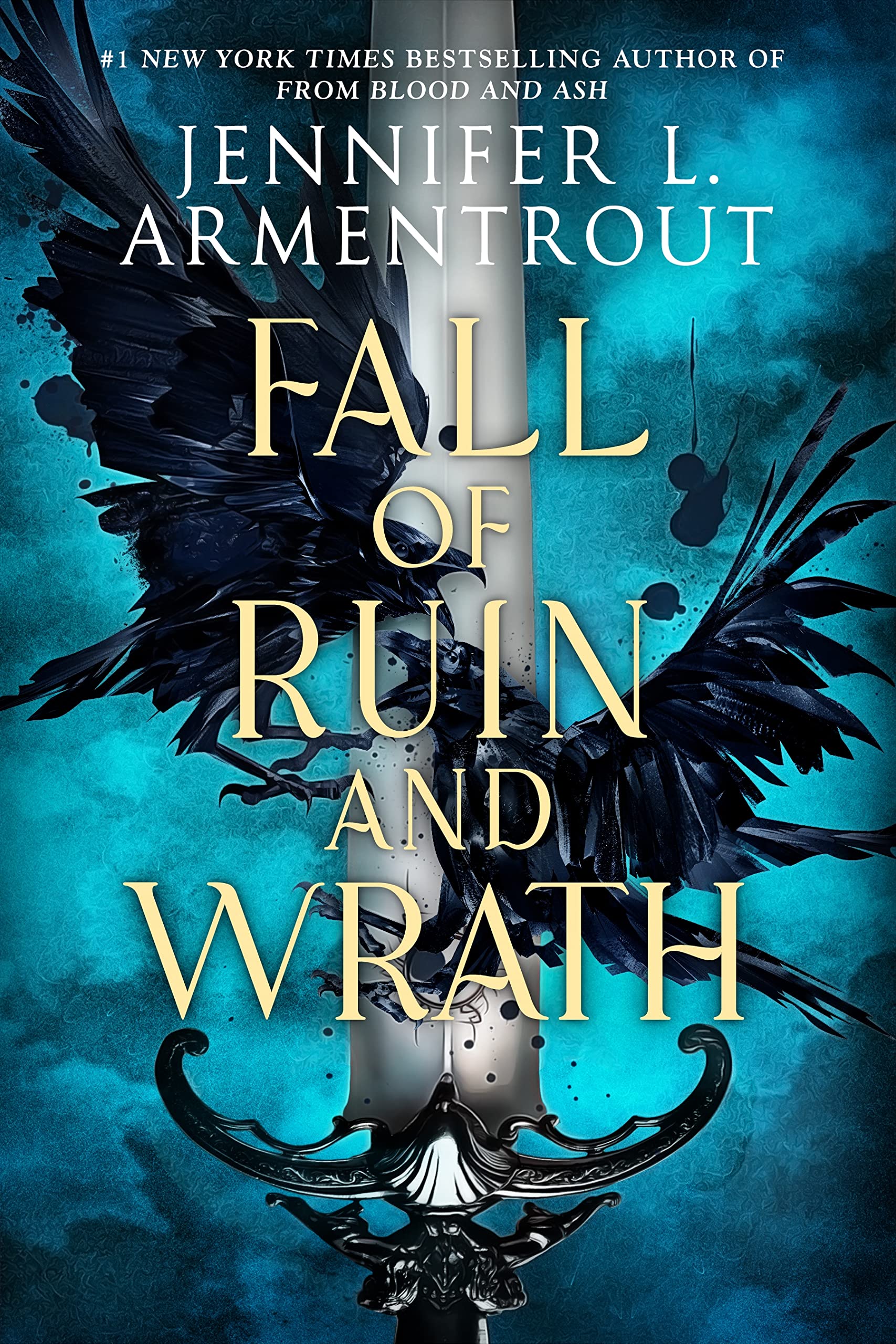 Rating: 6/10
Synopsis:
Long ago, the world was destroyed by gods. Only nine cities were spared. Separated by vast wilderness teeming with monsters and unimaginable dangers, each city is now ruled by a guardian―royalty who feed on mortal pleasure.
Born with an intuition that never fails, Calista knows her talents are of great value to the power-hungry of the world, so she lives hidden as a courtesan of the Baron of Archwood. In exchange for his protection, she grants him information.
When her intuition leads her to save a traveling prince in dire trouble, the voice inside her blazes with warning―and promise. Today he'll bring her joy. One day he'll be her doom.
When the Baron takes an interest in the traveling prince and the prince takes an interest in Calista, she becomes the prince's temporary companion. But the city simmers with rebellion, and with knights and monsters at her city gates and a hungry prince in her bed, intuition may not be enough to keep her safe.
Calista must follow her intuition to safety or follow her heart to her downfall.
Review:
First of all a thank you as always to the Tor/Bramble Romance team for offering an eArc copy in exchange of an honest review.
Hello again dear reader or listener, tis a romantic fantasy review I'm regaling you with today and let's just say it's a bag of mixed feelings to say the least!!
I'll disclaim it right here from the get go, if a very high level of smut, sexual explicitness, and overall horniness is not your thing, you will not have a good time with this book.
It's a 5/5 chilies for this one, folks, and I'm talking from a high tolerance pov.
Now then, I've got a very big soft spot for this author. Her first Luxen series is still to this day one of my favorite older YA series, and perhaps even the first romance I ever tried on purpose as I used to avoid the genre as much as possible. Because of that, I've been meaning to try her NA and adult books for a while now, and when the opportunity to try her latest came up, I jumped at the chance! As I said though, it ended up giving me mixed feelings. I'll go with all the good stuff first because ultimately the negatives are more personal and specific to individual readers so whatever didn't work for me may be great for others!
Extremely generic title aside, in this first entry to her new series, Armentrout picks several well established tropes and delivers each of them to the reader with her own added flavor, avoiding most clichés, even though some remain if you're being persnickety- which past a point I can admit I was starting to be. We're talking fated mates, our soulmates, fake history, godlike tyrants and so on. Once I decided to take it all a little less seriously however, and leaned more into the frivolity of it, I ended up being mostly amused and having a better time. Her world building is in a way slow, avoiding info dumps, but allowing for the reader to glean the ins and outs of this society our protagonist is a part of. And even though it takes a while for us to place the ambiance and type of setting, (medieval fantasy, post apocalyptic fantasy etc), it wasn't necessarily a drawback.
The overall plot was intriguing and gradually revealed at a solid pace which keeps you wanting to find out more, while you're comfortable with the knowledge that there's court sketchiness afoot and things are inevitably going to go belly up, changing everything the protagonist knows. In other words, you know what to expect but you're not less excited for it to happen. It's a pretty straightforward case of highborn vs lowborn caste system but with the added twist of peculiar spelling of words that probably didn't need to be tweaked for flair. The Hyhborn (like I said re spelling) nobility have magic while the lowborn do not and that's what sets Calista apart as she's got telepathy, foresight, and heightened intuition physic powers even though she's a lowborn. This in turn makes her a precious member of the Baron's court, officially as his paramour but really as his hidden ace to navigate politics etc. Then, once you hit the 80% mark, the author picks up her pace and does not let you go till the very end, hooking you with a riveting cliffhanger that simply will not allow you to not be curious as to how things will continue from then on.
I actually really enjoyed how unapologetic and unproblematic a spin Armentrout gave to the whole dynamic of court paramours and courtesans. There's a tendency, even among authors who think or pretend they're not doing it, to either passively judge the profession/system or at the very least have their characters somehow be ashamed of it.
Armentrout did nothing of the sort, in fact dashing any possible negative or judgmental opinion on the matter through her character frankly explaining why she does what she does, and showcasing an inclusive and diverse picture of the whole system most naturally and without toxicity. It's not on the nose, and it was a welcome dynamic to read through. Another way I could describe it all would be to say it was deeply sensual at times but not weirdly sexualised, if that makes sense.
I also liked how the author doesn't pick one side when it comes to inspiration, be it Fae or Angelic/Theology lore. There's a mix of both and other mythological influences in between, making for a perhaps derivate but still interesting meld of origins for her magic system and its creatures. I particularly like any references to the Wild Hunt so that's a win for me anywhere I can find it. Moreover, the angelic/demigod/fae like creatures known in this story as Deminyens, were really pretty cool, mainly in their history and how they're created. Are they OP? Probably, but that's part of the whole point with them so.
Armentrout's prose is fast flowing and fun, albeit with occasional instances of oddly placed ellipses. Calista's voice especially was both entertaining and with a certain pragmatic sense to it that I could appreciate. You just need to disregard her initial self description which tries to go for a nuanced mix between "not like other girls" and "not the prettiest of women out there but not too ugly because fantasy standards and pretty privilege", but falls slightly on its face if I'm being frank.
Now as to the real negatives that ultimately harmed this book for me. As I said, I wanted and tried to take it more seriously, I really did. But ultimately I failed and switched to a different mindset of "oh, ok, this is the frivolous and don't think too much about it read". I'm not adverse to smut or sexy times on page, hell, I'm not opposed to them even if they're a bit over the top. However only when it fits the tone of the book. Which I'm sorry to say, this time it did not. I knew what I was getting into from the promo and the author's rep as a fan of sensual and steamy works but at the same time I expected it to be, for lack of a more apt word, better. This book is Horny, y'all. Like, really really horny. To the extent of sensually toeing the line of over the top gratuitous and then on occasion falling into the downright ridiculous. Fan service is one thing but trying to pass hilariously clichéd erotica for epic romantic fantasy is not ideal. I'm not saying the former is bad, I'm just saying this book tried not to be that and failed.
Luckily the moments where it was that extreme where more on the rare side which was this book's saving grace.
Also I just need a moment to rant about a true monstrosity to the written word. Ma'am you've written way too many books to be given a pass on a sentence like this:
"Toward the base, he was thicker and rounder, almost as if the flesh was more . . . round there."
I'm happy to say this felt more like a single brain cramp in the author's stride and the rest of her writing remained quite evocative and normal. But just ouch.
Ultimately, I can say that Armentrout's storytelling shines the most when she's not getting carried away with the smut and fan service. It has its place but it can fall on the too much side, which eventually harms her overall effect by snapping the reader out of one mindset and forcing them to go for less serious reading. Which hey, it might be exactly what someone may be wanting out of their book in that specific moment. Her steam is on point barring a couple of really big eyebrow raise moments for me personally. Her story has a solid foundation, the court intrigue, the fake history, the characters who are more than they seem, even the magic system and creatures within. That last twenty percent I mentioned really does feel almost like a different book because it's taking the time to focus on the actual story and action which is awesome and emotional and riveting. Unfortunately however, the redeeming qualities of this book were just enough to keep me reading to the end but not to sway a higher rating for all the above reasons.
I hope this mixed feelings stream was helpful to you dear reader or listener.
Fall of Ruin and Wrath is out today and you can find it at all the links above!
Until next time,
Eleni A. E.