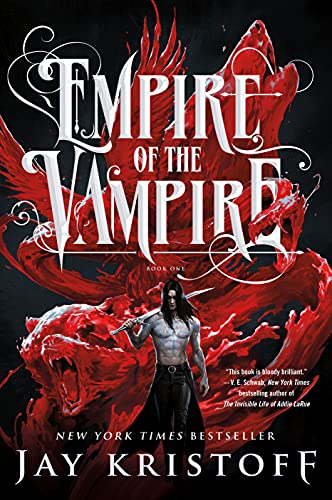 Rating: 9.75/10
Synopsis
From holy cup comes holy light;
The faithful hand sets world aright.
And in the Seven Martyrs' sight,
Mere man shall end this endless night.
It has been twenty-seven long years since the last sunrise. For nearly three decades, vampires have waged war against humanity; building their eternal empire even as they tear down our own. Now, only a few tiny sparks of light endure in a sea of darkness.
Gabriel de León is a silversaint: a member of a holy brotherhood dedicated to defending realm and church from the creatures of the night. But even the Silver Order could not stem the tide once daylight failed us, and now, only Gabriel remains.
Imprisoned by the very monsters he vowed to destroy, the last silversaint is forced to tell his story. A story of legendary battles and forbidden love, of faith lost and friendships won, of the Wars of the Blood and the Forever King and the quest for humanity's last remaining hope:
The Holy Grail.
Review
Thanks to the publisher, author, and narrator for an advance listening copy of Empire of the Vampire for review consideration. This did not influence my thoughts or opinions.
Empire of the Vampire is sensational; a deliciously bloody slice of dark fantasy that leaves you thirsting for more. Vampires, violence, sex, drugs, and characters you can sink your teeth into come to a head in this epic story of love, friendship, loss, and revenge. This is Kristoff at the top of his game, and is only just the beginning of Gabriel de León's story.
I feel like EotV has been THE book I've been most looking forward to since its announcement back in 2020. I thoroughly enjoyed The Nevernight Chronicle (another series I need to re-read), and based simply off the synopsis of this book, it seemed we were going to get something that was a step (or many steps) above in terms of not only length, but Kristoff's craft.
While Nevernight will always hold a special place in my heart, EotV is officially my new favorite novel by Kristoff.
Gabriel de León is such an intriguing character, and the way in which his story unfolds is very reminiscent of The Kingkiller Chronicle meets The Witcher. We start at seemingly the end of León's life where he is imprisoned and forced to recount his life story, and my my, what a tale it is (at least thus far).
While León's back and forth jabs with his captor prove to be some of my favorite parts of the story (I always love some witty banter), his journey from boyhood to manhood is absolutely captivating. His revenge arc sets the stakes early and often, seeing him dealing with loss at such a young age, attempting to find his way into the Silver Order, and coming to terms with just who he is and how he plans to avenge the lost.
The world-building is vast and the magic provocative, giving you the notion that there is so much more left to explore. But in the end, the characters are what will keep you invested here. Kristoff has always had a way with enamoring readers with his characters and I for one believe he has only gotten better.
Get ready for a blood-soaked, pitch-black tale of epic proportions that will have you clamoring for Book 2.
If The Name of the Wind and Interview with the Vampire walked into a bar and met up with The Witcher, it still wouldn't hold a candle to what Kristoff brought to the table with EotV. This epic novel needs to be on every bookshelf across the world. Well, every adult one… This novel is definitely intended for a more mature audience, so if your teen is looking for a new vampire novel, might be best to readthrough this one first and make your decision.