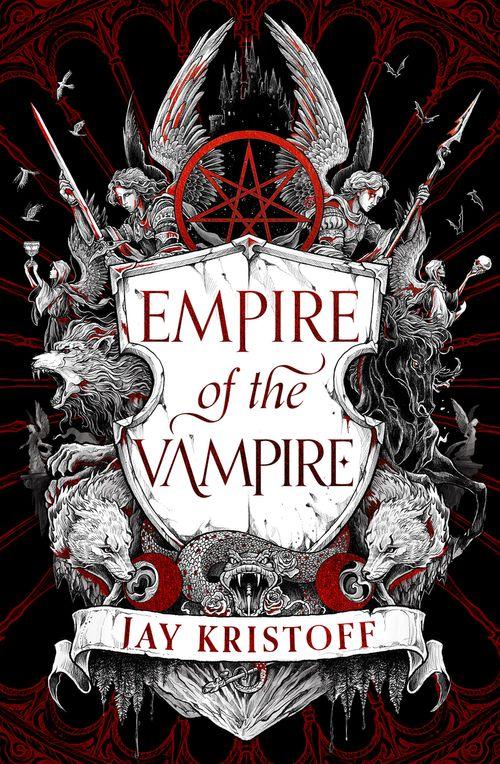 Rating: 10/10
Synopsis
It has been 27 long years since the last sunrise.
For nearly three decades, vampires have waged war against humanity, building their eternal empire even as they tear down our own. Now, only a few tiny sparks of light endure in a sea of darkness.
Gabriel de León, half man, half monster and last remaining silversaint – a sworn brother of the holy Silver Order dedicated to defending the realm from the creatures of the night – is all that stands between the world and its end.
Now imprisoned by the very monsters he vowed to destroy, the last silversaint is forced to tell his story. A story of legendary battles and forbidden love, of faith lost and friendships won, of the Wars of the Blood and the Forever King and the quest for humanity's last remaining hope:
The Holy Grail.
Review
Empire of the Vampire is the powerful new book from Jay Kristoff, a book so colourful in themes yet ever shaded black and grey. It's what would happen if The Name of the Wind developed a penchant for blood and vice. Not to mention that never have I ever been moved to such sadness by a prologue before. The undertones of despair, of a flame almost burnt out, but so desperate. Not for life, but for a drug. EOTV will bare its fangs first and ask questions later.

This book a is dark song for the hopeless and the damned, the hopeful and the believers.

If there ever was a character that would split more hairs, divide more opinions and ruffle feathers, it will be Gabriel de León; the last of the Silversaints, the Ordo Argent, the order of San Michon, the last light before the final dark. He is like a diamond, a very black and bloodied one, in which throughout the book we see the same person from many of its facets – different periods of his life. We see the young village boy turned apprentice who is bound for legend. We see the warrior of legend, a man of prophecy and story, and we see the drunkard, the beggar, the ruined. He is both your typical hero and not a hero at all … there's the tropes we love classic to all epic fantasy but woven into a baroque, gothic and hopeless story of vampires told by the sharp tongue and potty mouth of Gabe. A character I've come to love and hate. A character both epic and badass, and useless and terrible. We cover several of his journeys, but all reach frayed ends.

The plot is of two parts, well, many more. But there are two main periods of life we cover for him … I will say not a word about it. I will keep the secrets of the Empire, but I have to say there was moments when goosebumps crawled across my skin, where I was so enamoured by the badassery on show. There were other moments where my heart grew cold, my breaths short as I could only watch the worse of all possible outcomes unravel. This is a beauty of a book, the writing is pure talent, but the content is epic fantasy at its finest and miserable. There must be dark before the dawn … and oh boy do we sink into the dark.

It's a very short review because there's not a lot I can say without leading to spoilers. There's not many characters I can mention without taking away that first meeting from you, dear reader, there's no event I can unpick without doing the same. I'm not one for spoilers. But I do believe this book will cement itself in my top three all-time favourite reads. It had a moment of pure epic swordsmanship, a moment of pure horror and a 'Red Wedding' moment, hitting my holy trinity rating … okay, so I don't really have a rating system like that but it is a book I can't stop thinking about, a book that'll make whatever I read for the rest of the year seem wanting. Perhaps that's unfair, but it is a story to rival all other stories told.

Camaraderie and faith as two main themes throughout the book really struck a chord with me, especially the saying: 'my friends are the hill I'll die on,' or some version of that; the reason being is because there's multiple ways you can take this. Maybe even multiple periods where it seems untrue, where you could misconstrue it. But it's also a line that the characters aspire to and a line that hums throughout, that vies to be the way things are done. Gabe is an outcast, but he is not without friends. And it's in those friendships that we see his Aegis shine the brightest and without those that we see the depths of the dark take him. I love how simply put it was but how versatile it became, how much of a stumbling block it presented and how difficult it was to overcome.
Overall, I really would suggest you read this book.