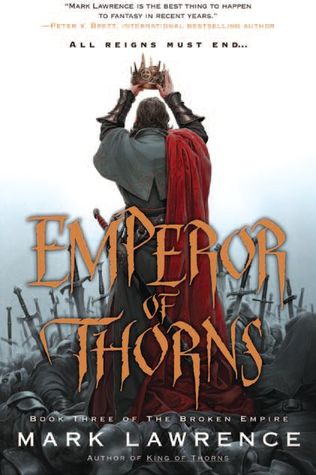 Genre: Fantasy
Publisher: Ace
Hardcover: 434 pages
Audiobook: 13 hours and 47 minutes
5/5 Stars
All right. I'm at that point where you've just finished one of your all-time favorite books/series and you're not sure what to do. Remembering what I'm supposed to do after work is difficult. Hell, remembering what I'm supposed to be doing right now is difficult. The Broken Empire series has wrapped me in hookbriar thorns, and it's not letting me go. And I don't want it to.
"Every man has his thorns, not of him, but in him. Deep as bones."
Let's throw out a disclaimer: after finishing the series, I know that it won't be a home run for everybody. Jorg has rough edges. Rough edges. The world he lives in is dark and violent, one that can make your stomach churn. But the magic of The Broken Empire series is what Jorg is able to do in spite of himself and in spite of his past. Emperor of Thorns is as much about redemption and love as it is about Jorg kicking ass. Forgiveness and friendship are hard-won in Emperor of Thorns, and they're made even more powerful because Jorg often seems beyond redemption.
"I kissed her cheek because I feared to do it. And though common sense may occasionally bind me, I'll be fucked if fear will."
I've never read a character as compelling as Jorg Ancrath, and I doubt I will again. Jorg is complex and human, breaking free of any kind of shell or mold for a fantasy hero. He's not even what I would consider an antihero. He jumps off the page because that's the way he lives – you can't put him in a box, or hold him down, or lead him by the hand (unless you'd like to be short that hand).
In one way, Mark Lawrence is much like Jorg. He's shifted the paradigm of the fantasy world to his liking, and he's not taking any prisoners. If you want to read about unique characters living in deep and interesting worlds with elegant, evocative prose, Mark Lawrence is your guy. I'll read anything he puts on paper (or pixels).
That's enough superlatives, I could go on. If you finished King of Thorns (another all-time favorite of mine), you're probably going to read this book anyway. Every bit of Emperor of Thorns manages to subvert and fulfill my expectations. I'll be reading this series again soon.
_________________
My Review of Prince of Thorns (It's short)
My Review of King of Thorns
Also, a minor note: I'm re-evaluating my ratings because Emperor of Thorns and King of Thorns are head and shoulders above some other 5-stars I've rated. I won't go back and change any ratings, but from now on here's my metric:
5-Stars: All-Time Favorite
4-Stars: Amazing, entertaining read
3-Stars: Fun, worth your time
2-Stars: Not for me
1-Stars: Didn't finish it
Keep an eye out for One Word Kill, the first in a brand new sci-fi series by Mark Lawrence. It's due out some time during 2019.
Amazon | Audible | Barnes & Noble | Google Play | Kobo
-Review by Griffin